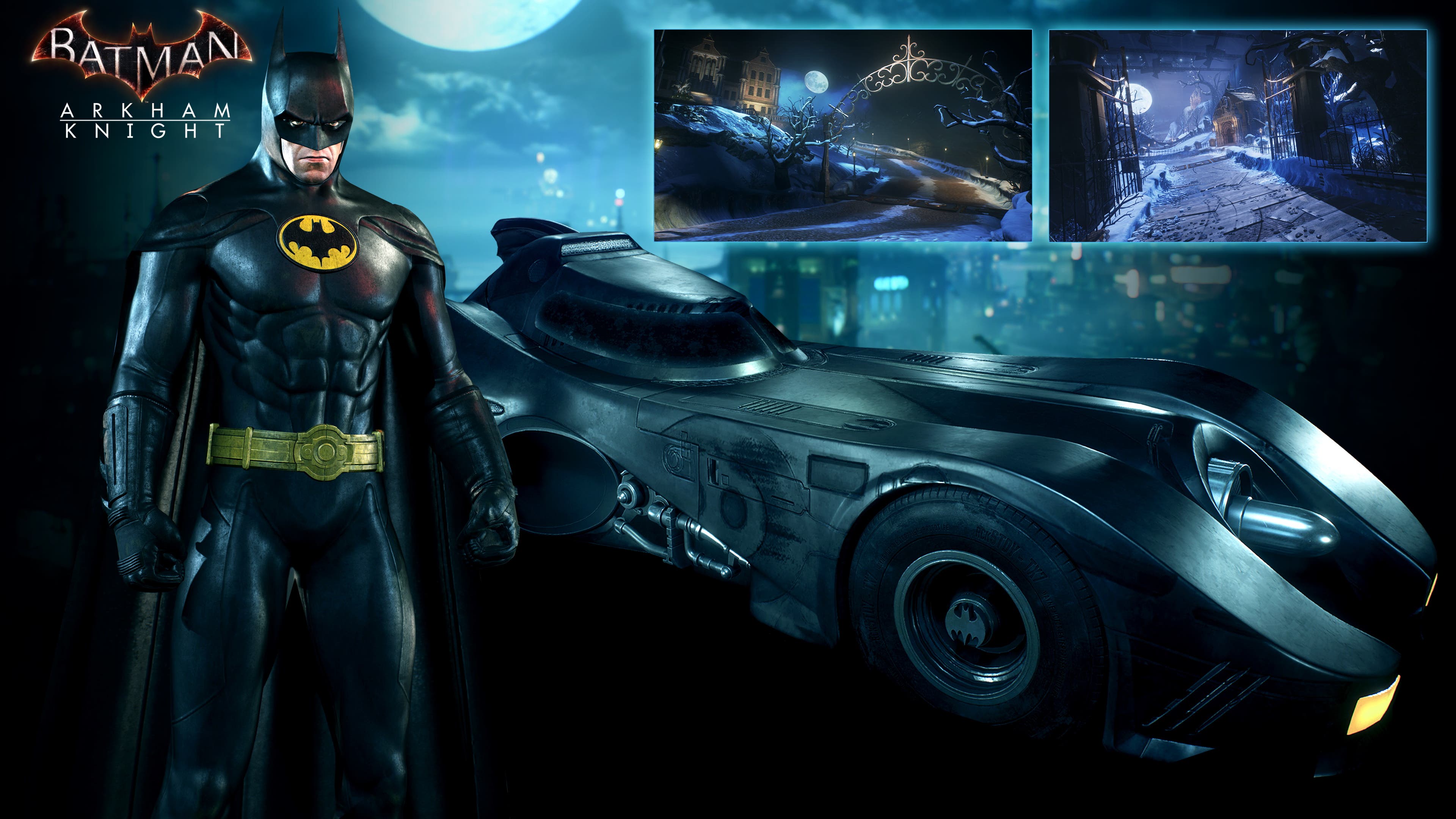 Genre: Action, Adventure

Developer: Rocksteady Studios, WB Montreal

Publisher: Warner Bros. Interactive Entertainment

Release Date: Aug 18, 2015

Available Platforms: Xbox One, PlayStation 4

Reviewed Platforms: Playstation 4
The post-release DLC for Batman: Arkham Knight has been a bit lacking in quality. There's plenty of fan service coming from Rocksteady as it is their supposed last outing with Batman. And as such, they are going all-out with skins, story missions, and additional side missions. Some of them are pretty good, while others including this one are so close to being great, they just miss the mark. The 1989 Movie Batmobile Pack falls into the latter. While not as much content as Batgirl: A Matter of Family, it is the month of August's major DLC release, with other DLC being a skin pack. The former, is a nostalgic trip back to 1989 that misses every opportunity to be something special, but still manages to excite with what little it does offer.
Upon booting up the game, you may wonder where to find this DLC, as the usual location of "Arkham Episodes" section does not contain anything new. You will find the 1989 Batmobile Pack in the "AR Challenges" mode, under the Batmobile sub-section to find four new races available. Once you realize that there are actually only two, with 1-lap and 3-lap variants of each, disappointment starts to set in. One track is based on the Joker from the 1989 movie, and the other is based on the Penguin from the 1992 sequel. The 1989 Batmobile can be used in other race types within the section, with a new set of stars to earn. The solitary trophy for this DLC requires 33 stars while using the 1989 Batmobile, so there's a bit of incentive to try it elsewhere.
What's weird, is that even in the Joker-themed race track, there's a lot of snow and Penguin-inspired items such as his lair, the big driveable ducks, and missile-armed penguins on standby. The track is called "Joker's Parade", and only a 1/3 of the track is devoted to the parade, complete with the floats, noxious gas, and a giant birthday cake celebrating Gotham's 200th Birthday. A loop has you going through the bell tower, and that's about it for any references to the 1989 "Batman". Then of course, you couldn't be driving these races without music, and included is the "Main Theme" from Danny Elfman's score that loops – it never gets old.
As such with this DLC, comes a new skin and Batmobile. The costume is straight from the movie and can be played in the main game. The big surprise to me was bringing in the Batmobile itself. Yes, you can drive in open world of Gotham in the 1989 "Batman" Batmobile. The catch is that there is not a tank mode for it to transform into. So it's better if you have cleared out all of the drones from the city before using it. There's no machine guns, but the 1989 Batmobile does have the target missiles from the main game to take out random humvee's patrolling the city still.
Early in the Batman: Arkham Knight story, ACE Chemicals is already destroyed. When playing this, I couldn't help but feel it would have been better suited as an Arkham Episode, complete with recreating the moments from the 1989 original "Batman". It's a shame it didn't go far enough. The races do a good job of evoking those movies and recalling those moments, but it just doesn't feel enough. You can (with the new photo mode), work to recreate your own moments from the movies as you scream around in the 1989 Batmobile, though.
It's great to use such a classic vehicle and costume in Arkham Knight, even if there's a bit of a disconnect. That original movie resonates with me, but the DLC offering here is nostalgic to the 1989 original as well as the 1992 sequel, "Batman Returns". However, relegating the content to just Batmobile racing sequences is slightly insulting to those buying a la carte, and egregious to those who are Season Pass holders. The 1989 Movie Batmobile Pack is great for those who remember the movie fondly, because it is certainly at the right price. I just would have rather paid more to recreate some movie moments than completing races through a Universal Studios-style theme park ride.

Retails for: $1.99, Recommended Purchase Price: $1.99
A PlayStation 4 code for the Season Pass was provided by the publisher for review purposes
---