SteelSeries has had quite a run on PC, being one of the long-standing and the most popular brand in videogame earwear for sound quality, and among eSports usage. Now that SteelSeries is moving to console, their new headsets aim for comfort, quality, and different types of players at all different price points. The headsets are specific for Xbox One with the "X" prefix, and the ones for PlayStation have the "P" prefix. Experiencing these headsets has been a pleasant surprise
SteelSeries Siberia X100 ($69.99) and SteelSeries Siberia P100 ($49.99)
These are the entry-level headsets, allowing for the consumer to get great sound quality at a reasonable price. The mesh cushioning on the X100 and P100 were surprisingly comfortable, for someone who wears glasses and fit great over the ears. They are incredibly lightweight without feeling cheap. The price difference between the two is only because of the adapter for the Xbox One controllers, but otherwise these headsets are exactly the same in design and functionality. The sound quality is that of only stereo, but it's crisp, and clear no matter what you are doing.
SteelSeries Siberia X300 ($129.99) and SteelSeries Siberia P300 ($99.99)
Next, we looked at the X300 and P300. The wired connectivity of the headsets is not intrusive or anything to get tripped up with, it's plenty lengthy for your needs. The Xbox One adapter has buttons that are a finger-touch away for adjusting what you need audio-wise. The headband self-adjusts without any finagling of the headset itself. It's super quick to put on your head and go, without unnecessary adjustments. With a retractable microphone, makes it stealthy for when you're not needing to use it at any other time.
SteelSeries Siberia X800 ($329.99) and SteelSeries Siberia P800 ($299.99)

Now these are the money series of headsets, they are top-shelf headsets. The 7.1 surround sound is incredibly powerful, full of bass with good highs and lows. They're completely wireless, and comes with two batteries. When one dies, the other can be swapped out and let the other charges. This has an incredible range of audio across all the audio channels, and features presets for game, movie, and standard audio. It's the ultimate headset, more focused for  the hardcore gamer. It's a heavy investment, but the money you will put into it seem to give amazing audio in return.

SteelSeries Stratus XL ($59.99)
While not out just yet (coming this July), will be what you're looking for in a controller. A unique mix of PlayStation buttons for the shoulder buttons and triggers, and Xbox-style button mapping. It runs off bluetooth, and has buttons for syncing and giving indicators for battery life. The buttons are all soft, yet responsive with every button press. The SteelSeries Engine 3 allows you to customize the profile for sensitivity and deadzones, even allowing for four controllers can run on one PC, all that will get the profile downloaded to each controller. It's a great answer for controller gaming on PC and Android. My only concerns are it being Bluetooth only, powered by double A batteries. I wish there was a USB option, but this is still incredibly portable.
SteelSeries Apex M800 ($199.99)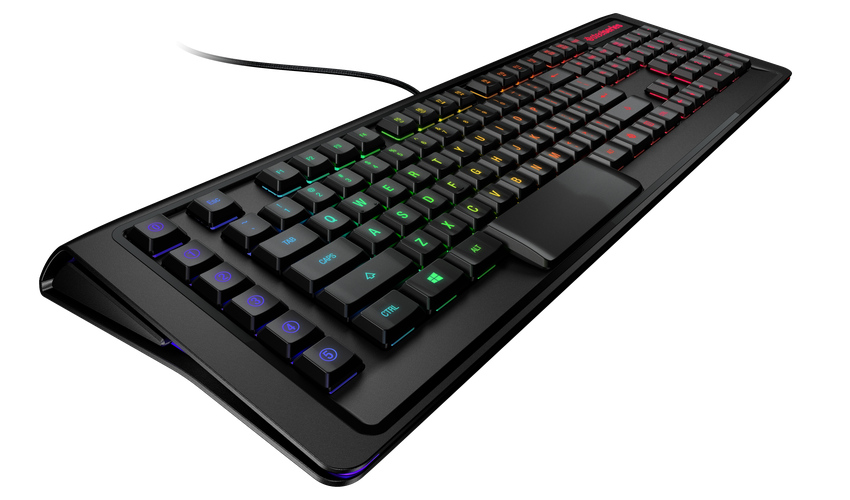 Lastly, and the most impressive to me as far as peripherals go, was the Apex M800 keyboard. Fully lit up, and hosts a wide range of RGB options. There are a ton of presets within the SteelEngine 3 program, but there's custom options as well. Anything customized, is saved onto the keyboard, so it goes where you go. What surprised me the most, was that this was a mechanical keyboard, but one that was not insanely loud. SteelSeries has taken much feedback from livestreamers and YouTubers to make this a soft-click. It's incredibly satisfying and responsive, but so so quiet. It's unbelievable. SteelSeries is even working with Valve to give keyboard color displays of health, armor, and currency. When any of them start to deplete, the keyboard will reflect that. This saves on the need to use a keyboard with a separate display, when the keyboard's RGB lighting can give you that same information.
SteelSeries was an incredible offering, from the headsets to PC peripherals. They are worthy of their recognition, and their expansion onto consoles is something to recognize and appreciate. If you're looking to upgrade and shop with reliable and exciting technology, SteelSeries is it.