Corsair as a brand has been expanding, most notably in the PC Gaming scene as one of the premiere hardware manufacturers. Thusly, they've created Corsair Gaming which includes, but not limited to their gaming mice and keyboards that have become an incredibly popular brand. The Corsair STRAFE leaves a good first impression. The presence and importance of mechanical keyboards has increased over the years, and now is the time where obtaining a mechanical keyboard has become affordable and reliable, at least with the Corsair STRAFE.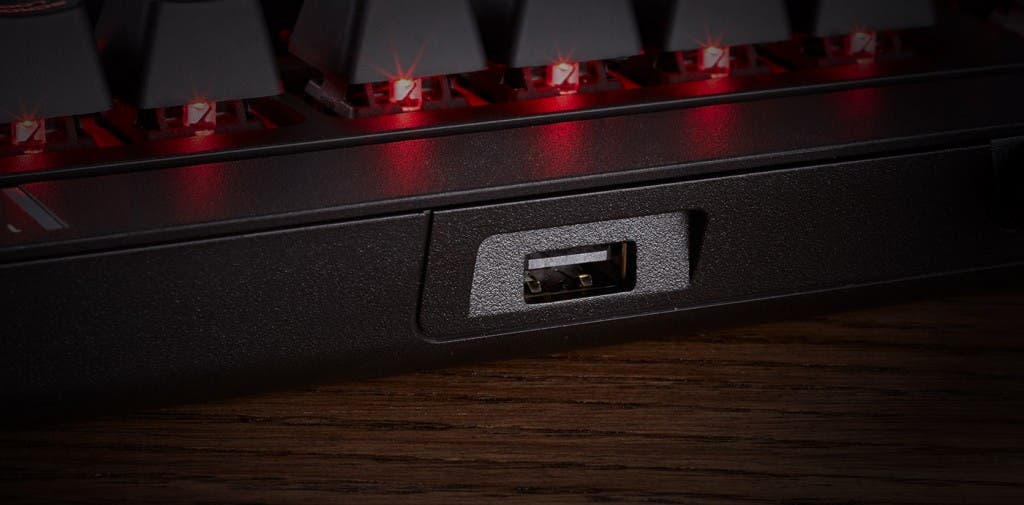 There's not much to the internals of the packaging. After removing the keyboard, I was met with some grey, textured keycaps for FPS and MOBA gaming (WASD and QWERTD, respectively). There's even a tool that helps you safely remove and replace the keys. The spacebar is textured, but remains purely in black. It feels good with the thumb placed on it, so it doesn't slip or have trouble finding the key. Thankfully, mechanical keys have individual switch for each key, and if they break, can be replaced without replacing the entire keyboard.
The keyboard as whole is mostly matte with a glossy finish on the sides. There's two, very thick plastic-coated USB cables. One of them is for the keyboard, and the other is a USB pass-through cable so to plug-in whatever device you want into the USB slot on the top of the keyboard. Having a USB slot on the keyboard is something I wish more hardware companies would do. I'm mildly disappointed that the cables are not kevlar-braided, though the thickness of these cables should last for a long time, even with wear-and-tear.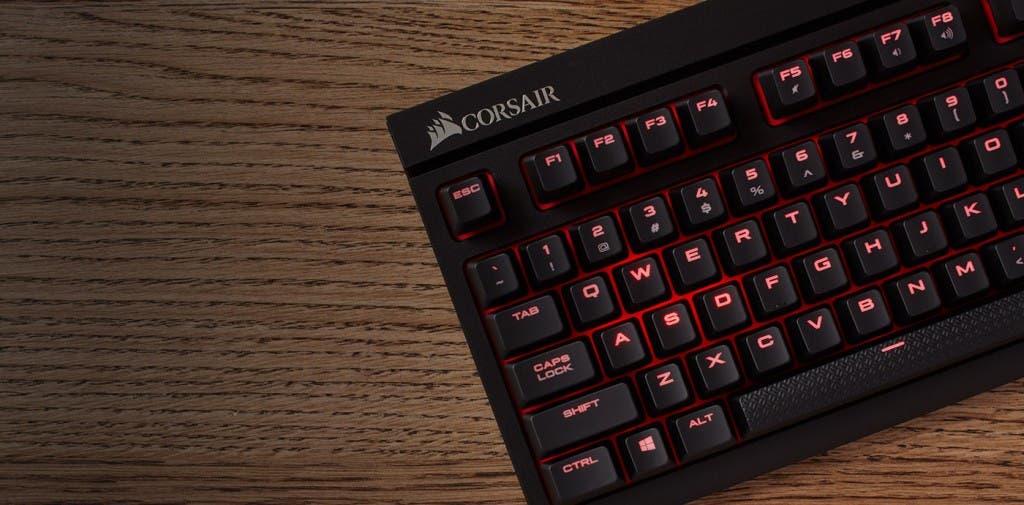 When purchasing the Corsair STRAFE, you can get it in two flavors of mechanical, Cherry MX Reds or Browns. The unit I was given for review uses Cherry MX Reds. Each key has its own red LEDs, and that's how the keyboard comes, just in one solitary color. The font of the keys are big and bold. Whether or not you like the color, it is stunning when it is at its full brightness.
You can use the Corsair Utility Engine (CUE) Software to program different functions, lighting patterns, and macros. The pre-designed functions of a visor, pulsing, or my favorite, the ripple effect with every key press, are very cool to see in motion. Though, you're likely to want to create something of your own, though the red-only lighting introduces some limitations to your creativity.
The keys themselves are made of hard plastic. The act of typing on them is relatively quiet when it comes to the sound output during use. As you'd expect, these are some incredibly responsive keys, almost too much as slightly resting them sends an input. Though, I found that as a writer, it worked great just for typing as well, with notable improvements to my words-per-minute as it was more accurate than my previous keyboard.
There's a Function (Fn) key that can to do multimedia tasks such as controlling volume, play, pause, etc. I'm not very concerned that there aren't dedicated buttons for this, because what's here works well. There's also a key in the upper-right where you can turn it on or off to disable Windows key, or program it to disable Alt+F4 or some other combination or function. There are not any dedicated macro keys, so any profile switching must be done manually within the CUE Software, or by setting it to change when a program is launched. Depending on the type of games you play, this may or may not be a problem for you.
The Corsair STRAFE may be limited by the color palette it comes with, but it should not be underestimated by that alone. Corsair knows their audience well, and with the STRAFE it manages to outshine some of its older brothers and sisters in the lineup. The construction here is resistant to my children's hard inputs and demanding gameplay, while maintaining responsiveness throughout. At just over $100, this is an incredibly great entry into mechanical keyboards.
This hardware unit was provided by Corsair for review purposes