The Witcher 3: Wild Hunt's "Free DLC Program" is completed, all 16 DLCs are Now Available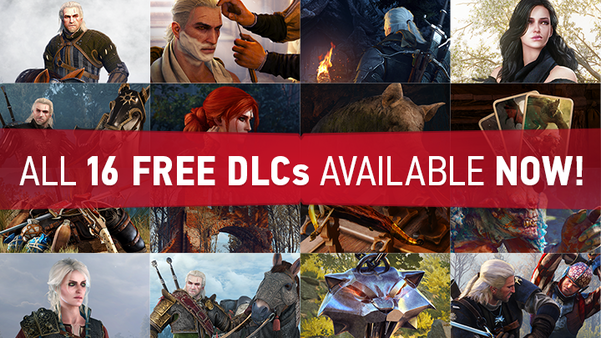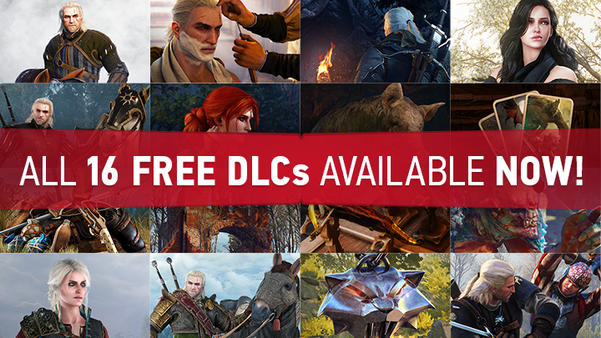 CD PROJEKT RED, creators of The Witcher series of games, announce that all 16 FREE DLCs for The Witcher 3: Wild Hunt are now available for download on every platform.
"We've been releasing free DLCs since launch, and today's release of New Game +, the 16th and last of them, marks a special moment for us and, I hope, for all Wild Hunt fans as well. They can now restart their adventure and see how the story turns out if they make different choices than on their first play-through," says Marcin Iwiński, co-founder, CD PROJEKT RED. "I'd like to extend my thanks to all the gamers who played our game and gave these DLCs a try. Nothing makes a developer happier than seeing gamers have fun with what they created," Iwiński adds, noting that "I would really like to see such initiatives become an industry standard rather than an exception to the general rule, and I hope that The Witcher 3: Wild Hunt has set a good example."
Below is a list of all the 16 free DLCs the studio released since launch. All DLCs are available for download now on Xbox One, PC, and PlayStation 4, free of charge.
Temerian Armor Set – Reserved for the finest of warriors serving the kindgom of Temeria, the Temerian Armor Set includes a jacket, gloves, pants, boots and horse armor.
Beard and Hairstyle Set for Geralt – Customize Geralt of Rivia to your liking with this amazing set of beards and hairstyles.
New Quest – "Contract: Missing Miners" – Miners from a small Skellige village are disappearing. Investigate and find out what's happening!
Alternative Look for Yennefer – Check out this entirely new look for the mighty sorceress Yennefer of Vengerberg!
Nilfgaardian Armor set – Crafted from the finest materials available, the Nilfgaardian Armor Set includes a jacket, gloves, pants, boots and horse armor.
Crossbow set – three new crossbows – Bring down your enemies with lethal accuracy and extend your tactical possibilities with this elite crossbow DLC.
New Quest – 'Fool's Gold' – Geralt and a village idiot team up to learn the secret of an abandoned village inhabited entirely by pigs.
Ballad Heroes' Neutral Gwent Card Set – Make your Gwent Deck legendary! The 'Ballad Heroes' neutral Gwent card set will provide alternative cards capturing characters from Dandelion's ballads in all their glory.
Triss alternative costume – Love to play dress up? Now you can with this exclusive new look for Triss Merigold.
New Quest – Scavenger Hunt: Wolf School Gear – Adventure awaits! Embark on an epic treasure hunt and get your hands on a long-lost elite set of Wolf School witcher gear!
New Quest – 'Contract: Skellige's Most Wanted' – A monster hunt like no other — Can you survive it?
Skellige Armor Set – Enhanced for the frigid climate of the Skellige Archipelago, this set includes a jacket, gloves, pants, boots and horse tack.
New Quest – Where the Cat and Wolf Play… – Explore a forgotten village and discover its terrifying secret. Find out who or what slaughtered its inhabitants and use all your witcher skills to confront this mysterious force.
Alternative Look for Ciri – Mix things up with this new and finely crafted outfit for Ciri.
New Finisher Animations – Slay your foes in new brutal and spectacular ways with this visceral and adrenaline-pumping DLC!
NEW GAME + – Hungry for more action? Start a new game with all the skills and items from your previous playthrough, get better loot, slay even more ferocious beasts and relive the epic fantasy adventure that is The Witcher 3: Wild Hunt!
Here's the instruction on how to obtain the DLCs.
PC – GOG Galaxy:
1. On the game page for The Witcher 3 (Library/My Collection/Witcher 3) you will see an "ADDITIONAL CONTENT" section displayed in the right column.
2. Purchase the "FREE DLC PROGRAM" item from there (you will not be charged).
3. In the "More"/"Configure" menu you can choose "Available Content", which will show the DLCs – tick them, and Galaxy will download them automatically.
PC – Steam:
1. On the game page for The Witcher 3 (Library/Witcher 3) you will see that there are DLCs available – tick them, and Steam will download them automatically as part of its automatic update process.
2. If you have downloaded the DLCs but they still aren't displayed in the game, restart Steam.
PC – EA Origin:
1. Go to "My Games" in Library and find "The Witcher 3: Wild Hunt".
2. Open the product page by clicking on a game title or the "i" (More Details) icon.
3. Scroll down; in the "Add-ons & bonuses" section, you'll find all the additional content (free DLCs, Artbook, Soundtrack, Maps, Wallpapers, Voice-Over Packs and Artwork). Click "Get It Now"/"Download" on the right to download.
PlayStation 4:
DLCs are displayed as "Add-Ons" on the game's page on PSN.
Xbox One:
DLCs are displayed as "Downloadable Content" on the game's page on the Xbox Live store.