Turtle Beach Elite Pro Tactical Audio Command (T.A.C.) is a mouthful to say, and by looking at the packaging, it is very much as technical as it sounds, but not as complicated. It is a necessary companion to the Turtle Beach Elite Pro headset, and will enhance any wired headset, but isn't required. This control unit provides many improves to a standard headset, but gives you total control on the audio you deliver and receive. It also gives great visual feedback via its bright LED lighting system at just a glance regarding how you're using it. Regardless of what you use it with, the TAC is an expensive add-on that works for your money.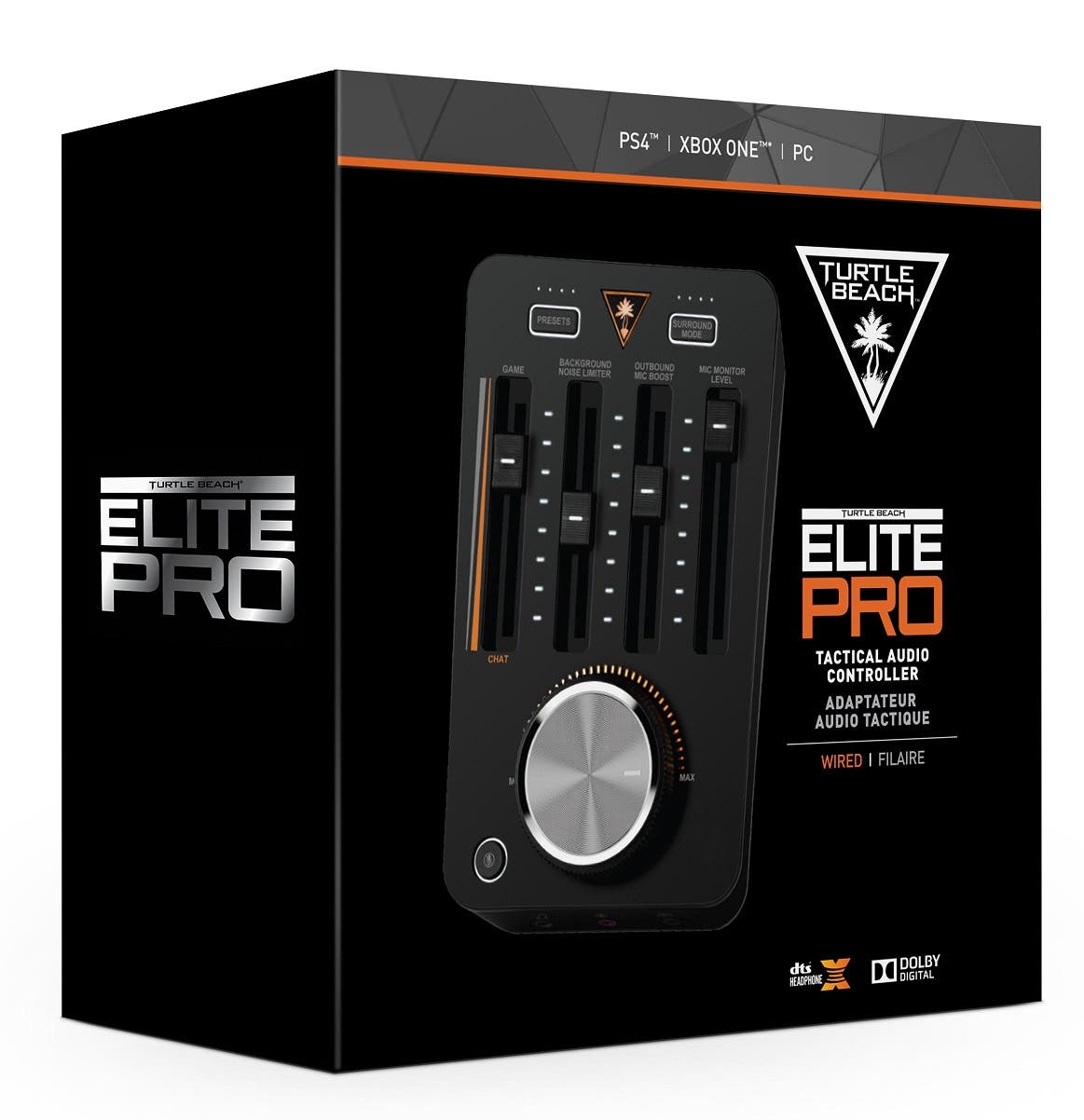 The T.A.C. comes with a 3.5mm cable, an optical audio cable, a mini USB cable, and a micro USB cable. The micro USB cable is used for a programming mode which with an optional software download, can control the presets and other facets of the TAC. There are so many ports to this device, that it can seem overwhelming, but the front is used for the headset, microphone, an Xbox One controller for the chat audio. The back of the T.A.C. is even more port-laden, with two 3.5mm aux in/stream out ports, a mini USB port for connecting to a PC or console, a micro USB port hidden behind a rubber door for service, and two pairs of optical audio and Ethernet ports (one pair for input, one pair for output). The optical and Ethernet ports let you daisy chain multiple T.A.C.s together for LAN parties or eSports events. The back panel also holds a sliding switch that puts the T.A.C. in PC/Mac, PlayStation 3/4, Xbox One, or Xbox 360 mode.
The hardware and construction of this thing is impressive. Massive grip pads at the bottom hold it firmly in place on your desk so that it doesn't unnecessarily slide when pressed. The orange and black color scheme matches that of the Elite Pro (as they are designed to be used together).It is a device that has very distinctive visual elements, such as the huge knob that can be pressed down to kill all audio outputting, or to be rotated with corresponding lights turning from white to orange. The sliders are Game/Chat, Background Noise Limiter, Outbound Mic Boost, and Mic Monitor Level. There's microphone monitoring and chat monitoring on a small button and that lets you know when you or others are talking. When muted, it goes fully red. All of the TAC's lights are useful.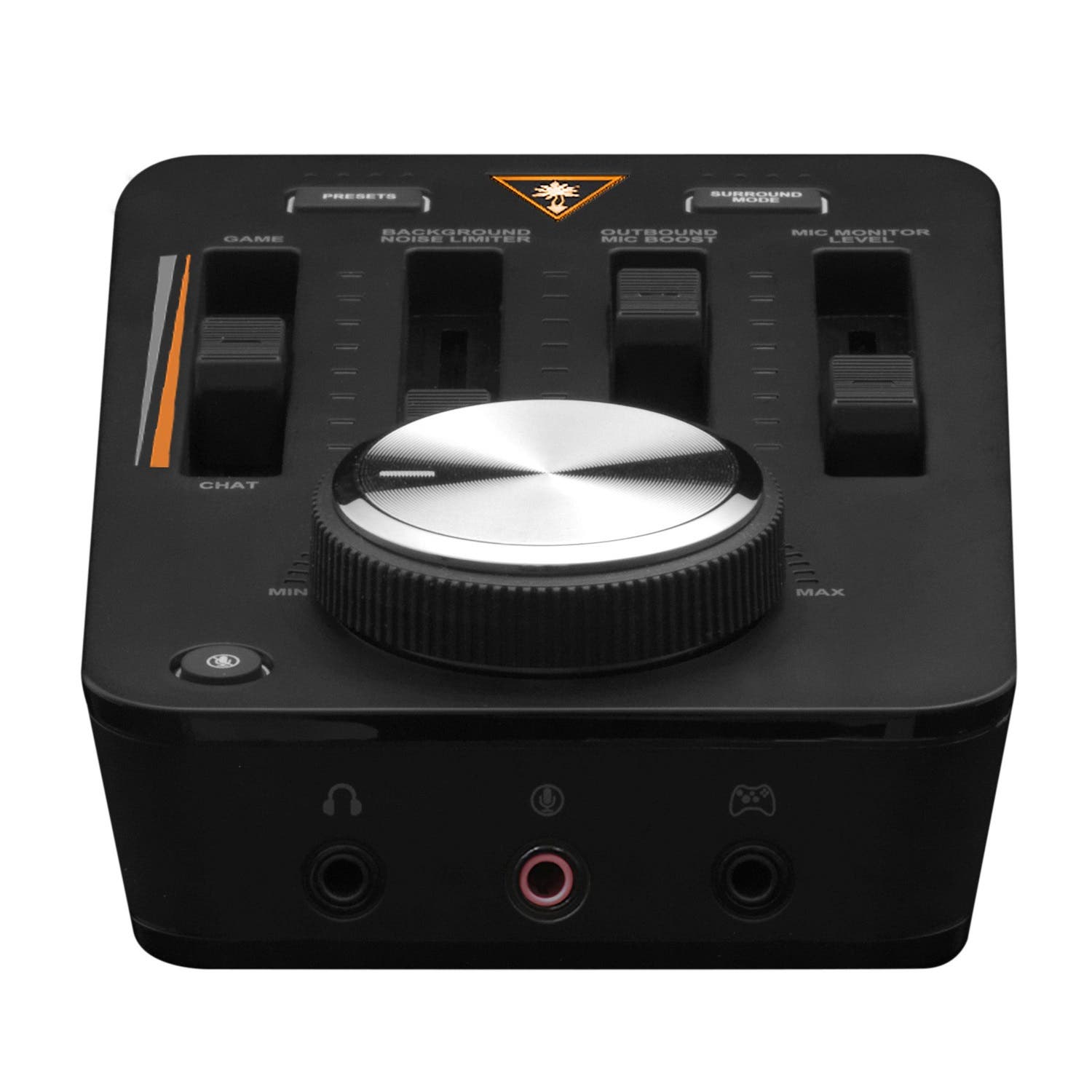 There's 4 Presets with 4 Surround Modes for each preset. It seems like a lot, but it is nothing if not a wide spectrum of auditory listening modes. There's the main mode I use, which is accurately named Game Mode which has Signature Sound, Shooter, Superhuman Hearing, and Footstep Focus surround presets. Then there's Movie Mode: Signature Sound, Action, Horror, and Drama. In movie mode, Signature Sound seemed to be the best fit. I enjoyed Music Mode: Signature Sound, Stadium, Acoustic, and Dance all provided the right types of sound for the type of music you're listening to. The tuning was excellent. Then of course, if the sound reverberates too much, then there's Surround Off: Natural Sound, Bass Booster, Bass & Treble Booster, and Vocal Booster. The Dolby tuning here is excellent, and I found very little reason to want to come up with my own preset.
As stated in the review of the Elite Pro headset, by plugging the T.A.C. into your PC or Mac over USB turns it into a 7.1-channel USB sound card. This then makes any headset receive 7.1 audio support. While the Elite Pro headset doesn't have it natively, paired with this it does. Or any headset you can find to plug into it. The benefits alone make it a powerful tool in controlling your audio.
During the review period, I mostly used the Turtle Beach Elite Pro Tournament Gaming Headset in conjunction with the Turtle Beach Elite Pro Tactical Audio Command (T.A.C.). It too, like the Elite Pro headset, is geared towards professional gamers, streamers, and those in media. If you're not any of these, don't be turned off at the possibility of owning this for those reasons. The tactile control and level of detail with this control unit is for anyone who cares about audio in any meaningful way. This is expensive purchase, which makes it hard to recommend to quite everyone, but especially beneficial if you do.
A hardware unit was provided by Turtle Beach for review purposes.