The Crew 2 allows Ubisoft to have selective amnesia. The Crew 2 acts as if The Crew never happened, or allow it to remember that it even existed. Which, is nothing but great news. So instead of a gritty story about vengeance and undercover cops, we have a live television show that's broadcast around the world that goes for fun and celebration.
The overall story for The Crew 2 is again not that great, and can be hit or miss. The dialogue and characters are super uninteresting, and never more than a cardboard cutout. There are these flashes of brilliance. Despite the fantastical nature at times (transformation from car to boat to plane, jumping a vehicle from insane heights, and more physics defying aspects), there's one story event that stood out: A race ominously named goes off, and a cutscene occurs when one character crashes. And in something like from a Driver game, you have to rush them to the hospital yourself. It's super smart, and makes people aware that street racing is not safe.
One of my and many player's gripes with The Crew was the awful vehicle handling. There were guides and Reddit posts all about how to tune the controls to make things driveable. Thankfully, Ivory Tower must have thrown everything out, because the cars feel way better to control. With the addition of planes and boats, depending on the type, both feel really solid but don't quite match up to other open-world games that have these types of controls. But for what's here, it is satisfying. However, the one thing that sticks out is how bad the dirt bikes control, the motorcycles are fine, but dirt bikes are in some serious need of rework. Surprising for a racer, but given its online-centric nature, it makes sense, but it is worth noting that there is no rewind feature here. So if you have a catastrophic crash at 97% of one of the longer races, you'll have to deal with that and restart right then or try again later. This leads into The Crew 2 not being good at telling you what you can or can't hit, and leads to frustration as you have to figure it out. Thankfully, most of the game's objectives are to reach the top three, and rarely just a win, so there's wiggle room for accidents, and since the game is more about followers than first place, it's easy to progress.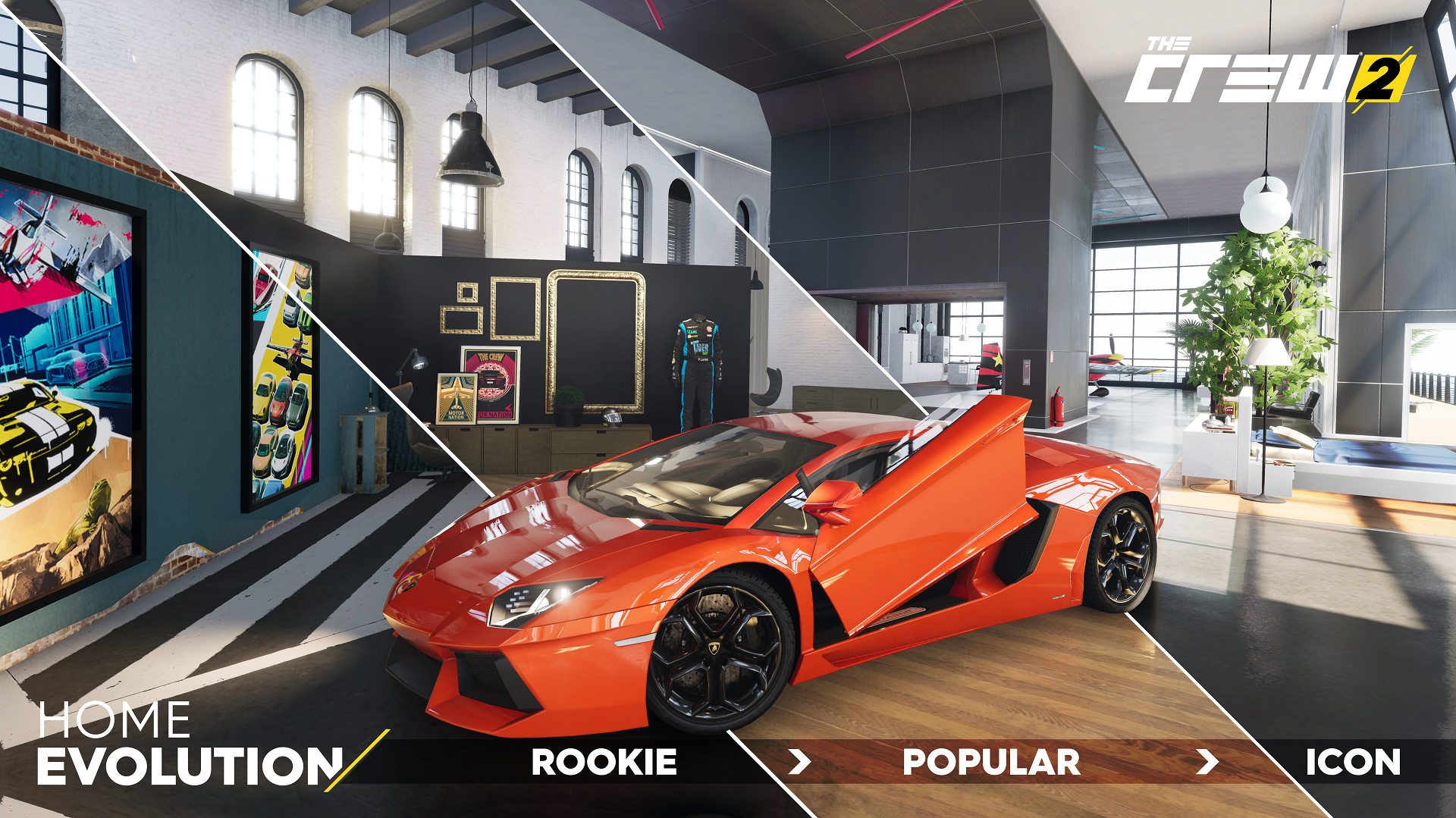 Progression in The Crew 2 is all about followers on its unnamed social media platform. Anything you do from races to in-game events and tricks will earn them. Earn enough of them, and you'll level up. Not only do you gain access to bigger and better races, but you also see your home increase in value, like in Test Drive Unlimited. This RPG style of progression is also shared with your cars, as each car has a maximum performance level it can be. After completing races, you earn loot drops that give performance parts that can be used on any car of the same type. Some of the loot parts have perks on them, but ultimately it comes down to the number being bigger, and using that. The part perks kind of get lost within themselves.
Serving as end game leveling, is Icon status which is the final tier of progression. It goes from 1 to 9999 to ensure that you always have something to do. This is where the game hides its perk points, only in Icon status do you earn them. For each level earned, is a series of points. They can be invested into one of the three trees: Comfort, Vehicle, and Gameplay. Some are endless dumps, and others are focused with a cap. But each one works to your benefit to make you a faster, more efficient player. There's a lot of room for experimentation and to focus on the things that matter to you as a player that will help you be first place every single race.
Like the Showcase events in the Forza Horizon series, The Crew 2's Live Extrem races are the races in which you transform between a land, sea, or air vehicle in one race. It's easily the coolest thing you do in the game, and like Forza Horizon, there's too few of them. You have the ability to freely transform between your favorite vehicles on the spot, but I wish the races leaned into it more than just these special events. There are five episodes to the Live Xtrem events, with the first one being the intro, and more episodes unlocking as you progress. Regular races are broken down into different categories: Street Racing, Offroad, Freestyle, Pro Racing, and Live Xtrem Series. Street Racing is what you'd expect for a racing game to have like street, drift, drag, and hyper car races. Offroad features rally raid, rallycross, and motocross with rallycross being the best of the group. Freestyle flexes your creativity in aerobatics, jetsprint, and monster truck events. Pro Racing has power boats, touring car alpha GP, and air races for the serious types with a lot of power. Each race type and group feels unique from the last, but increasing the number of driveable vehicles means grinding to get in-game currency to get all the cars you want.
The Crew 2 trims the fat over the previous, with a focus on quality not quantity. You can pick and choose the events you play from the map, and either drive to them or teleport to them. Now, there's an activities list from the pause menu that lets you jump straight into events, cutting down on the nonsense The Crew put you through. The variation between events is really satisfying. By far, the Hyper Car races are the most stressful, but entertaining races, as you'll be going 200mph in a car as you make your way from New York to San Francisco. The weather system in this game is really something. You'll see the weather change based on what part of the United States you're in. Day turns to night, and so on. The Crew 2 is full of small details, like the sound when you drop a manual shift, or the howling wind at high speeds.
The Crew 2 encourages you to play different race disciplines by the way it gates progress. This is actually a good thing as it allows you to diversify and get comfortable with everything the game has to offer. With everything said thus far, it should be clear that The Crew 2 is very much an arcade racer, and is unrealistic and not trying to be a simulation. For good or bad, there are no cops in the game, at least ones that will chase you. They were easily the worst thing about The Crew that I'm happy isn't returning.
The Crew 2 offers some tourism, in the form of free roam – but unfortunately not like the mode in Assassin's Creed Origins where you learn about the history of the United States. While I felt this about the first game, it's more so with the second: this is the ultimate driving game. I've always wanted a game that you can drive across the entire United States. You can visit places in its condensed form and take photos, and road trip around. Free roam can also be used to do things you normally wouldn't: fly over the grand canyon, transform into a car and drive in the below. Or you can fly a plane through Fremont Street in Las Vegas. Or you can fly, and time it just right that you transform into a boat to land on a skyscraper. Now, it is worth noting at this time there is no PVP racing, only co-op racing and playing against ghosts. Live players will be on the roads that you can road trip with, or enter events with. I don't miss it, but the lack of proper PVP races seems like a weird omission for the time being.
My PC Specs:
– Microsoft Windows 10 Pro
– Intel Core i7 6700k @ 4.2Ghz (Turbo)
– NZXT Kraken X61 106.1 CFM Liquid CPU Cooler
– G.Skill Ripjaws V Series 32GB (2 x 16GB) DDR4-3200 Memory
– EVGA GeForce GTX 1080 FTW 8GB GDDR5X
Technically, The Crew 2 is impressive. It looks great, and except for the initial load into the game, is extremely fast. Transporting yourself across the United States is almost instantaneous. The game looks great in 1440p, but has a 30 or 60fps. Nothing above, this restriction must be something to do with the server and tick rates, but hard to say. I'd prefer an unlocked framerate or triple digit limitation. The game does support racing wheels, and handles this wonderfully. It is a great feeling to do a road trip with a wheel. Actual racing doesn't feel as good, but there was a lot of work put in to make sure it feels right. Curiously, the PC version does not have a 'Quit to Desktop' option like other Ubisoft titles. This has been the case since the Beta, but hopefully gets added in soon.
The Crew 2 reinvents the series for the better. Ubisoft realized they had something special with The Crew, but focused on the wrong parts. We again get the entire (albeit condensed) United States of America to drive through, in this nationwide celebration of racing is something worth remembering. The Crew 2 has a generic social media system combined with over-the-top live television acting that gets away from itself. It does however come together in all the right ways this time. The Crew 2 is far and away better than the original, and has systems in place to keep you coming back for more.
A Uplay PC code was provided by the publisher for review purposes