Diablo III has been out for six years at this point, but it only just came to Nintendo Switch. The Eternal Collection as a package isn't new, but it does have improvements and bonuses the PlayStation 4 and Xbox One versions didn't get. Now the Switch release is here, making it something special, and worthy of your attention. Whether a returning veteran, or brand new to the game, there's an unquenchable thirst of things to do, thanks to an endless adventure mode and seasonal characters to create. With all of its additions and changes through the years, Diablo III is simply timeless, and the Switch version of Diablo III: Eternal Collection is a standout for the platform, making it a must-own.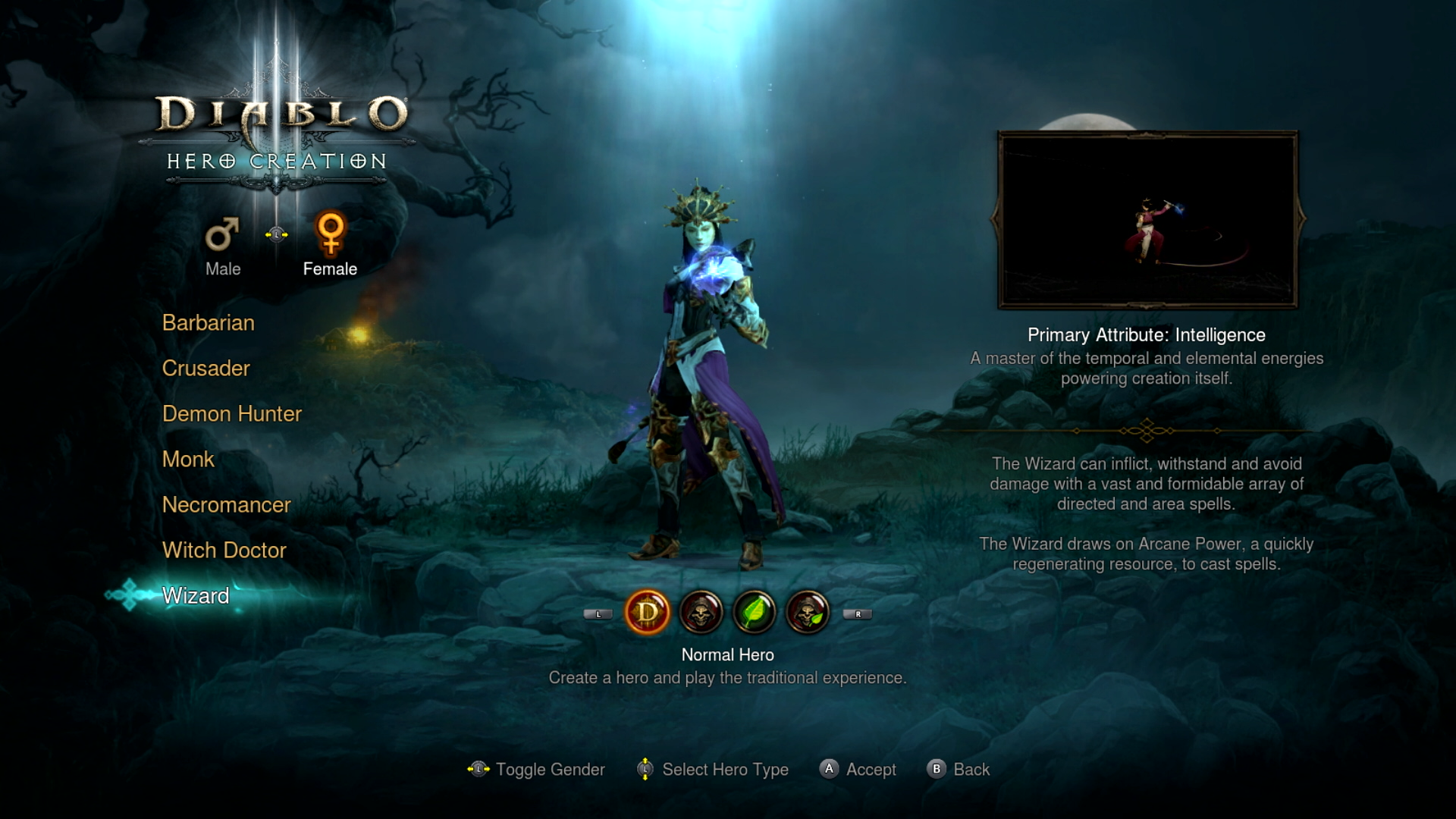 The first thing you'll notice about this version is that it's freakin' Diablo III on the Nintendo Switch! The second thing you'll notice, is that Adventure Mode and Challenge Rifts are available from the start, without requiring you to play through the campaign. If you've never played the series, the campaign is still the way to go. For anyone who is double, triple, or quadruple-dipping, this is a Godsend. A unique Nintendo-exclusive for Diablo III Eternal Collection on the Switch is the Legend of Ganondorf cosmetic armor set, Tri-Force portrait frame, Cucco pet, and Echoes of the Mask cosmetic wings. Accessing these items is available from the get-go, but there are a few hoops in accessing them. Thankfully though, the armor is a transmogrify which means that as you progress through the game, you can re-apply the transmog without losing out on under-leveled armor. The only catch is that it is costly to pay for all of the transmogs needed to then equip said armor, which you won't have the in-game funds for, until much later.
I've played Diablo 3 to completion across several platforms and characters, having to start anew each and every time, and it still feels fresh and exciting. The Nintendo Switch version is no different with that feeling. Diablo III: Eternal Collection includes Diablo III, the Reaper of Souls expansion, and the Necromancer class add-on. There's the full story campaign consisting of five acts, and now seven classes. With the aforementioned Adventure Mode which offers endless replayability, and the Season Mode which offers a limited time play and structure, this is a game packed with content that offers something for everybody, even those who want to play hardcore characters which imbue permadeath.
There are a surprising amount of options for controlling the game. You can do so with free dual joycons, a single joycon (which is less than desired), a Pro controller, or attached to the Switch itself. Other than the single joycon, every other mode felt solid and never impacted play. There are some oddities like lack of touch screen controls for some elements, and using the A button to initiate a dialogue, but you have to press B to continue. In addition to controls, local multiplayer is back in a big way too. You can play with 4 Switches linked together, or same Switch, or even online.
Nintendo Switch Online does come into play if you want to have save game cloud support, or play online. It is not needed if you are playing Seasons Mode or any other aspect. You can even play the Diablo III: Eternal Collection entirely offline, which is ideal for frequent travelers or those who won't have access to WiFi. On PC, there's reliance on a constant internet connection for the game to work, that's no longer needed here. There's a ton of smart decisions that went into this version of the game that makes it extremely portable and enjoyable for every kind of player.
Performance on Nintendo Switch comes in two flavors: When docked, it runs at a silky smooth 60fps like its predecessors, and in 960p. When in handheld mode, it runs at 60fps in the Switch's native 720p for the screen. And in playing, the game prioritizes framerate above all else. Undocked is the intended way to play the game; whether commuting, at home on the couch while the TV is in use, or even in bed, this type of experience in its performance is unmatched anywhere you go.
A great benefit of the Diablo III: Eternal Collection is playing how much or as little as you like. No matter the amount of time you have at your disposal, you can pause and suspend the game until you can come back to it. This is a game that works on your schedule, and not the other way around, and it's so beautiful for it.
Diablo III: Eternal Collection is such a perfect fit and excellent port. It should be considered the gold standard for ports and Action RPGs going forward. Blizzard is putting everyone on notice. Diablo III: Eternal Collection is a complete and definitive collection of what's sure to be the final form for Diablo III. It's a perfect swan song for this game, because it's Prime Evil how good this release is.
A pre-release Nintendo Switch eShop code was provided by the publisher for review purposes