News
Dec 12, 2018
GRIP: Combat Racing upcoming content roadmap outlined into 2019
From Press Release:
Watford, England – December 12, 2018 – Today, Wired Productions Ltd., a leading independent video games publisher, and developer Caged Element Inc. are pleased to outline the roadmap of upcoming content and support for GRIP: Combat Racing.
Following the successful launch across Steam®, PlayStation®4, Nintendo Switch™, and Xbox One – including Microsoft's Game Pass subscription service – the timeline unveiled showcases a variety of upcoming developments; from game balancing enhancements through to all new tracks and modes, all engineered to ensure GRIP: Combat Racingremains a competitive and engaging experience.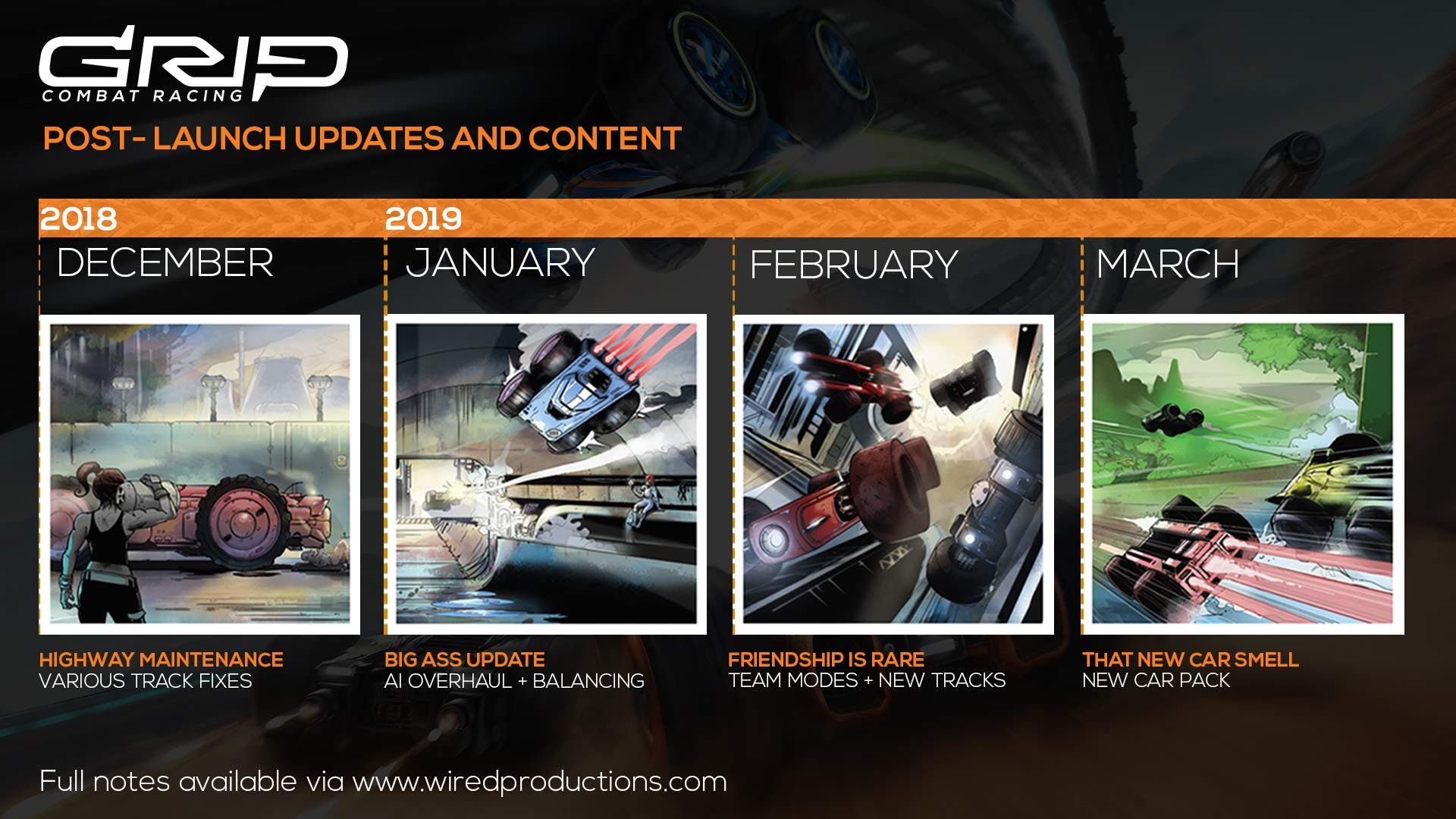 In addition to the extensive roadmap of additional content, 2019 will see GRIP: Combat Racing fully enter the competitive sphere with a new race series. Full details of regional events and partnerships will be laid out in the new year.
Prospective racers who want to learn more about the game, join regular PvD (Player vs Dev) game sessions, and show off their skills should check out the GRIP: Combat Racing community on Twitter at @gripvideogame, Facebook at @gripvideogame, via #GRIPCombatRacing, and on Discord.
"GRIP has already travelled lightyears from its roots in early access and we're delighted to continue that journey," said Chris Mallinson, Game Director at Caged Element. "From creating the ultimate Rollcage-inspired experience fans had been waiting for, we now move forward into a new phase, shaping the game for the future – we have so many exciting ideas we can't wait to share with you all. This is just the start."
The game can be purchased now for console (SRP $39.99) and PC (SRP $29.99) – digitally on Steam, the PlayStation™ Store, Xbox Games Store or physically; upright or upside-down at global retail.
In addition to its digital release on Xbox One, GRIP: Combat Racing is available through the Xbox Game Pass subscription service, bringing the title to Xbox players around the world.
For more information visit http://www.wiredproductions.com. To find a stockist of the game in your territory visit http://www.wiredproductions.com/where-to-buy/grip