News
Jan 09, 2019
Metro Exodus Artyom Custom Edition can't be bought, only won through official promotions – and there's only NINE in existence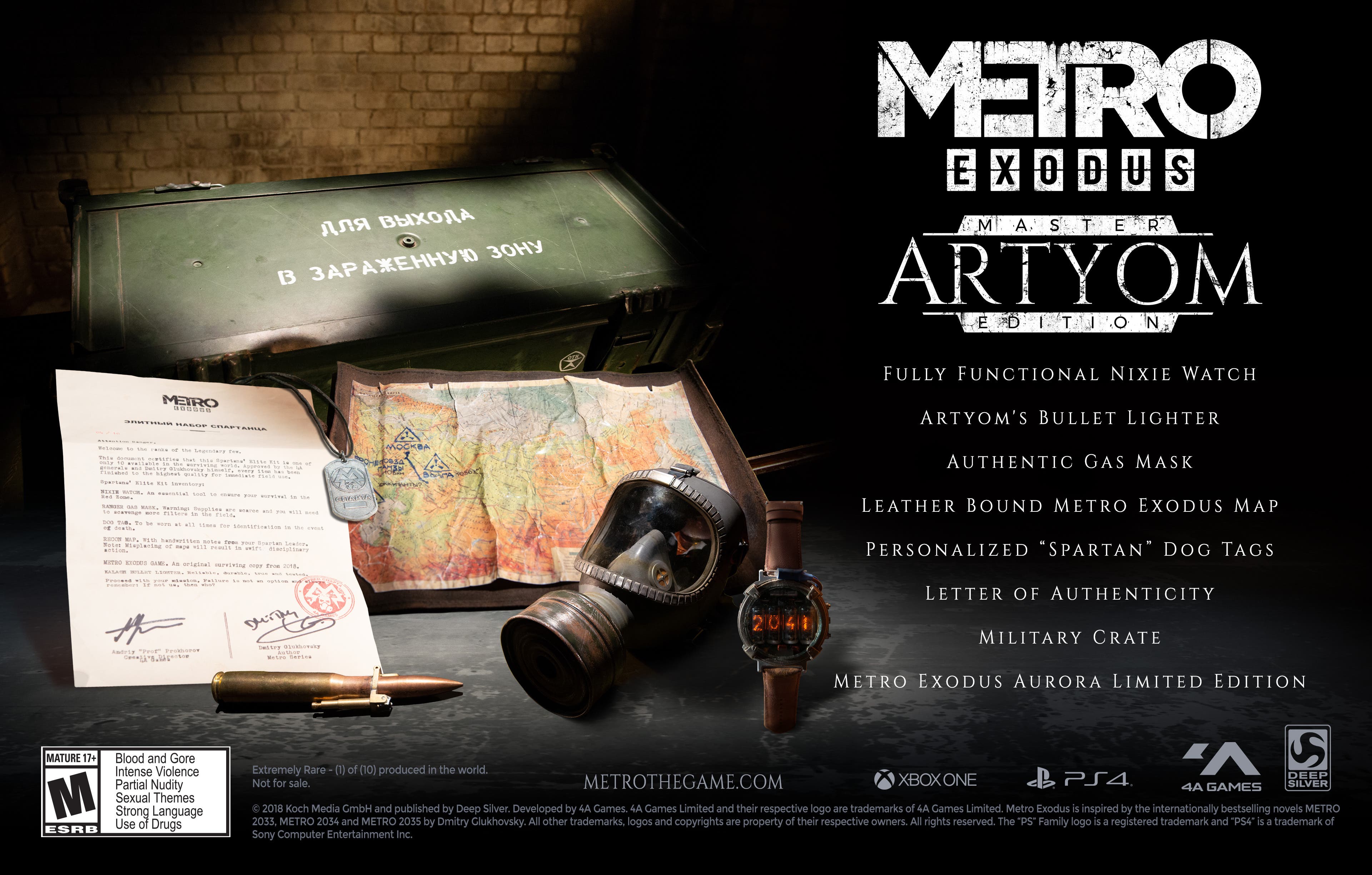 From Press Release:
MOSCOW – January 9, 2019 – Deep Silver, 4A Games and Metro author Dmitry Glukhovsky today unveiled the Metro Exodus Artyom Custom Edition. This extraordinary bespoke edition is so rare only ten have been made, and they are not available to purchase in any store – instead, Metro fans around the world will have the opportunity to win them via a number of planned promotions in the coming weeks.
Accompanied by a certificate of authenticity personally signed by Dmitry Glukhovsky and Andrew 'Prof' Prokhorov, creative director and co-founder at 4A Games, these hand-crafted editions feature a selection of Artyom's iconic equipment, including a fully functional Nixie watch. You can see Dmitry assembling one of these packages in our reveal video here: https://youtu.be/vb8w7tN_-48.
"We worked with the renowned craftsmen at DB Props, based in the world-famous Shepperton Studios to source and manufacture the ultimate collection for Metro fans," said Huw Beynon, head of global brand management at Deep Silver. "Each item is either an authentic real-world object or has been hand-made to re-create 4A's original designs. We knew we could never do Artyom's signature Nixie watch justice with a replica; so we decided to make them for real."
Packaged in a steel ammo crate, the Artyom Custom Edition contains:
A fully-functional, hand-made Nixie Watch
A Gas Mask and Filter
A working Bullet Lighter made from a decommissioned shell
A hand-made steel Spartan dog tag to be engraved with the recipient's name
A leather map case and map of the Aurora's journey
A personalised Certificate of Authenticity, signed by Dmitry Glukhovsky and Andrew 'Prof' Prokhorov
The first of these priceless editions has been given to 4A Games – the remaining nine will be available to win via a series of upcoming promotions. Be the first to hear how you can stand a chance of winning by registering at MetroTheGame.com, following us on Twitter and Instagram @MetroVideoGame or on Facebook at Facebook.com/MetroVideoGame.