News
Jan 14, 2019
Cuisine Royale is coming to Xbox One this year, now available on Xbox Insider Hub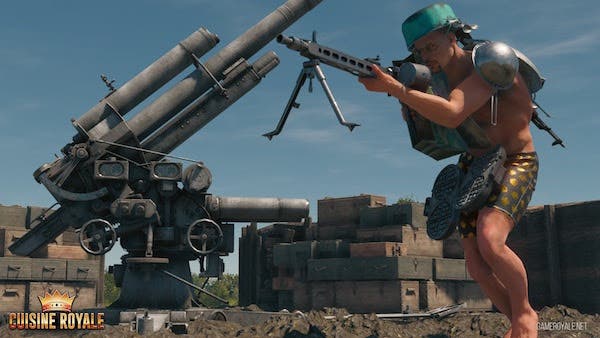 From Press Release:
Darkflow Software and Gaijin Entertainment announced that their MMO shooter Cuisine Royale is coming to Xbox One in 2019. Before its official launch, Cuisine Royale is now available on Xbox Insider Hub and Xbox Insiders are invited to try the game and share their feedback. Hurry up as the number of participants is limited!
Cuisine Royale is an all-kitchen warfare MMO shooter in the genre of battle royale. The game offers the most realistic weaponry in the genre and highly detailed environments with trenches, bunkers, stationary machine guns, sounds and graphics. On the battlefield players can find items that significantly increase their characteristics. Strapping on an IV feed will provide accelerated health regeneration, a set of glasses will increase weapon accuracy, and more. Players can also improve their defence, but instead of traditional battle armor, in Cuisine Royale they equip themselves for battle with eating and cooking utensils like a colander as head protection or a wok as a breastplate. The gameplay is challenging, fast paced and well-balanced.
"Don't be fooled by the kitchen utensils or the bunny slippers, gameplay wise Cuisine Royale is the most realistic battle royale experience you can have on your PC, and now it's coming to Xbox One this year. We are putting out a call to arms to all Xbox players worldwide. Players can test out the game right now on Xbox Insider Hub," said Alexander Polyakov, Senior Producer, Darkflow Software.
Cuisine Royale offers various themed seasons such as the recently announced Wild West season where cowboys, bandits, sheriffs, Native Americans and other heroes of the prairie fight each other to see who is celebrating their victory over the fallen. Players can also purchase optional "Wild West Stories" book to get additional rewards and craft rare suits and items.
Cuisine Royale is also featuring the most honest system for Loot Boxes: Those are scattered around the battlefield, and are free to open, their content is well labelled, and the drop chance of what is said to be inside is a 100% guarantee.
Visit Xbox Wire: https://news.xbox.com/en-us/2019/01/10/cuisine-royale-beta-xbox-one/
For more information, visit: http://www.gameroyale.net
---
Gallery: