I'm not sure how, but the wizards at Codemasters have topped themselves for a third year in a row. As it stands, F1 2019 is absolutely the best Formula One game yet – which is hard to say after so many good years of F1 entries from the developers. Codemasters worked on visual enhancements, and expanded the career mode for a fuller experience. The enhancements, returning classics, and updated career mode make this an absolute winner.
The game is the perfect companion to the upcoming 2019 FIA FORMULA ONE WORLD CHAMPIONSHIP season featuring all twenty one circuits. The career, much like the game serves to bridge players into F1. You start with a new, and abridged career in FORMULA TWO (F2). This is the first time that F2 has been in the series, and this accelerated experience is a tutorial in spirit, but offers so much more. It teaches you the details and nuance of all the things you'll experience in FORMULA ONE, but on a smaller scale. An odd thing experienced, is that during the first race of FORMULA TWO, I was told to let my partner pass due to a scripted event that left my turbo inoperable for the rest of the race. My first time playing this race, I let him pass and I was commended for conceding my position for the favor of the team. In my second time playing it, my teammate was nowhere near me, and I was scrutinized for not letting them pass, even though I had come in first. Other than that, there's audio bugs informing of positions I had been in for several laps. Overall, the game is rather polished.
Also new this year is the ability to customize your own livery for challenges and multiplayer. There's a separate currency and system there to unlock different paint schemes, badges, and more for your profile. Improved this year is the replay system for sharing your racing prowess. Now the game will automatically compile a highlight reel for sharing. F1 2019 is about the persona, and it shows in every facet.
With the return of career mode, and you'll find yourself in the spotlight depending who you sign with. Like in F1 2018, you'll have to conduct interviews with the press. And you'll be given dialogue options that offer neutral, showman, or sportsman answers. They're worded in a way that tell you what they are, but guised as simple responses. Selection is key, and you're given ample time to decide what you want to say, and when. You can be the star or live in the shadow and cast a light on yourself for the team. Who you sign with in F1 is up to you, but each company is looking for someone who offers Showmanship or Sportsmanship, so it's good to align yourself with what works to your attitude preference and behavior. Within teams, you'll form a rivalry with your partner, and you'll be constant compared to them and given points for certain tasks like podium finish, qualifying position, and fastest lap time.
The rule changes for the sport of FORMULA ONE in the 2019 season brings performance changes in visual form. The cars are now outfitted with new wings for front and rear, and new brake ducts. Tire compounds have been reduced to just three options: hard, medium, and soft. While not seen in game, biometric gloves have been introduced to monitor oxygenation and pulse rates of the drivers. Lastly, those who play in the exterior camera view will notice wing lights have been added for visibility of the car's width to identify where its edges are.
F1 classics return, range from the late 70s through the early 2000s. Optional DLC options add more to the game. The Anniversary Addition adds two classic cars, such as Fernando Alonso and Felipe Massa's 2010 Ferrari F10, as well as Lewis Hamilton and JensonButton's 2010 McLaren MP4-25. If you spring for the Legends Edition (which also includes content from the Anniversary Edition), you will gets the most value out of it, as it adds Ayrton Senna's 1990 McLaren MP4/5B and Alain Prost's 1990 Ferrari F1-90. You'll also be given access to eight exclusive Senna vs Prost challenges and liveries for use in challenges and multiplayer. Historical challenges in the F1 series is my absolute favorite, and it does not disappoint here.
Despite the add-on DLC or game upgrades, F1 2019 alone feels like a complete game. The Legends and Anniversary Editions are value adds. There's a new showcase mode to be able to review every detail of the car by looking around them, and reading all the information on a fact sheet. This game celebrates the history of the sport.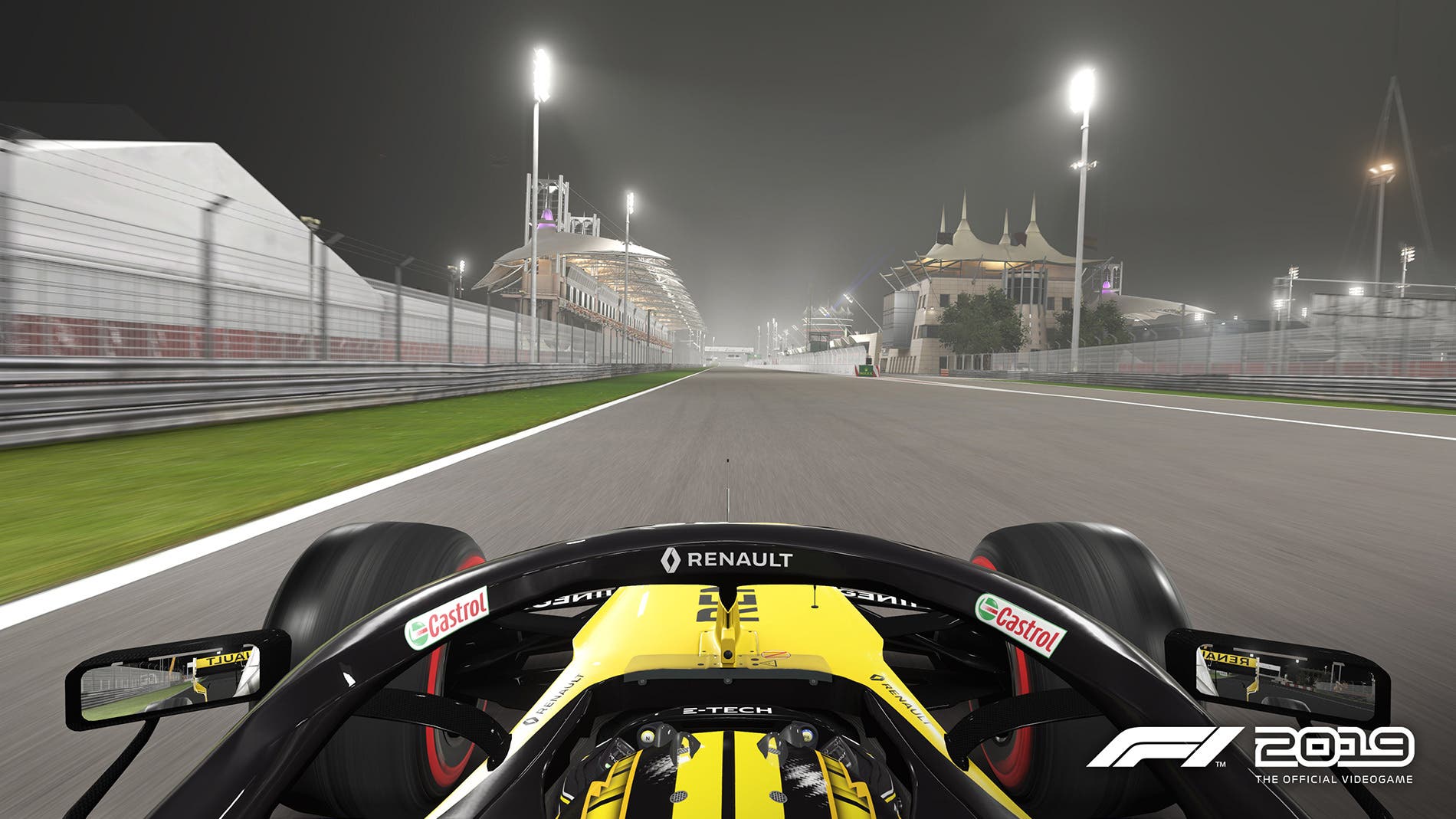 PC Specs of Review System:
– Microsoft Windows 10 Pro
– Intel Core i7 6700k @ 4.2Ghz (Turbo)
– NZXT Kraken X61 106.1 CFM Liquid CPU Cooler
– G.Skill Ripjaws V Series 32GB (2 x 16GB) DDR4-3200 Memory
– EVGA GeForce GTX 1080 FTW 8GB GDDR5X
– Seagate 2TB Barracuda SSD SATA III 6Gb/s Internal SSD Drive
– Logitech G27 Racing Wheel, Shifter, and Pedals
The game is playable in DX11 or DX12, which is only available on supported cards and in Windows 10. And performance is incredible, running the game in 1440p with maxed settings (on Ultra), I am getting 90-100fps at all times. Previously, the rain in F1 games were the showcase, and the things that were talked about most for their technical marvel. Now, nights have a renewed enthusiasm thanks to reworked lighting. It all feels alive now, with tracks like Bahrain, Singapore, Abu Dhabi seeing massive improvements. The light sources all have a glow and looks more natural with its illumination, giving off a more realistic look that doesn't look like a videogame anymore. It'd be impossible to back to F1 2018 or older because of this change alone.
F1 2019 has so many improvements, changes, and a overall fantastic feel. It doesn't make you feel like anything was left out, and the extra DLC is just that – this is value-packed offering. Codemasters have blurred the lines between broadcast and gameplay, and it offers immersion on a whole new level. The interspersed drama heightens the stakes in all the right ways. F1 2019 is the spectacle it should be, just like its real-life counterpart. This is the best it's ever been.
A pre-release Steam code for the F1 2019 Legends Edition was provided by the publisher for review purposes