Editorial
Jul 09, 2019
GOG Galaxy 2.0 Solves The "Too Many Launchers" Problem
From the moment GOG had announced GOG GALAXY 2.0 back in May, I knew it was going to be something special. They promised an application that would not only be the launcher to unify all launchers, but it would also bring in your console games as well. That's no doubt a feat unto its own, but its an achievement because they've done it. There's an overwhelming sensation that there's too many launchers to install, use, and manage — and that's right, there are. But thankfully GOG Galaxy 2.0 handles it so well, you won't think about the other launchers as they operate in the background. The application is in Closed Beta presently, and while it has a ways to go, all the important pieces are there to prove that GOG Galaxy 2.0 is a must-have launcher with a singular focus.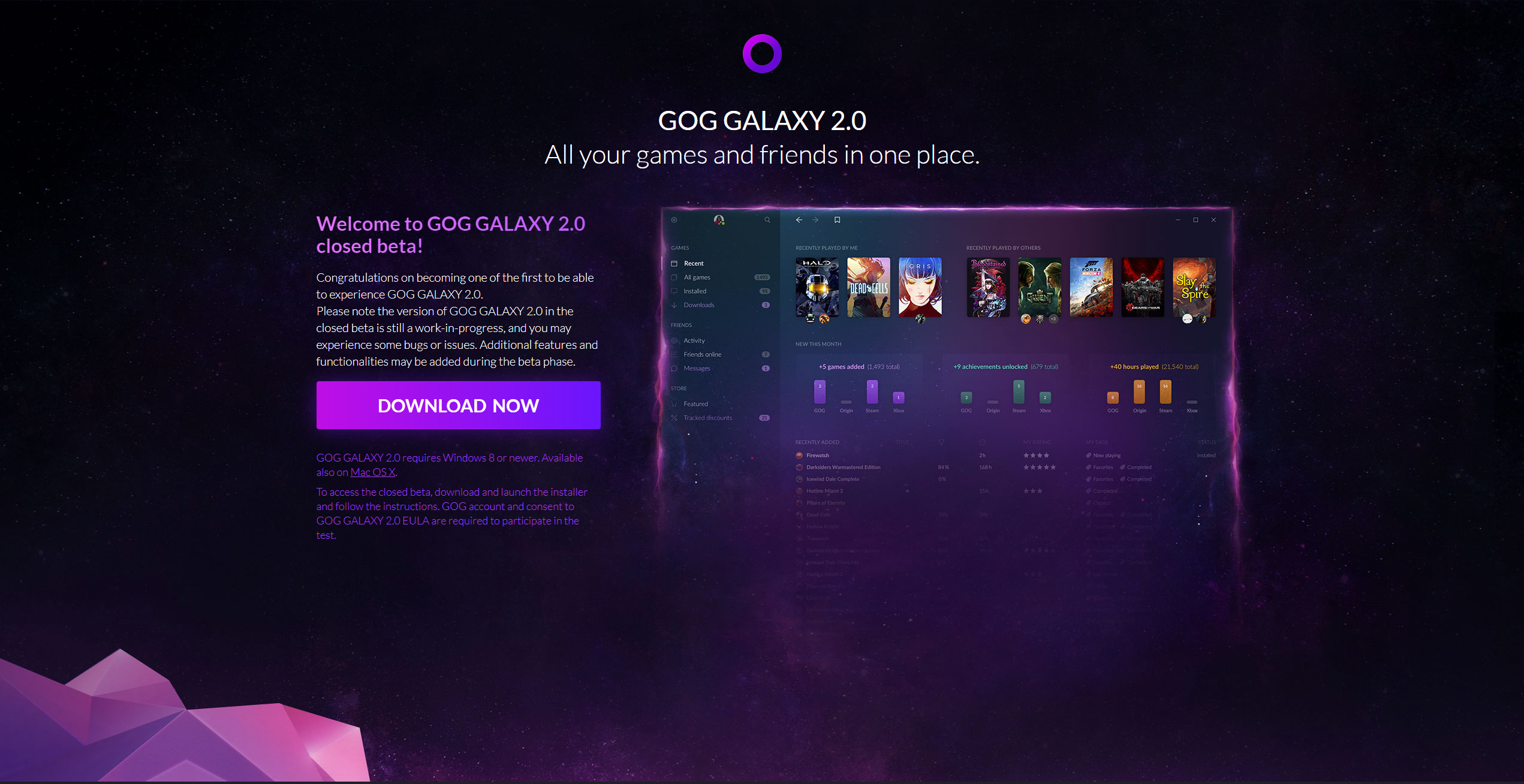 Invite-Only
If you're invited, you'll see the above in your inbox to get started.
Not Like Other Launchers
I've tried programs like Playnite that promise to link all of your PC gaming libraries together, and they work reasonably well, but something didn't feel right. So I tried Rainway, an application mainly used to stream your games at home or while away, but it brings together all your games in a single view; which it felt off despite its clean styles. And of course I've even used Steam to add non-Steam games, but the implementation feels half-baked. Not even Steam, the launcher I've used the most felt like the place I wanted all of my games to live out of.
GOG Galaxy 2.0 is what I've wanted out of those apps, and more. It's clean, platform agnostic, and overall a slick presentation that provides customization, and useful information. It's smartly designed that feels like a true home for all your games to live.
Adding Games and Platforms
GOG Galaxy 2.0 doesn't work without having the other launchers installed. So if you're hoping you can just have all of your games without most of those "pesky" launchers installed, I'm sorry to disappoint. However, what makes this application work so well is in part thanks to its integrations API:
The Official GOG Integrations are: GOG.com (obviously) and Xbox Live
Community-created Integrations (Popular): Epic Games Store, Origin, PlayStation Network, Steam, and Uplay
Community-created Integrations (Manual): Battle.net
Most of the integrations work flawlessly. You can install, uninstall, and play games from them. The only one I found to be wonky is the Battle.net one as it doesn't detect games as installed, even when they are. Hopefully there will be an update to that. I did notice some integrations are either missing, or at least in the works: Wargaming (World of Tanks, World of Warships), and Arc (Neverwinter, Torchlight Frontiers). This is only the start, and it's going to be really interesting to see how these integration options expand with more launchers, and expand with more usability to become feature-rich.
Sorting and Viewing Games
Once you've imported all your games from the integrations, you'll want to sort them somehow. Maybe it's as simply as alphabetically, or maybe it's alphabetically and by platform. You can do that. You view your games by what's only installed on your system, a Grid view (personal favorite), List view, adjust the size of the box art, and more. You can even set bookmarks which act as a way to highlight games you're playing at the moment for quick access in the left-side panel, or to start a group.
Then there's the Recent section, which offers the coolest view on your games by far. This view not only shows your top ten games played by you, but the top ten games played by your friends and the connected platforms you've added. Your Friends also are important, as the Activity tab will let you see what not only you've played, but what your friends are playing, putting your game time and achievements on a leaderboard to compete passively with one another.
Since this is GOG after all, it should come as no surprise you can find a link to the GOG Store. It has a different look than the current store, but not enough to keep you from buying and adding new games to your GOG library.
Bugs and DIY
As evidenced in my images and video, sometimes the artwork isn't there. Or sometimes the images are ill-fitted to the space. Steam has been on a horizontal format for displaying games for so many years now, and GOG has gone back to the traditional upright box art style. So you might need to make adjustments. This all happens on indie titles, and smaller releases, but can be remedied manually by adding in your own artwork. Don't like what artwork there is? Change it! You're even given guidelines on sizes so you can get it right:
Also, DLCs like for American Truck Simulator are shown as separate items when really they should be rolled-up into the main game. And other than the aforementioned problems launching Battle.net games, the issues I've run into are generally small problems on the whole.
Playing Games
The act of playing your installed games is rather straight forward: If the launcher is running, the game is launched with any intermediary splash screen or necessary element that's part of the process and you're playing. If the launcher is not running, the launcher starts up (with any updates needing to be applied), and then all of the above happens to start playing. This would be no different than having an icon on your desktop, or shortcut in your programs list and launching the game there. And here it's just consolidated for your enjoyment.
The Future
While GOG.COM is a place to buy DRM-free games, it's something you won't find anywhere else in PC gaming. Now GOG is becoming more than a storefront. While they're mostly taking a neutral position in the store wars, they are offering unique and exciting that hasn't been seen on this scale or effort before. Having a unified launcher for all of your games (and even a way to see your console games) is an absolute marvel in forward thinking. GOG Galaxy 2.0 is absolutely exciting, invigorating, and refreshing.
The future looks bright, and we don't have to wait until 2077 for some Cyberpunk setting to have it, GOG Galaxy 2.0 is looking to release this year in full. If you can't wait, you can sign-up for the Beta here: https://www.gogalaxy.com/en/.