Turtle Beach's most exciting offering in years is the Recon Spark. It sports a white and purple color profile, giving it its personality and packs a punch with that trademark Turtle Beach sound to give it that confidence. The Recon Spark should be Turtle Beach's flagship headset, as it is aesthetically the most eye-pleasing headset to-date. The Turtle Beach Recon Spark is universal, comfortable, and durable headset that provides quality for its modest price.
The Turtle Beach Recon Spark is such a wonderful piece of hardware. It features 40mm sound drivers, which means you get a meaty bass and range of high and low tones to hear the subtleties. The headset is noise canceling, which is to say it blocks all outside noise from getting in, going for a more immersive gaming experience. On the back of the left ear cup is volume controls, easy to access and never can be accidentally adjusted. The ear cups twist and fold down as you'd expect, and wearing them around the neck doesn't feel like you're being choked. This headset is lightweight, especially compared to the Astro A40 TR headset. The flip mic is an improvement over in-line mic controls for muting and unmuting yourself. It's a simple gesture that feels as good as it works. The mic arm goes even farther back than you'd expect for when you have the ear cups folded down and to get out of the way.
Lastly, your ears are comforted by leatherette-wrapped memory foam ear cushions, which never hurt you in extended play sessions. Turtle Beach advertises that this headset is "glasses friendly", and it does live up to that claim. This headset has a lot of white on it, and my wife even wore this headset for several hours, and there was never any discoloration or staining even when she wore make-up with it.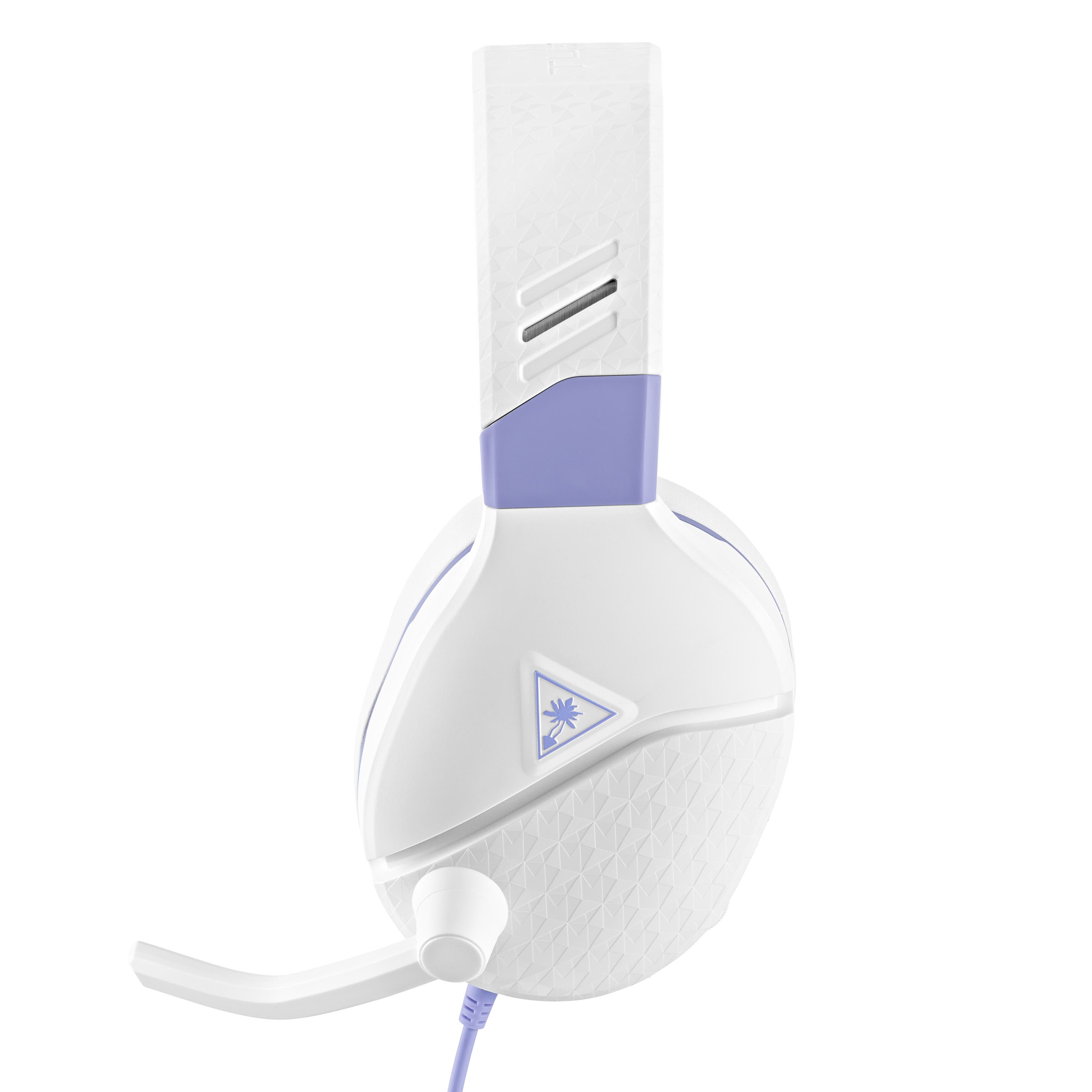 This headset literally works on any PC or console 3.5mm jack, thanks to the provided cables. The cable plugs right into your controller, and it sends all the audio to you. On PC, there's a splitter for mic, gameplay & chat. The provided cables are long enough especially for holding a controller or Switch in your hands. Even the PC splitter is long enough for most desktop setups.
The Recon Spark is loud, most games were played with volume on low, or roughly 1/3 of the dial turned. It delivers great audio straight from your controller, to include clear chat. This is balanced audio from treble to bass, which is amazing. The surround sound works really well on Xbox One. Though the sound quality does not differ from Xbox One to Switch. It's worth noting I listened to gameplay and chat through an Xbox One through controller, and through the Switch directly. It's just so well-tuned. The surround sound works best in games like Call of Duty: Black Ops 4, but also games like Fallout 76, where I preferred the headset to speakers. Of course games like Forza Horizon 4 excel with the engine noises. It all just sounds amazing.
I've already mentioned the colors, but oh my goodness, the colors! The white and purple (lavender, if you will) are just eye attracting, people are bound to notice it. It's such a standout color scheme that looks so good in any setting and on anyone. It's not apparent by its look, but it has a metal-reinforced headband that's both strong and lightweight.
This is a lower tier headset that neither looks or sounds like it. It doesn't feature any RGB or LEDs (by design), but this is a headset that could flourish with an upgraded version that's USB-based, has a mixamp, or uses purple and/or white LEDs. That aside, it's hard to find anything to dislike about the Turtle Beach Recon Spark as it is.
For the price, you can't do better than this. Turtle Beach has outdone themselves by providing a headset with clean audio, and a stylish, easy-to-use mic. With its stunning look, fantastic sound, and awesome build quality, you're in the lap of luxury at a fraction of the price. Turtle Beach Recon Spark shines bright as a headset that's all-inclusive to any platform you use it on.
A pre-release Recon Spark headset was provided by Turtle Beach for review purposes