Milestone has gone through a few name changes for this series in recent years. First it was MXGP: The Official Motocross Videogame, which were numbered up to MXGP 3. Then last year it became MXGP PRO. Now we're onto annual naming with MXGP 2019 – The Official Motocross Videogame. It might feel hard to keep up, but the game's been roughly the same throughout. Though MXGP 2019 is the best iteration yet, it is behind the curve of other racers to Milestone's own.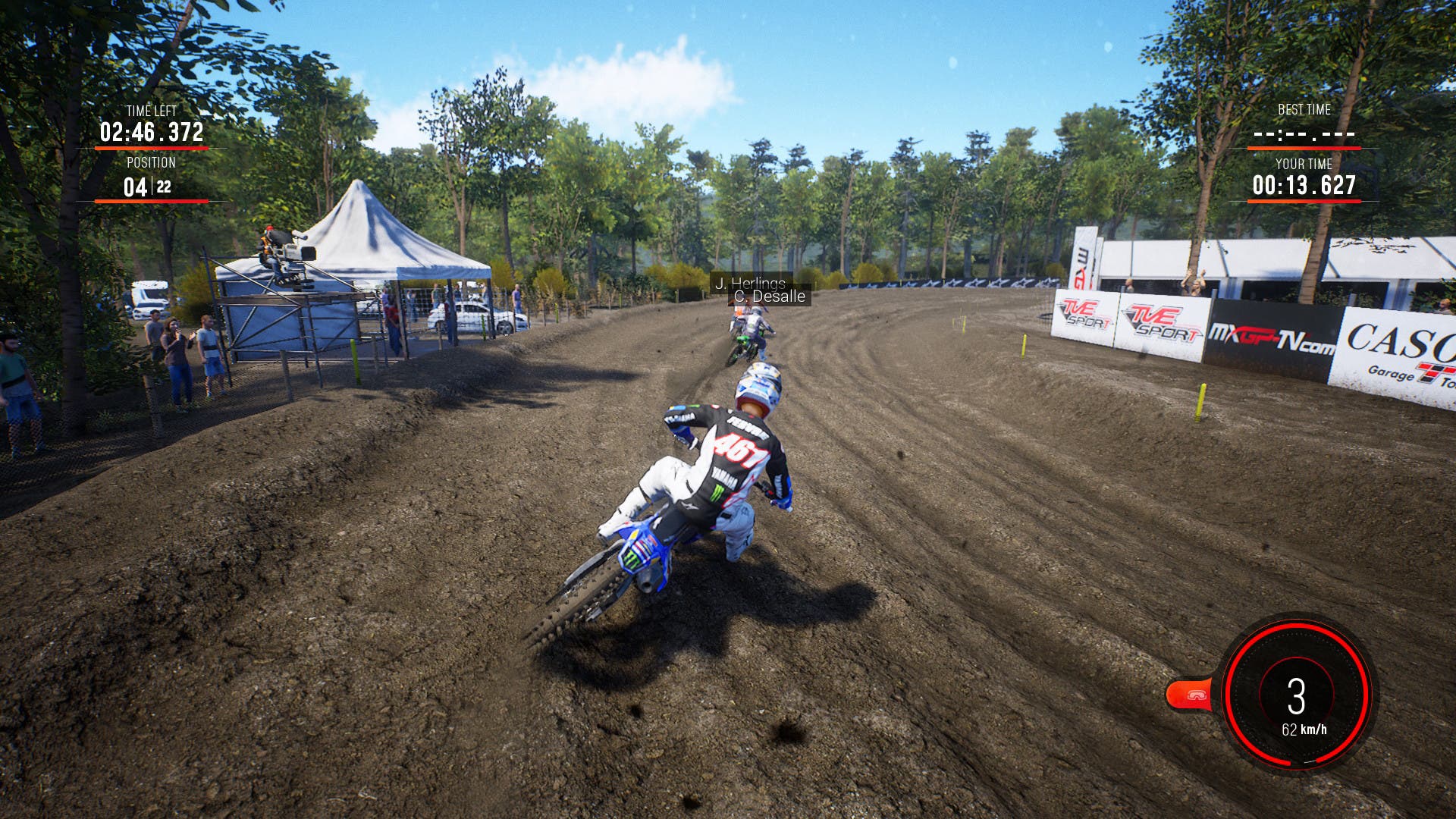 From the first moments the game is running, you can see that the presentation has been elevated over previous years. This is a slick, sleek, modern look for the menus. Lots of whites and clean showroom floors, which is decidedly anti-dirt but totally welcoming. MXGP 2019 is off to a good start with trying to reinvent itself with its new name, and offer a cleaner menu that's easy to navigate and jump into the mode you want.
New to MXGP 2019 is Playground, last year the game dropped you into here every time you launched the game. Now it's a menu item that sees lots of improvements, to include a new locale in France. You can set the time of day, weather, and other factors and conditions surrounding difficulty and physics. This mode gives you complete freedom to drive around at your leisure to test racing, jumps, and overall feel. You can take on challenges, time trials, and waypoint races created by other users. Most of the activities include checkpoint races, finding collectibles, going through narrow points, or an amalgamation of all of them. It feels much more fleshed out, even if you can't insert any AI into this mode for true competition aside from ghosts.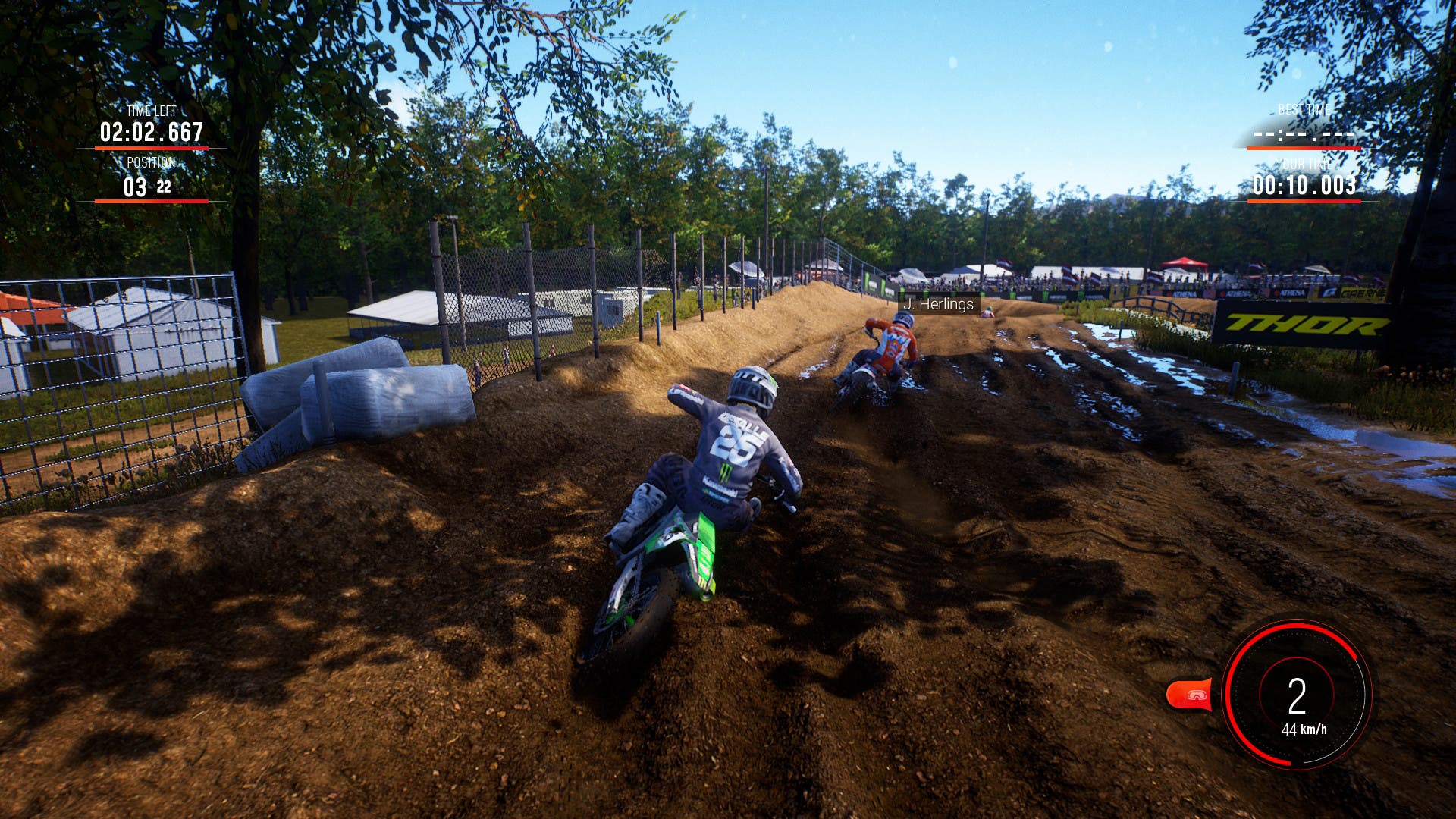 For the first time, playing Season mode includes all current 2019 riders. You can insert yourself into the mix by creating a rider, selecting a bike, and signing with a team. It's a great experience to be a part of. And of course there's standard quick modes like grand prix, time trial, and so on. The track editor makes an appearance. And lastly, multiplayer rounds out all of the modes. In any custom mode, you can set the race options like the event type, race length, difficulty, and assists that are available.
With every MXGP game I've played, I've never known how to get the holeshot. This is the term used to describe someone who has the fastest and best start to react. The very first thing MXGP 2019 teaches you, is how to prime yourself to achieve the holeshot. From that moment on, the holeshot has been awarded to me in every race. It's such a small thing, but I'm so glad Milestone filled this gap in my knowledge. There's a certain level of muscle memory that comes back to you after playing all these years. The left stick controls the bike, the right stick for the rider, as well as all the buttons for clutch, rear brake, and more. It's all rather intuitive.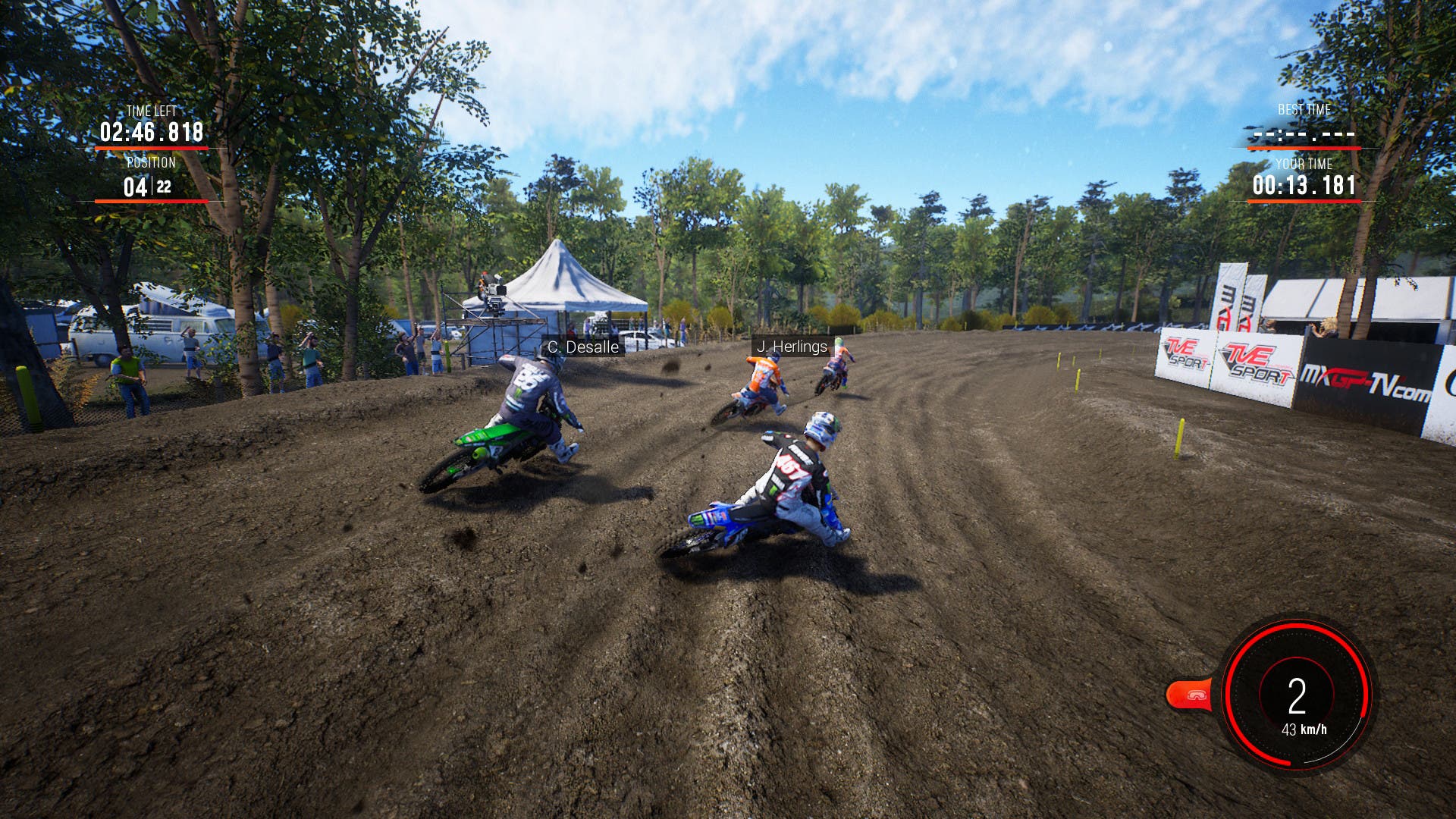 Sponsors play a role in how much money you make per race. You start off with a paltry salary, but after you reach level 10, new opportunities come up. This continues to happen in level increments of ten. The game doesn't lock you into any yearly commitment with a sponsor. So once you reach the requisite level, then you can sign on for bigger and better payouts.
Customization options are better this time around. With the credits earned from racing, can be spent on gear. You'll recognize gear brands like FXR, FOX, Scott, and many more. Additionally, you can customize your bike with upgrades and enhancements. Having real-world manufacturers like Kawasaki, Yamaha, KTM, and Honda makes the gameplay experience feel authentic. Tweak your bike before a race if you know if the track has long, sweeping turns, or tighter turns that don't require so much top speed, but acceleration. It can be the difference between 1st and 2nd place.
Running on the Unreal Engine 4, MXGP 2019 produces fantastic visuals for mud and dirt with impeccable detail. When the weather calls for rain, ruts in muddy areas get deeper with use of all riders. This changes the dynamics of how you ride through it. You won't get stuck, but you won't be slowed down if you carve yourself a new line. Each location looks the part, and you can feel the weather of the area. There's a fully customizable camera system to get the angle and height you desire. While not entirely probable for an entire race, I appreciate the first-person camera with and without the helmet on for that immersive view.
The menu music is massively improved, also going for something modern. Unfortunately, races are still devoid of music. While it doesn't make sense to have music playing for the entire race, but given that these are outdoor areas, speakers should be where the crowds are. There's a level of detail in the audio the series has always lacked, and continues to.
MXGP 2019 sees a lot of improvements over prior installments, mainly showing signs of the series developing a personality. The history of motocross and supercross has yet to be explored in this series, which has many stories to tell. The graphics and physics lead the game, but the audio takes an unfortunate backseat. MXGP 2019 – The Official Motocross Videogame is backed by a fantastic simulation engine making it all the reason you should play it.
A pre-release Steam code was provided by the publisher for review purposes