House of Golf is the epitome of what you see is what you get. Developer Atomicom offers a bite-sized game that provides a challenge whether solo, or in hotseat multiplayer. While you can see everything the game has to offer in an hour, there's so much more to do, unlock, and share with others. House of Golf is a game you'll be returning to often, thanks to its approachability and replayability.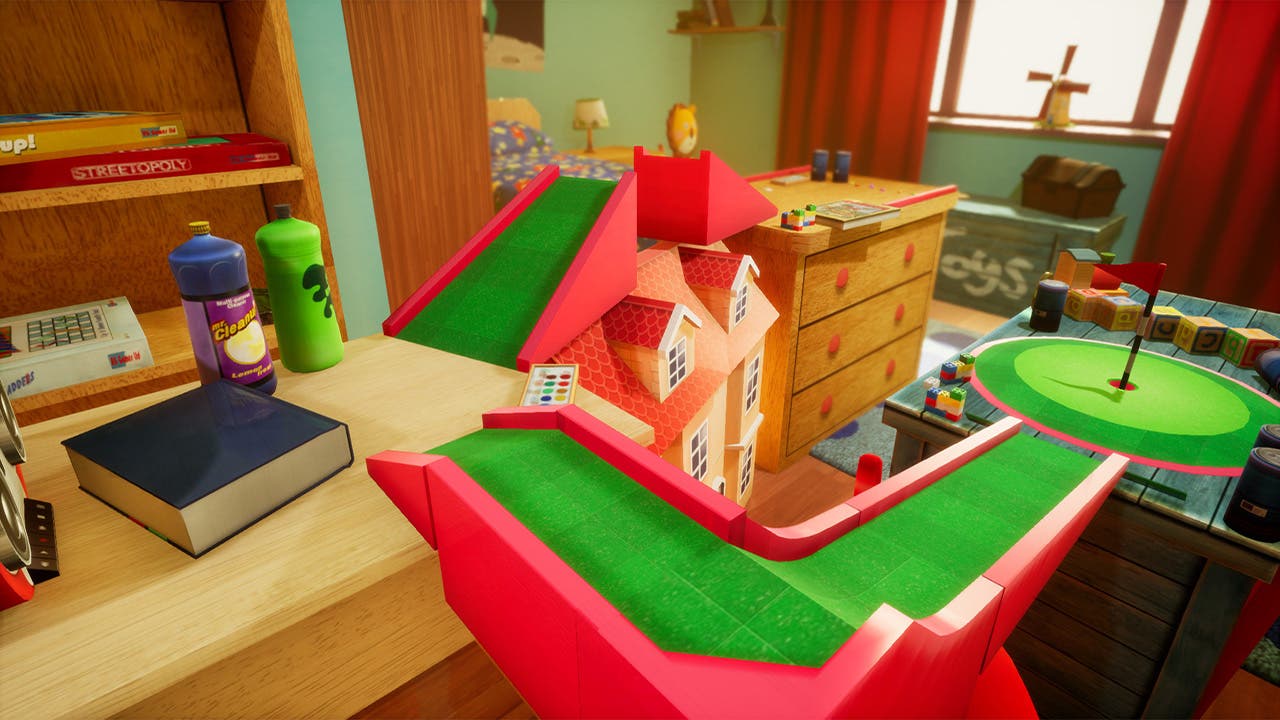 Without a premise or setup, I can only assume you're a small golfer that can play on these equally sized courses to play mini golf in different rooms of the house. House of Golf takes place in a total of five rooms; starting in the garage, through the kitchen, and into the attic. It reminds me of the Sega Dreamcast game, Toy Commander in style alone. There's just a kid-like quality that comes across so well.
There's a limited number of game modes, with Championship and Single Hole being the only two. Each of them can be played multiplayer on the same console for up to six players. Each hole has a rating: under par is gold, par is silver, and over par is bronze. There's special medals for getting a hole-in-one, but the game focuses on being under par. Finally ,there are three difficulties to choose from: easy, medium, and hard. In doing so, it triples the playable amount of game to 135 holes, each with completely different layouts.
Playing the game is rather simple. You'll hold A to power up a shot, and release to take it. The left stick aims fast, and the right stick aims slower, but more precise. The game then will draw a line where the ball will go when hit, not counting in the power of the hit. It weirdly redraws line on every move of the stick, I'd rather it would be up all the time, but that's a small gripe. It's easy to pickup and play, so much so that anyone can participate.
A putter is never visually represented in the game, so it makes it seem like the game could easily be a billiards (or pool) instead of mini golf. House of Golf features many unlocks. The unlocks are essentially skins for the golf ball. So there's things like an American flag, metal, rubber ducky, and so on. Since there's no visual putter on display, being able to have a custom putter skin goes out the window, unfortunately.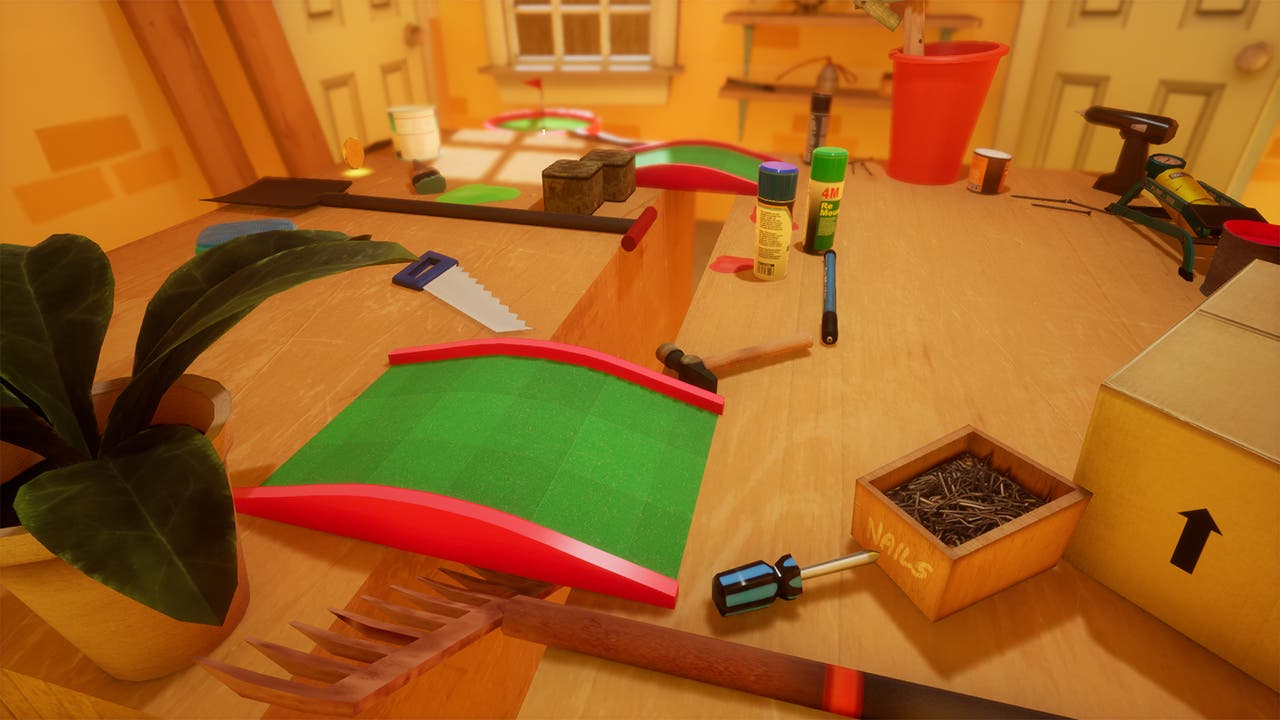 The game is rendered beautifully in 3D with the Unreal Engine. It even runs at an impressive 60fps. There's no slowdown or chugging, even loading into each area of the game is done rather quick. The environments are somewhat simple or generic, but it sets a playful mood of wooden blocks and other objects strewn about. There's thankfully no sandtraps to be found.
Atomicom has made House of Golf a household name. It's a familiar but different kind of golf game that immediately draws you in. There's nothing bad I can say about this game, because it's quite good. It does seem held back being from offering more; rooms, unlocks, and modes. House of Golf is a well-made game that's a bit light on content, but heavy on entertainment to be endlessly replayable in a solo or group setting.
A Switch eShop code was provided by the publisher for review purposes