News
Nov 21, 2019
Rising Storm 2: Vietnam – Green Army Men Thanksgiving update is now available for the fan-favorite DLC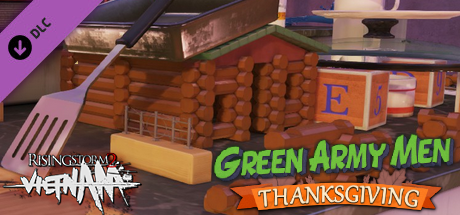 From Press Release:
ROSWELL, Ga. – November 21, 2019 – Tripwire Interactive and the Green Army Men Team released Rising Storm 2: Vietnam – Green Army Men Thanksgiving today. This content update has more guns, a delicious new map, and closely follows key gameplay updates. Available now on Steam, players can look forward to taking part in the gritty and strategic 64-player matches Rising Storm 2: Vietnam is famous for with a twist in the fan-favorite Green Army Men DLC, which includes all the Christmas, Summer, and Back-to-School content—as well as the new Thanksgiving update.
Now there are even more ways to carve the turkey, with three brand new weapons, including the bazooka, ready to splatter plastic on the carpet. Also, toy soldiers can jump on the table, explore the yard, and snipe from the counter in a new Thanksgiving-themed map. This map has players compete for a piece of the pie inside and outside a home dressed and prepped for Thanksgiving dinner. And to top it off, Tripwire Interactive and the Green Army Men team are committed to keeping playing with toys fun, having recently adjusted the time-to-kill and damage models for the Green Army Men DLC, based on community feedback.
To celebrate the Thanksgiving update, Tripwire Interactive has kicked off a franchise sale on Steam for Red Orchestra and Rising Storm titles and DLC items! For more information on the discounts, please visit the Tripwire Interactive Publisher page on Steam here: https://store.steampowered.com/pub/tripwire
All Rising Storm 2: Vietnam players can play the Green Army Men DLC for free as the Rifleman class. If players want to unlock more classes and support the development team, there is the option to buy the Green Army Men Upgrade, which unlocks all the other classes for Rising Storm 2: Vietnam – Green Army Men.
Available now on PC, Rising Storm 2: Vietnam is the sequel to Rising Storm, PC Gamer magazine's 2013 'Multiplayer Game of the Year,' published by Tripwire Interactive and developed by Antimatter Games. Command your team to victory in massive 64-player battles with authentic weapons, aircraft, and maps that pit conventional military forces against guerilla forces.
To stay up-to-date on the latest for Rising Storm 2: Vietnam, please visit the official website. You can also keep track of Tripwire Interactive and Rising Storm 2: Vietnam by visiting the official Tripwire Interactive website, Discord, Twitter, Facebook, Reddit, Instagram, and YouTube.
---
Gallery: