Editorial
Dec 31, 2019
Klein Maetschke's Top Games of 2019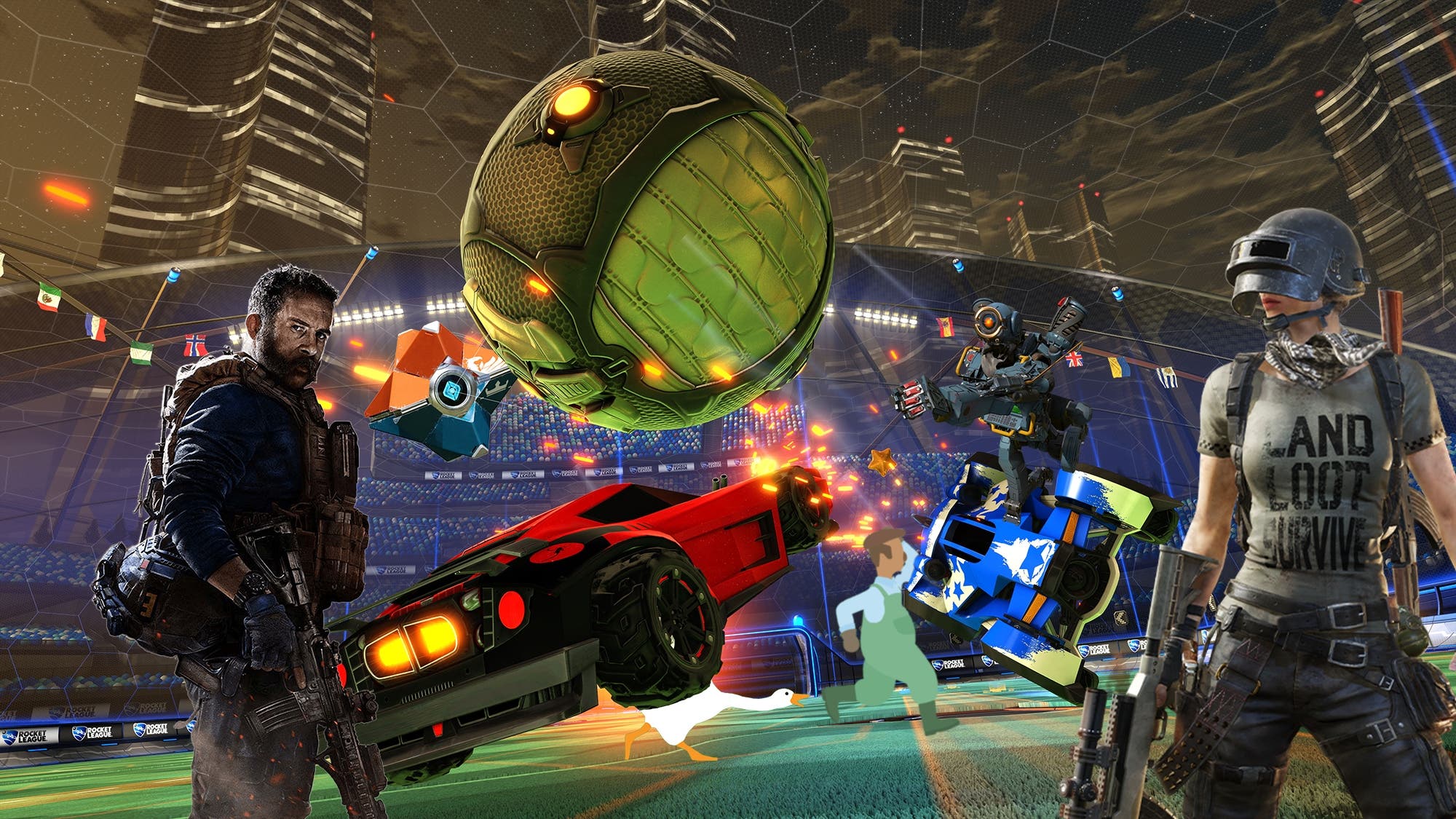 We've all got things to and places to be. And more likely, if you're here, games to play. So let's just jump right into the list.
This is how "games as a service" is done.
Rocket League has been in my top list since 2015. I played the hell out of it on Playstation 4, and I continue to play it on Steam now. Rocket League keeps players hooked with seasonal activities, challenging ranked play, and a nice spread of default game modes.
Perhaps even more effective is its ability to plug into popular culture with its licensing agreements. Over the past four years, we've seen Hot Wheels, WWE, Jurassic Park, Ghostbusters, Stranger Things, Mad Max, Batman, and Back to the Future all lend their vehicles, aesthetics, and inspiration to the game.
Psyonix has earned an innumerable amount of my money over the years on this game, but they take great care to make sure if you can't afford any more money on the game, that you won't miss out on anything crucial to the game. No content beyond cosmetics is gated behind any paywall or DLC requirement.
There's some question as to their future after being bought by the Fortnite-giant, Epic Games, but I've seen no reason to lose the faith, yet.
Apex Legends
Apex Legends appeared like an explosion. No one knew the game was coming. It had a surprise "Available now" release. It hit Fortnite like a Mack truck and stayed in the top three battle royale games since. It's one of the few games that arrived late to the battle royale hype train and survived. It brought the "ping system" to the genre and revolutionized how you can play those games with randoms.
They took Overwatch's character design emphasis and ultimate ability mechanics, Titanfall's wholly under appreciated movement and gun play, and married those things with a fresh approach to the battle royale genre. The characters each had a strong personality and the amount of dialog recorded for each made it rare to encounter the same line often enough to recognize it as same. The weapons have evolved as the game has evolved, getting creative with weapon attachments and tweaking things to keep balance in check. The movement is fast-paced and unique; It was always Titanfall's best aspect.
I'm looking forward to seeing if EA keeps this game's future going smoothly or if it gets impatient and begins to milk it for a better payday to the game's detriment. Here's hoping they know the goldmine-over-time they have.
PlayerUnknown's Battlegrounds
What a journey has been had by the game lovingly called "Pub-G". Battle royale had been done before, but PUBG modernized it and had the best iteration of it for some time (and may still). The game was rife with bugs and glitches that made gameplay quirky, hilarious, infuriating, or some combination of those.
Since then, however, it has begun to mature into quite a polished game. The frame rate PC players complained about initially has been improved. Vehicle physics no longer cause cars to explode when hitting a bump or ditch. Guns have so many available attachments and customizations that you no longer guarantee a bad round if you can't find your preferred load out. Even quality of life improvements like vaulting, climbing, care package upgrades, throwable melee items, and tire shredding traps have helped solidify PUBG as a mature competitor amongst the more polished Fortnite and Apex Legends.
I had all but written off the Call of Duty series. I'm not even entirely sure why. I've always been more of a fan of the Battlefield games, but after several less than stellar *Battlefield* offerings, I was open to Modern Warfare being a breath of fresh air. And, boy, was it. The multiplayer is fun, fast, and mostly… fine. But the campaign mode was astonishing.
It's a gritty, realistic story that engages from start to finish. The motion capture and rendering kept us far from Uncanny Valley. The writing is captivating and heartbreaking. I found it full of family, betrayal, and reconnaissance.
Destiny 2: Shadowkeep
Destiny is finally free of the shackles of Activision. Shadowkeep is the first release in this new era. I've been a fan of this series since Destiny 1 first released, but since then I've only ever hopped in for maybe one expansion a year, for no more than a week or two. But with Shadowkeep, it finally feels like most of Destiny's grind problems are rewarding. I've been playing regularly again since Shadowkeep came out. I'm reinvigorated for this game and this franchise and I can't wait to see where they take it in the future.
Jedi Fallen Order
I was beginning to worry that a good Star Wars game just wasn't possible anymore. Someone on Respawn's team took a lot of inspiration from the Jedi Knight series I loved so much. Pair that old series with some lessons learned by the Souls and Sekiro era and you've got a recipe that makes Jedi Fallen Order. The game is fun, surprising, and challenging in all the right ways.
My love for Star Wars has always been more for the setting than the Skywalker saga, so getting more properties in that universe without having to shoe-horn trilogy characters in, is a dream come true for me. I got this game late in the year, so I've not finished it yet, but I've gotten far enough to know that it deserves a spot on this list.
Untitled Goose Game
YOU ARE A GOOSE. Look at you, you silly goose. Hiding in the bushes to scare poor Mr. Gardener. HONKing at little Timmy and then stealing his glasses and running away. What a mean goose you are.
What a surprise hit of a game. I knew I was going to like it from first sight, but I had no idea how much it was going to ingratiate itself with broader pop culture at large. From Chrissy Teigen to "knife goose" memes, UGG honked its way into conversations and hearts of all of us, extending well beyond the usual "gaming communities". 
It couldn't have happened to a better developer/publisher combination, either. Panic (long-loved purveyor of fine Mac  apps) and House House (following up their previous hit, Push Me, Pull You) teamed up for an exceedingly successful game of wholesome fun.
With Firewatch and Untitled Goose Game, Panic is quickly solidifying itself as the indie darling publishing house. I look forward to their next project.