When E-WIN reached out to me to review one of their chairs, I was elated. You see these kinds of chairs everywhere if you watch gaming-related streams or videos, and even in some non-gaming content. The truth is, they're not a gimmick. They come in all shapes, sizes, and colors, and ultimately have a singular goal: comfort. In that, E-WIN achieves that with the E-WIN Champion Series Ergonomic Computer Gaming Office Chair with Pillows. But it does more, it corrects your posture and does so with firm pillows that cradle to support you for long sessions of sitting. You can't lose buying E-WIN.
I have to admit, putting this chair together is a literal white glove experience. They give you "PU gloves", or polyurethane gloves to wear during assembly. There's a reason for this, and it's to protect your hands from oil and damage, and the same goes for the chair itself. You of course get all the tools necessary to get the chair up, and the instruction booklet to guide you is easy to follow. It takes less than thirty minutes from unpacking to clean-up, ready to start gaming. This is speed and efficiency, what people crave.
First impressions of the E-WIN Champion Series Ergonomic Computer Gaming Office Chair with Pillows can be stated in one word: stiff. But that's not a bad thing! My current gaming chair was either always soft (while still supportive), or it's become mushy over the years. But sitting in the E-WIN chair, I truly feel the support, especially in my lumbar region. And that's a crucial area for me that I appreciate. The neck pillow is similar, but offers a bit more give to contour to your neck's shape. The chair looks great, especially in its black and red accents, and just a sense of style I haven't seen matched elsewhere.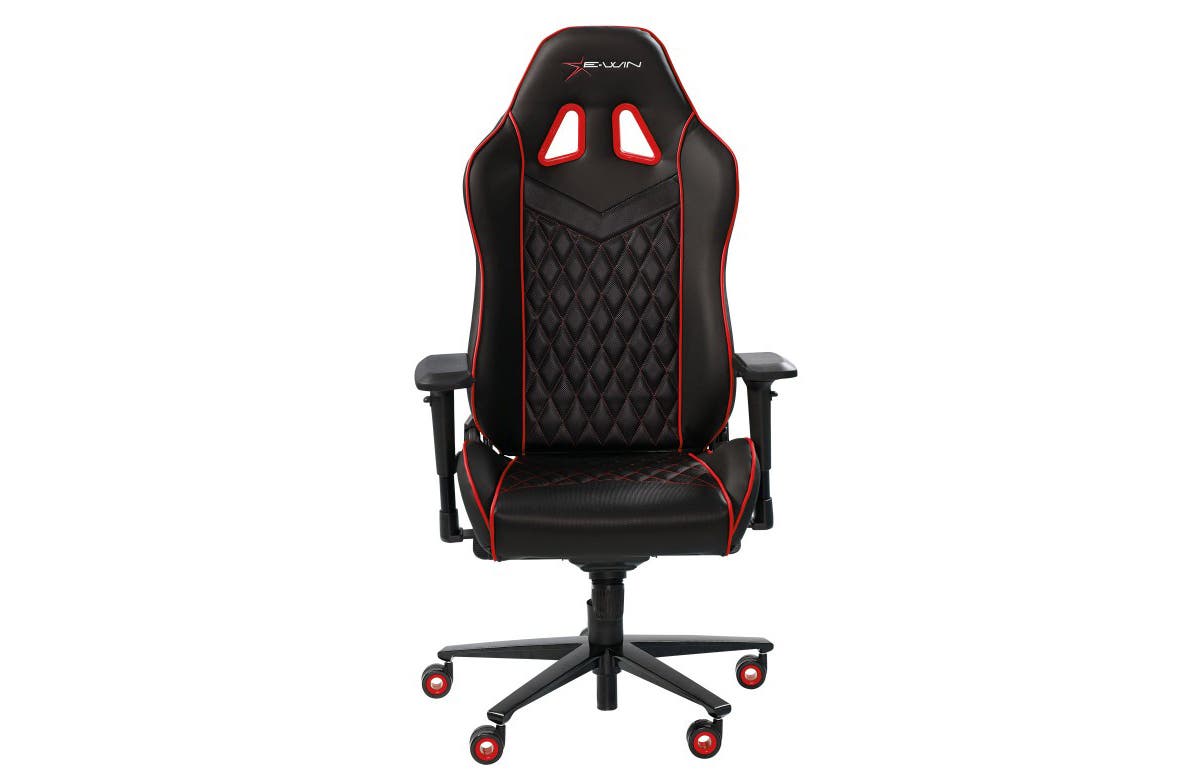 The actual construction of this PC gaming chair is of a metal frame with polyurethane leather (but don't call it pleather). All you need is a clean cloth and you can wipe the chair down with ease, without the fear of damaging it. I think one of the most striking elements of it, are the wheels. They don't feature a hub (four, five, or six-spoke). They simply don't exist, and it looks extremely cool. These hub-less casters have function over form, letting you basically glide across your surface with little to no friction. It feels really solid and masterfully put together.
This chair swivels, raises, lowers, tilts, and reclines like a dream. I never would have a use to lay down completely, but with a range of motion of 85 to 155 degrees, this is an incredibly agile chair. The handle to lay it all the way back or bring it up is like an ejection handle, so you're compelled to use it more than you normally might. The armrests are tough plastic, so you can rest your arms on them, but they have to be in a specific way or can rest them uncomfortably. It'd be nice if there was the foam found in the pillows applied here. The armrests rotate, slide in and out, and raise or lower, allowing you to find a position that works best for you.
The backing has a stitched diamond pattern that is quite remarkable. Notably, there is an aroma to this chair. This scent, not quite an odor, smells clean and will take over the room at first. This dissipates over time, but even now, remains. I can't put my finger on it, as it certainly evokes a leather-like familiarity, it's something all its own. It's weird to talk about this so much, but it's something you'll notice almost immediately. It offers a sterile sense of cleanliness.
I have to admit that I did hit a few snags while moving the chair. On regular carpet or hardwood, the chair moves like a dream. On my rug in the office, I did snag on it while scooting in, and it did tip almost spilling me out. I've become more careful, but the chair does seem a bit more weighted to the front. It's something to be aware of, but not a major issue. The wheels are are something you won't see with other computer office gaming chairs.
The E-WIN Champion Series Ergonomic Computer Gaming Office Chair with Pillows is just a great all-around chair, from gaming to working. At a higher price point than other chairs I've reviewed similarly, it might be good to get it with a discount code (like code: SC at checkout perhaps). Otherwise, this is incredibly well-made chair that puts comfort first, has an awesome design, and is built to last. E-WIN makes a winner out of you for choosing them.
Gaming chair was provided by E-WIN for review purposes