If there was ever a game that asked little of you, and gave you so much in return, it's Fall Guys: Ultimate Knockout. Whether playing solo or with friends, Fall Guys is a laugh-a-minute as you jump, grab, and dive for the chance to be crowned a winner. The majority of the game involves some sort of physicality that's executed from the controller in your hands. This is a game of unscripted comedy, tragedy, and absolute buffoonery that doesn't come along often. Fall Guys has secured a permanent place on my drive.
Mediatonic has taken the game show formula of shows like "Most Extreme Elimination Challenge (MXC)" ("Takeshi's Castle" if you will) and "Wipeout", and made it playable with the cutest of characters and the brightest of colors at the highest of saturation. All the in-game characters are anthropomorphic jellybeans, dressed up in ridiculous outfits or in their birthday suits with eccentric patterns and colors for your amusement. From there, it's a mad dash to the finish line, scoring the most points, or matching fruits all to make it to the next round.
I can't allow myself to equate Fall Guys to a battle royale, though it does exhibit some of the traits, but not all of them for it to really qualify. At best, this is a battle royale-adjacent. It does speed up the "drop" aspect of battle royales by having it take place as part of the matchmaking. Eliminations happen can happen at any time based on the game, but also at specific points when the round ends. There are 60 players to start, and only one winner emerges. It's you versus 59 others for a chance to claim the crown, and win the episode.
The controls to are simple: move, jump, dive, and grab – that's it. It's incredibly accessible, and minimal so that anyone can play. You could even pass the controller within the same home between games just to see how others react to playing Fall Guys for the first or fourteenth time.
There's a mix of mini-game types split across Race, Survival, Hunt, Logic, and Team. My favorites are generally the race types, with Door Dash being rather quick, and hilarity when the fastest player is stopped dead by a door that doesn't open when jumped at. Another good race is Slime Climb which asks for more precise movement and timing on top of being quick. The one logic game asks you to memorize ever-increasing fruit cards and be standing on the right platform when recalled. Each episode culminates in a Final where the few remaining players battle it out for glory. One of the best Final round games is called Fall Mountain, which is essentially the Aggro Crag from Nickelodeon's GUTS.
Losing isn't the end-all, be-all here. If you're playing in a group, you can become a commentator or cheerleader for those that remain. Once everyone's eliminated, you can drop out and re-queue, which goes really fast. At the time of this writing, there are 25 mini-games to partake in. Each episode or show is usually five rounds long, and lasts no more than fifteen minutes in total. There's certainly some games you'll see randomly chosen over others, but repetition never seems to set in.
Customization is a big, albeit optional part of Fall Guys: Ultimate Knockout. The game comes with a good amount of cosmetics, from pirates to unicorns, but you can opt to buy additional DLC to pad that out, or spend money on in-game currency. There's two types of currency: crowns and kudos. Crowns are only earned through the in-game battle pass or by winning episodes. Crowns can be purchased for real-money, and also earned just by playing the game. Some items in the shop require crowns or kudos, and both are fairly easy to come by. Over the past few days I've gone from seeing a lot of the same outfits to seeing something new and going "I want that!". This has massive appeal and potential, the sky's the limit for jellybean attire.
From the moment Fall Guys launched, it began Season 1 of its game show. And you compete in episodes to be that episode's winner. For all your participation, wins and losses, you'll progress on the battle pass which is fueled by fame. You can see the entirety of the battle pass, and for this season it only goes to level 40. This is likely to expand season over season, but it's totally attainable right now and is the carrot-on-the-stick you need to earn some really great rewards just by playing.
As it stands, there's no communication methods in-game besides simple emotes. So in the cases where there are team games, there's not a great way to coordinate. However, the games are purposefully simple that it doesn't demand it. Though, through no fault of your own you can be eliminated because your team was too focused on the wrong task. When things like this happen that are out of your control, it's really frustrating and is absolutely my least favorite part of playing the game. There's some fun to be had when on teams, and they're certainly not all bad, but there's some tweaks to be made here to improve it.
From the look to the feel of Fall Guys, there's so much positivity. The infectious soundtrack will then crack a smile from ear-to-ear, and the songs will play in your head long after you've turned the game off. It's just so delightful and cheery, this game couldn't have come at a better time.
There's only one major issue in all of my time in Fall Guys, its immense popularity is causing server issues. Even several days after launch, the servers cannot keep up with the demand of players wanting to get into the game. This comes and goes. It's very much a good thing for the game in the long-run, but for the short-term this is bound to cause some frustration as you may be dropped from a game mid-match or have issues matchmaking to even begin one. When the game is working as it should, you're having a blast and losing track of time.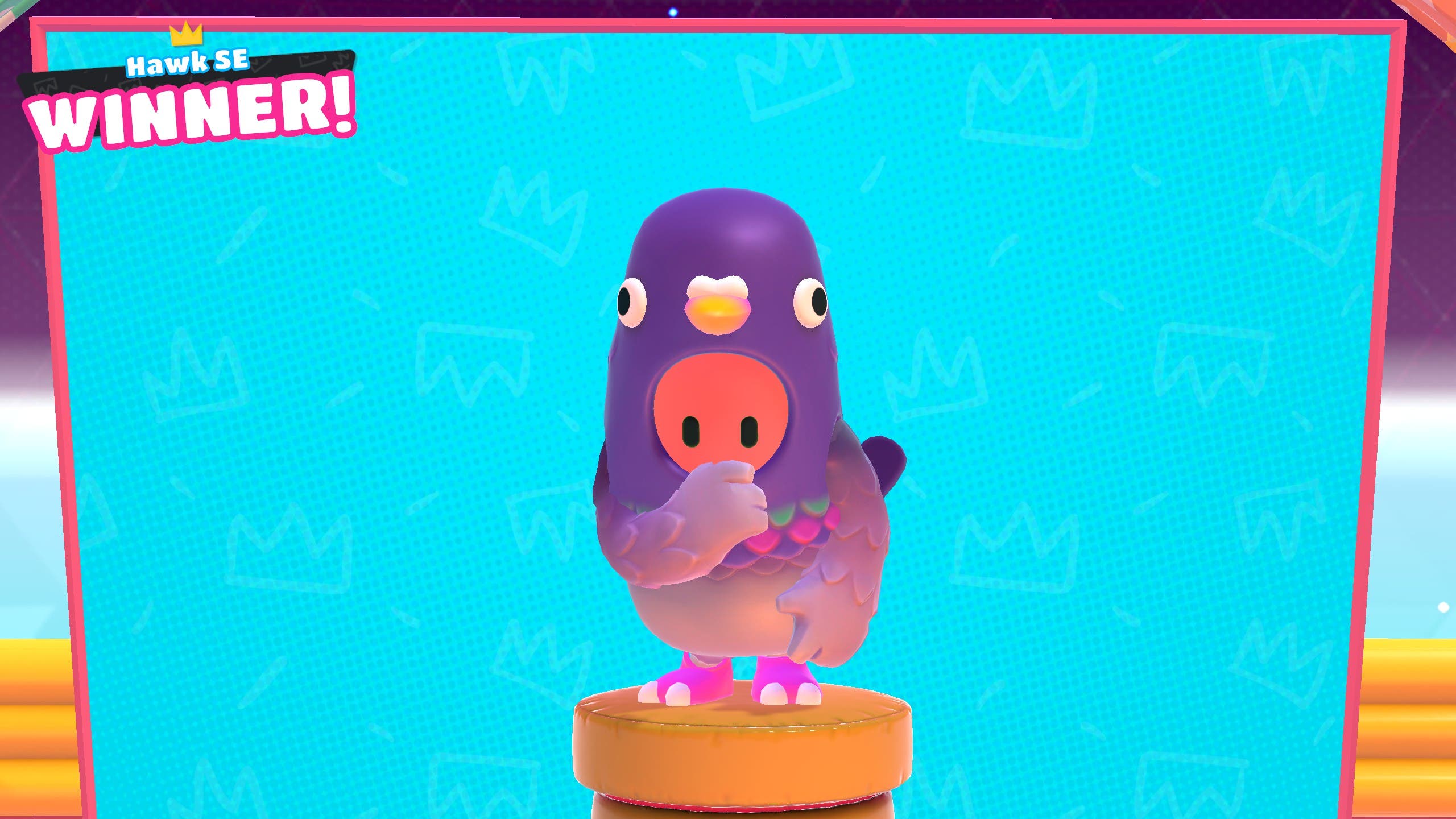 This is only the beginning, as Fall Guys is poised to evolve and grow from its launch to reach new, dizzying heights. You won't find anything so dynamic and unpredictable. Fumbles, stumbles, and successes are all the reasons why you watch physical game shows like newcomers "Holey Moley" or "Cannonball" or classics like "MXC". Mark my words: Fall Guys: Ultimate Knockout is the hit of the summer, the year, and beyond.
A Steam code was provided by the publisher for review purposes