Microsoft Flight Simulator is the eleventh major entry in the series that began in 1982, and has evolved greatly even from the last official release in 2006. It's a game that's different things to many people: an educational tool for learning how to fly before getting in a real plane, a sandbox to fly from virtually any airport to the next, a role-playing game where you're a pilot transporting passengers to their destination, or maybe just a means to pass the time by goofing around in the air. Whatever it is to you, Microsoft Flight Simulator has returned in 2020 to offer old and new players the thrill of flight. It may be simply named Microsoft Flight Simulator but know it's anything but simple, as there's a complex and detailed recreation of all things aeronautics that's unparalleled.
Asobo Studio has focused on three key areas for how to build Flight Simulator: world, weather, and aerodynamics. The first is exemplified by using Bing maps to recreate 3D items from mountains to individual buildings. The world is represented 1:1, meaning that flights from JFK to LAX take the full five hours and change to complete. And aerodynamics are fully represented by the fact that realistic methods flying are paramount, to include but not limited to not having an excessive airspeed, adjusting flaps, having proper balance in weight, and not turning too hard. All of these elements coalesce into a beautiful reflection of our world's physics system to near-perfection that's both intuitive and authentic.
This being a Microsoft game, it does support keyboard + mouse, controllers, and most importantly joystick setups natively. Keyboard and mouse works well, but feels like more of an accessory than a primary means for controlling the game. The Xbox One controller works fine, if not a bit wily in terms of it overcompensating. So it needs some tweaks. The most exciting thing though, was it detected my Thrustmaster T16000M FCS HOTAS right away. During training, it even showed me a picture of my devices and their corresponding buttons. Even when using a HOTAS, you still have to be near your keyboard for certain actions. No matter how you want to play, there's a way.
There's three modes of play that make up Flight Simulator. There's the World Map, which is where you engage in free flight. Here you can just pick an airport to fly out of and go, or you can create a flight plan to have an actual destination. This is also how you get into the multiplayer to be around others playing the game. The multiplayer can be turned on or off each time you go into it, with the options of setting it to live players, all players, or off (group only). You can opt for air traffic to be live (using real flight data), or AI (computer traffic). Then you can set the weather and time for live (utilizing real-world meteorogicial data), preset, or custom. The blending of both online and offline is seamless, being only just a few clicks away from playing with friends.
Next, you have Flight Training. Which, this should ultimately be the first thing you do. It does an excellent job of teaching you basic flight, and all the essentials of playing the game. You'll be given a Cessna 152 to fly in, a propeller plane that's not very fast, doesn't go very high, but is the best plane to start out with. There are eight sections for training, taking about 90 minutes to complete, and that's not considering time taken for needing to restart any of the later lessons.
And lastly there are Activities. These are broken up between Landing Challenges and Bush Flights. The bush flights cover large areas, taking passengers on the flight of a lifetime, though there's only a handful of them. The landing challenges are broken up into three tiers of difficulty that get progressively more challenging as they go on. They cover the world's trickiest approaches and runways that you've probably not considered or have seen before. While there's 24 landing challenges on their own, there needs to be more variety. I'm missing the missions from FSX, the ones where something catastrophic happens like an engine going up in flames or shutting down entirely and having to land safely in an emergency. Even something like the sponsored races would be a change of pace. I hope this comes in time, either from the developers or from the community.
First-person view is incredibly detailed. Every button of the cockpit is interactive. You can zoom in as close as you need, isolate your view to certain panels, which will give you better understanding of everything available to you. For the first time, the third-person view is worth a damn. It's always been great for screenshots, but here instrument panels are all on-screen for you to gain valuable information to fly from this perspective, and even land if you find landing a Boeing 747 too difficult from first-person. This makes the game much more accessible as a result, with both view points being absolutely incredible.
There's a toolbar to give you quick access to items like prior entries. You'll be able to pull up the ATC (Air Traffic Control), camera, checklist, controls, AI control (pass flight, comms, etc), fuel, navigational log, objectives, travel to (flight plan), VFR (Visual Flight Rules) map, weather, and custom toolbar (toggle previous settings off or on). Being able to change the weather and time of day on-the-fly is flexible and absolutely stunning to see in action. Whether it's popping a thunderstorm or clearing the skies, it happens in an instant, and it's awesome. You also have the ability to active pause the game, meaning you can put the game on-hold and pan the camera for amazing screenshots.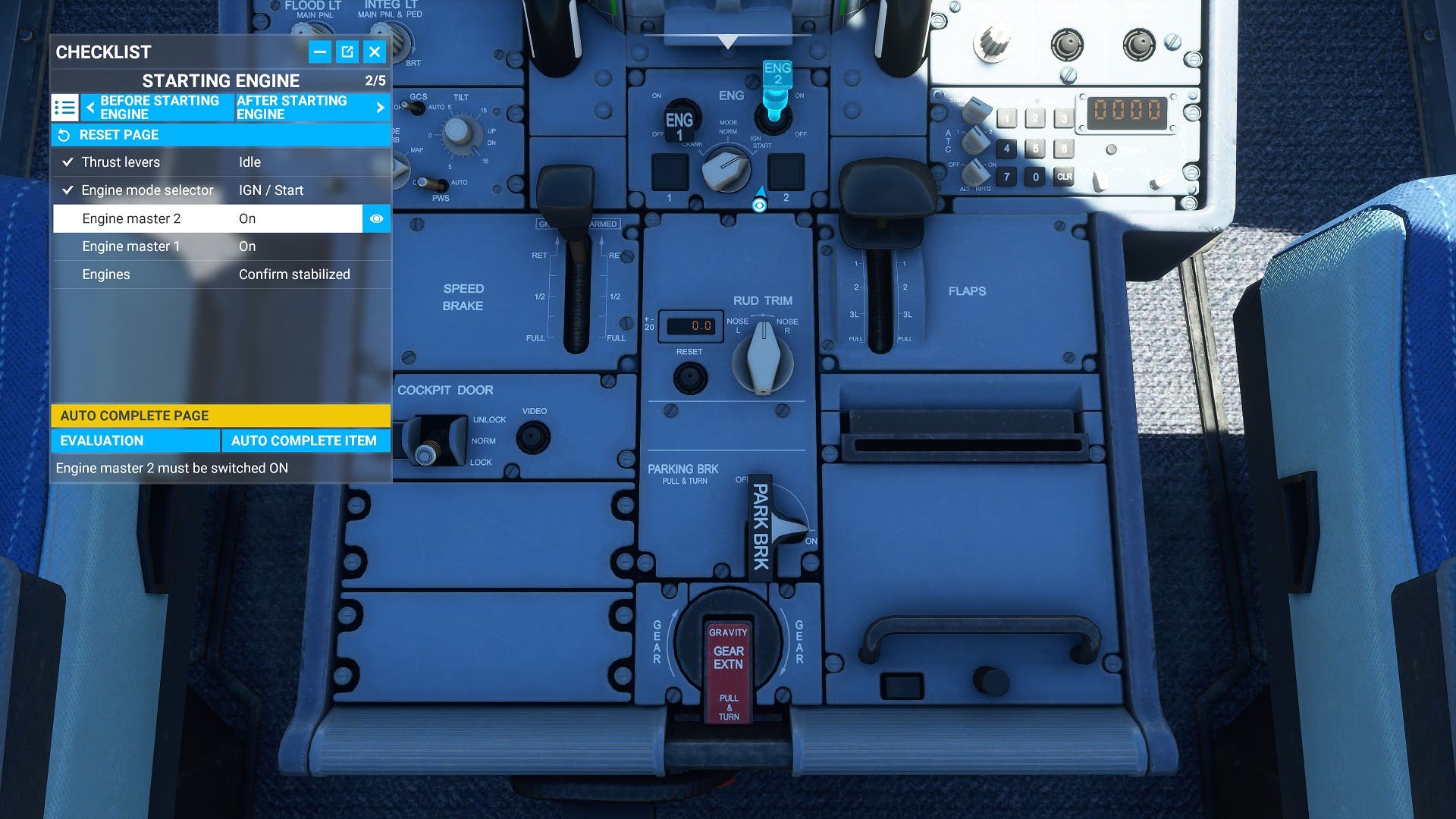 If you want total realism, you can enforce that you follow a pre-flight checklist in order to get off the ground. Coupled with lifelike airports with people on the ground and vehicles moving about, you'll feel like a real pilot. When you're up in the air, you don't have to fight the controls when you properly set the trim, or engage the autopilot (if the plane supports it). The simulation aspect can be as hands-on or as hands-off as you like, this is Flight Simulator your way. As a reward for your time, the game will let you earn your wings. The more hours you spend in the game, you'll be bestowed a higher tier wing. The entry-level one is given at 50 hours, it's a great incentive for budding pilots.
Now, those looking for disasters will have to go elsewhere. For things like wind-sheared wings, water landings (for non-water capable aircraft), and collisions with the ground for planes will not be shown. Now there is a developer mode you can enable to allow for such things, but it's off for a reason. Flight Simulator lacks a filter for craft that can land in water. To my surprise, there are aircraft available and capable of doing so, like the Icon A5. Once I confirmed I was able to do it, it was a pleasant surprise. But it's puzzling there's no way to know what ones can or can't land in water. As of now, there's no military aircraft or helicopters to fly, but I suspect in no time these will be available in the game, either as an update, DLC, or free mod.
There are three editions of Microsoft Flight Simulator. Standard comes with 20 planes and 30 airports for $59.99, Deluxe adds five planes and airports for $89.99, and Premium Deluxe has a total of 30 planes and 40 airports. The extra cost is not just about more planes and airports, but more realistic and detailed locations. The "non-premium" airports are nondescript and certainly lacking. It's unclear how far this'll go, but it's a preference and desire for all things if you want to spend the money for it.
Conversely, the Standard edition of Microsoft Flight Simulator is available on Xbox Game Pass for PC. Starting at $1 for new subscribers, you can start on Xbox Game Pass to start playing the game right away. For as much as this sounds like an advertisement, it isn't. It's just incredibly easy to try this game out for a nominal fee, especially if you've never played the series before now.
If you're still playing Microsoft Flight Simulator X: Steam Edition, then this is a qualified upgrade in just about every way.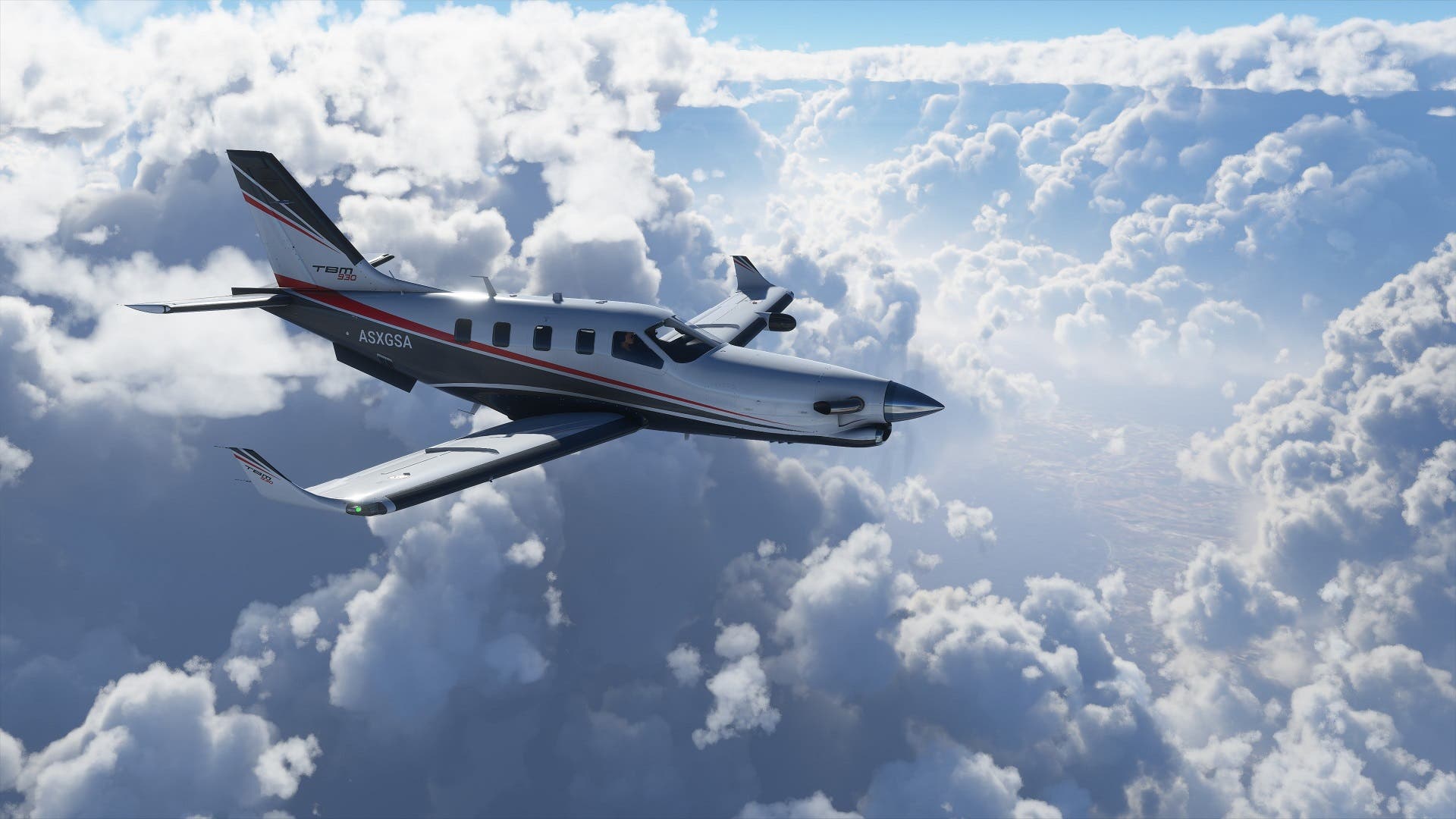 If there's one glaring problem, one bugbear to Microsoft Flight Simulator, it's the performance. The game looks incredibly photo-realistic on Ultra settings. However, the thing that becomes the most taxing is: dense cities. There's almost nothing you can do about the framerate when you get in those locations. I noticed that no matter whether I was on Low or Ultra settings, I couldn't get it above 50fps. Now, this is a game where 60 to 120fps is not really needed. On average, the game ran at about 40fps, and this is absolutely fine for what's happening on-screen. In addition, the loading times are shockingly slow. I only have SSDs installed, and the game is loaded onto my fastest one. Yet, the game takes a few minutes to load up initially, and then more minutes to get into the game.
Now if there's one benefit of everything that's going on, is that Asobo Studio have created the most awe-inspiring and realistic clouds to-date. They look like you can reach out and touch them, seeing them dynamically form and dissipate is a technical marvel.
Something to consider about the game is its size, which comes in above 100GB. This is also based on version of the game you purchased. In addition, there's live data that will be streamed in to achieve real-time data and more accurate maps. Now, if you're have a data cap enforced by your ISP, then you might want to restrict or limit the amount of data you download. Data is what allows for multiplayer, you're given plenty of options to toggle these things on and off at-will. Just make sure you've got the room to fit the game as it'll be inching closer to 125GB.
My PC Specs:

– Microsoft Windows 10 Pro
– Intel Core i9 9900K @ 5Ghz (Turbo)
– Corsair H115i RGB PLATINUM 97 CFM Liquid CPU Cooler
– Corsair Vengeance RGB Pro 32 GB (2 x 16 GB) DDR4-3200 Memory
– EVGA GeForce RTX 2080 Ti 11 GB XC ULTRA GAMING
– Seagate FireCuda SSD (500GB)
– Seagate BarraCuda SSD (1TB / 2TB)
– Thrustmaster T16000M FCS HOTAS
Flight Simulator at launch is only the beginning, as it's set to be a game that evolves and grows over time rather than being a static product. If this was all the game would be, it's great as-is. No matter whether you buy it, or download it via Game Pass, you're getting the best flight simulator to-date. Microsoft Flight Simulator soars to new heights, and has easily been worth the the fourteen year wait.
A Microsoft Store code for Microsoft Flight Simulator – Premium Deluxe Edition was provided in advance by the Microsoft / Xbox for review purposes