News
Aug 20, 2020
Gunfire Reborn adds new Gunslinger, a bird named Qing Yan alongside new weapons – discount on now through August 29th
From Press Release:
August 20, 2020 — Gunfire Reborn has been making a splash on Steam since its launch into Early Access in May, maintaining overwhelmingly positive reviews and keeping a spot in Steam's top 10 weekly best sellers for multiple weeks. Today developer Duoyi Interactive Entertainment is excited to reveal the newest features to arrive in Gunfire Reborn, including the new playable hero Qing Yan, more challenges including hard mode and elite monsters, and new firepower to take on those challenges.
In Gunfire Reborn players take on the role of anthropomorphic gunslingers. However, the newest character to jump into the cel-shaded fray prefers martial arts over firearms. With a dislike of alchemy and ranged weapons, Qing Yan chooses to take on enemies in close quarters. Qing Yan specializes in quickly jumping into combat, cleaving enemies, and utilizing smoke to escape back out of harm's way.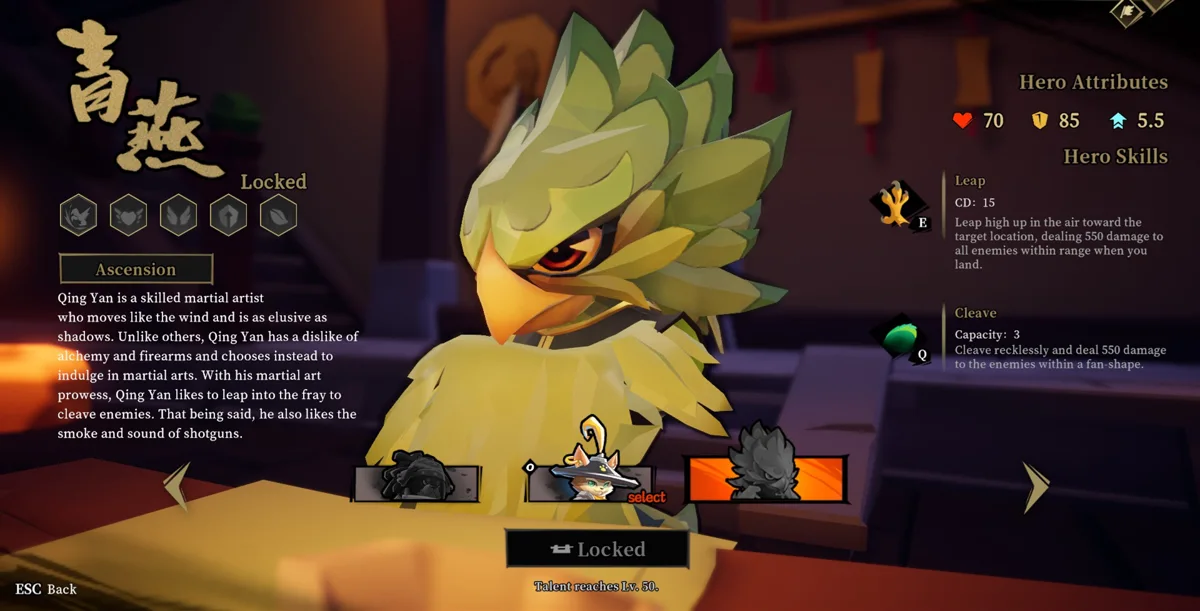 For those players that prefer to stick to ranged attacks, new weapons have been added as well as balancing updates. The first of the new weapons, Sting, will automatically switch among three shooting modes. Sting's three modes include single shot, two-run, and three-run burst modes, with single-shot mode adding the extra benefit of causing explosions and destroying armor. The second new weapon to be added is the Talisman. An elemental scroll that is capable of switching between different element categories, the Talisman will also automatically track enemies.
Featuring level-based adventuring and rogue-lite weapon collection and procedurally generated levels and enemies, Gunfire Reborn is designed to keep players on their toes, delivering a fresh experience with each playthrough. Players looking for a more challenging experience can now take on hard mode. In hard mode, players will contend with highly strengthened enemies with enhanced attributes coming at them in larger numbers. Alongside the release of hard mode is the addition of another elite monster, the Corrupt Monk. It is a strong evil spirit capable of creating mirror images of themselves; elite Corrupt Monks can also summon minions known as Large Lantern Spirit for increased damage.
Aspiring gunslingers can check out the newest updates to Gunfire Reborn on Steam now and can enjoy a 10% discount on the game from now through August 29. To connect with other players for tips or co-op play join the official Discord. Players can expect to see more updates and features added in Gunfire Reborn throughout its time in Early Access.
A list of features include:
Level-based procedurally generated adventures.

FPS combat blends with rogue-lite gameplay and provides a different experience with each playthrough.

Collect over 100 different weapons and items, each with randomized attributes.

Play different heroes, each with their own skill trees and abilities.

Journey through a fantasy world with changing environments and a stylized art style.

Play solo or co-op with up to four players.