From Press Release:
Rome, Italy – 6th May 2021. Publisher Leonardo Interactive and developer Woodland Games are thrilled to announce the devilishly dark humoured survival-sim game Hell Architect will be whipping sinners into shape on PC via Steam this summer.
In Hell Architect you're playing as, you guessed it, an architect of Hell. Your task here is to craft new prisons for the lost souls and sinners who have found themselves 'downstairs'. Just like all good (or bad) big corporations, Hell is a tightly run ship and under the watchful eye of Lilith from the HR department, you must devise the most creative ways to squeeze as much suffering as you can out of the sinners who will be spending eternity in this hot spot. That's not all. To climb down the corporate ladder, you must gain the approval of the greatest and most feared devils in Hell, including the head honcho, Lucifer himself, as they evaluate your hard work as well as your sense of aesthetics and thriftiness!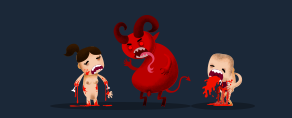 You will have a host of options available to start crafting your own Hell. All the lost souls who arrive through the gates have their own abilities and traits so put them to work harvesting resources and doing the grunt work while you concentrate on researching buildings to make sure their stay in Hell is as 'comfortable' as possible. From toilets and canteens to shrines and demonic conference rooms, your Hell must be ready to accept more lost souls and demon VIPs who will continue to drop into your domain, all requiring your attention in many different ways. Remember, the more souls that arrive, the more demands placed upon your resources, so make sure to manage your workers and continue to expand your empire to impress the boss. And don't forget, if any of your workers step out of line you have the tools at your disposal to whip them back into shape. Literally.
"We are extremely happy to be bringing Hell Architect to PC fans this summer." commented Daniele Falcone, General Manager of Leonardo Interactive. "We are thrilled to be working with the talented team at Woodland Games and add this dark humoured survival sim to our diverse portfolio of games. We can't wait to see what kind of Hell fans can dream up".
Features of Hell Architect:
Create the Hell of your dreams: Flex your creative muscles to design, build and furnish 9 infamous levels of Hell in the single player campaign mode, or spend a hellish eternity designing your own chaotic masterpiece from scratch in sandbox mode.
If you build it, they will suffer!: Begin with basic buildings like power stations (yup they need those in Hell too!) and canteens for your hungry workers and expand your empire to include shrines and intricate torture contraptions to increase the level of suffering for your weary residents.
Management is key: Harvesting resources, building an infrastructure and expanding your Hell will be key in your success. A constant stream of new lost souls will provide more hands to use, but will require managing to keep them working.
Crack the whip: Treat the sinners sent to your humble abode to different fun (or not so fun) sources of suffering, be it punishing them for disobedience or just for fun. Your Hell, your choices.
Hell never looked so good: The stylish 2D art style perfectly blends with the brutal, gorey themes and is topped off with outstanding dark humour.
Guest appearances: Play as Legendary Characters, a motley crew of history's most despicable sinners who drop into your domain, each possessing special abilities to help build your devilish masterpiece.
Developed by Woodland Games and published by Leonardo Interactive, Hell Architect will be released for PC via Steam this summer. Fans can wishlist the game on Steam now. For more information on Leonardo Interactive, please visit the official website at https://leonardointeractive.com/
-Ends-