ROCCAT reimagines one of their flagship mice with the Kone Pro. It's a mouse that focuses on being lightweight in every aspect – which it excels at. Whether you're a claw, palm, or fingertips gripper, there's something for you. Extensive research has been poured into the Kone Pro, and it shows. This mouse is so smooth, Rob Thomas and Santana have a song about it. From it being ergonomic and just a joy to use, the ROCCAT Kone Pro is a must-have gaming mouse.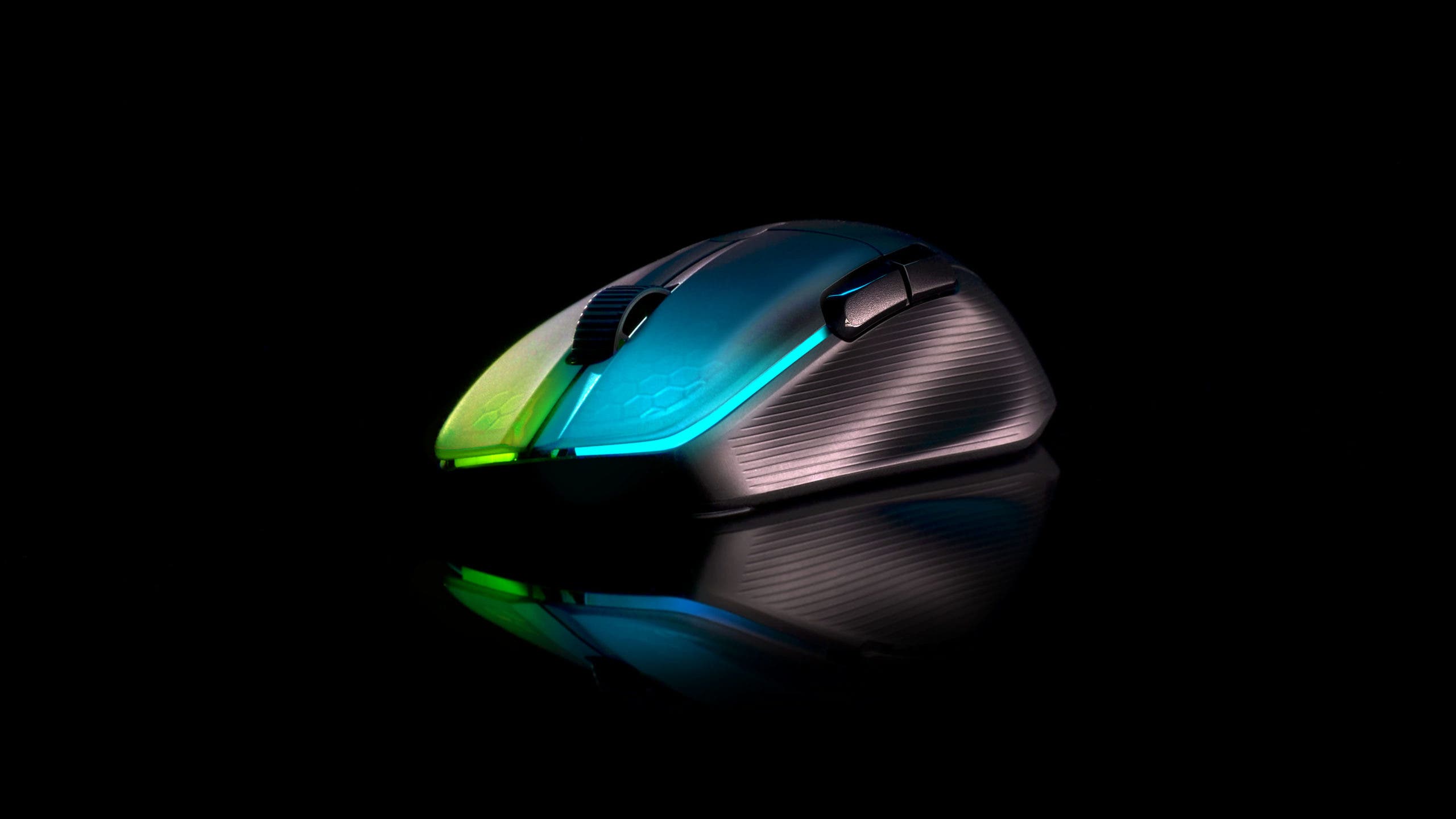 The first thing you'll notice once you've got it plugged in to a USB port, is the lighting. Most mice have RGB lighting everywhere they can get it, for multiple zones of coverage. For ROCCAT, there's only RGB lighting in the left and right mouse buttons. It's a great placement for the most part, and it highlights the honeycomb design. I fully expect to see other hardware manufacturers adopt this lighting model as well. Aside from that, the other aesthetic you'll observe is that the mouse comes in Ash Black (reviewed) or Arctic White, for a very respectable $80. There's also a more expensive, wireless version with the Kone Pro Air with the same two colors, but at $120.
The next thing that struck me was that the mousewheel is hollow, and you can see through it. It's shape reminds me of a water or macaroni wheel, but with far less spokes. It manages a sturdy look while being futuristic, as is the intended architecture of Titan Wheel Pro. The mouse buttons are bolstered by the ROCCAT's proprietary TItan Switch Optical buttons, which promise 100 million clicks. Unsurprisingly, that's something I've not tested, but will wholeheartedly believe. Sadly, there are no buttons to switch DPI on-the-fly. There's a groove where they could exist, but don't. There is a profile switch on the underside, but it is definitely not meant for the heat of battle or to be used mid-match. I'm hesitant to call it an oversight, but it is an unusual decision all the same.
The Kone Pro comes with replaceable feet, which they absolutely glide when in use. The feet are made from PTFE, which unabbreviated is Polytetrafluoroethylene. It comes down to being a strong, waxy, and unbelievably smooth surface that has virtually no friction. This, coupled with the lightweight shell, a reported 66 grams (2.32oz) is incredibly easy to move around. Now, considering this is a wired mouse, it comes with what ROCCAT calls a Phantom Flex Cable that doesn't allow itself to get stuck on hard corners, and has a bit of stretchiness even if it does. It's an evolution of the braided USB cable I've been so fond of over the years.
For the technical bits, the ROCCAT Kone Pro boasts a staggering 19,000 DPI (dots per inch) along with a 1000Hz polling rate. With these two things, this is a very responsive mouse that is beyond accurate. There's some customization in adjusting the lift-off height for when and where the mouse records movement. This especially helpful in games where you're moving the mouse great distances and have to reset the mouse to center. Like I'm about to get into, there's onboard memory to store everything you need in the event you move the mouse to another PC. ROCCAT is all about saving you time, and having a minimal setup process.
Software
It should be noted that this is a mouse that's "driverless". The box even includes a guide that lets you use the mouse without ever installing the software while still customizing to your liking. If you want the ultimate control however, then the ROCCAT Swarm software has your back.
You get a full suite of customization, from things that could be considered "the basics" like setting the pointer and double-click speed or DPI values; to things that other softwares don't let you adjust to include horizontal and vertical scroll speed — something I haven't seen outside of individual game settings. Then you have your setting of the polling rate, which the higher it is, the more CPU is utilized, though the more accurate your movements are. Then there's other calibrations such as surface and the aforementioned liftoff height. You can even enable sound effects to give feedback on certain actions.
AIMO is ROCCAT's answer to the unnatural lighting situation RGB is currently in. It uses AI to provide a more natural lighting scheme for idle and in use peripherals. For instance, the default colors for hardware is a cycle of the color spectrum. However, it doesn't go in circles, waves, or blink like others. There's a natural effect that slowly migrates colors in a clean, smooth way that you can hardly tell. Pair multiple ROCCAT devices together, and they all seamlessly link their color shifting to match. It seems as intelligent as it claims, and doesn't ever distrct from gameplay or while it sits idle.
I trust we're going to see mice design follow ROCCAT's forward-thinking lead in the coming years, and know that the ROCCAT Kone Pro is where the innovation started. Now, if the only thing negative I can say about this mouse is that there isn't buttons dedicated to switching the DPI, then there's something revolutionary here. It's got a low button count, but high on quality that can't be beat. The Kone Pro is just as great for first-timers getting into professional-grade hardware at a modest price as it is for enthusiasts alike. The overarching theme of the ROCCAT Kone Pro is being lightweight, and which is carried throughout every part of the mouse that's unmatched by anything else out there.
A hardware unit was provided in advance by ROCCAT for review purposes