Urban Trial Tricky Deluxe Edition comes to PC, Xbox, and PlayStation after first debuting on Switch last year. Calling this a mash-up of Tony Hawk's Pro Skater and Trials is apt, it's a freestyle motocross game that's a generous nod to each, but still manages to carve out its own place in the genre. With the third entry in the series, it eschews the grim and grunge of the prior entries has been slowly getting away from. With Urban Trial Tricky Deluxe Edition, it's an overly saturated and cheerful game that's complimented by its great controls and casual gameplay to match.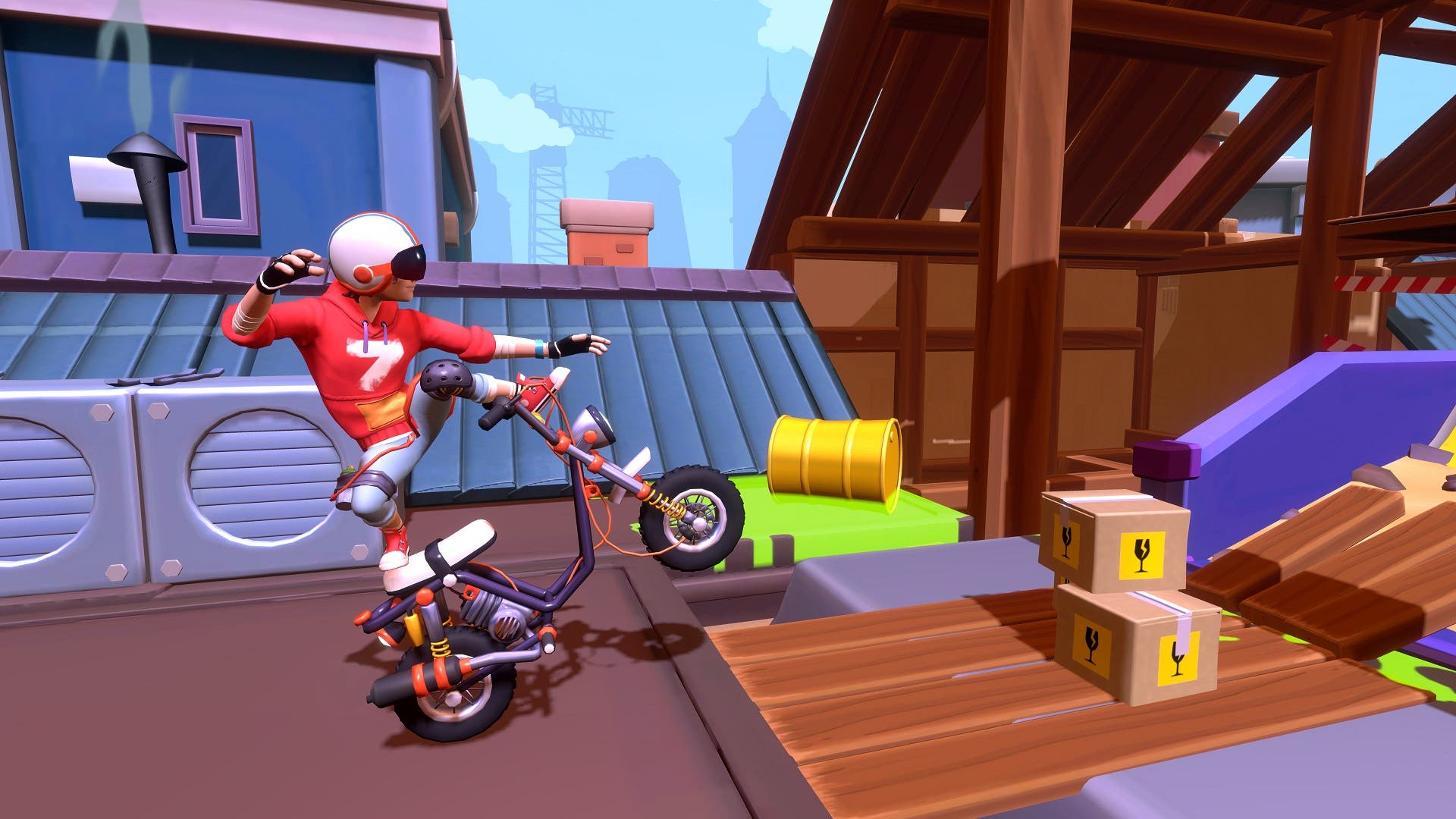 It's easy to see that Tate Multimedia have found their stride with this one, whereas Urban Trial Freestyle and Urban Trial Playground never quite achieved. It initially felt like the Urban Trials series was chasing the Trials fever, but added tricking to differentiate it. Then with Trials Fusion, tricks became integrated into that series. As things have come full circle, Urban Trial Tricky Deluxe Edition feels distanced from not only what it gets compared against, but a breakout star of its own with this entry.
The game is singleplayer only, and you'll put all your time into the career mode. It consists of over thirty events. They are broken down into three categories: timed races, trick scoring, competitions. While it doesn't seem that varied, it is presented in a way that you never tire of the three anytime soon. The game does have tutorials, and all six are blended into the level progression and introduces new concepts at the right time. It's very smartly done. The game will gate you from accessing levels until a star threshold is reached. I never ran into this while playing, and any time that I didn't do well-enough on a level, I'd go back and play it until I did. You get awards for collecting all of the items in a level, or achieving a special time, but there's also a sub-set of challenges to complete that are really compelling to chase after.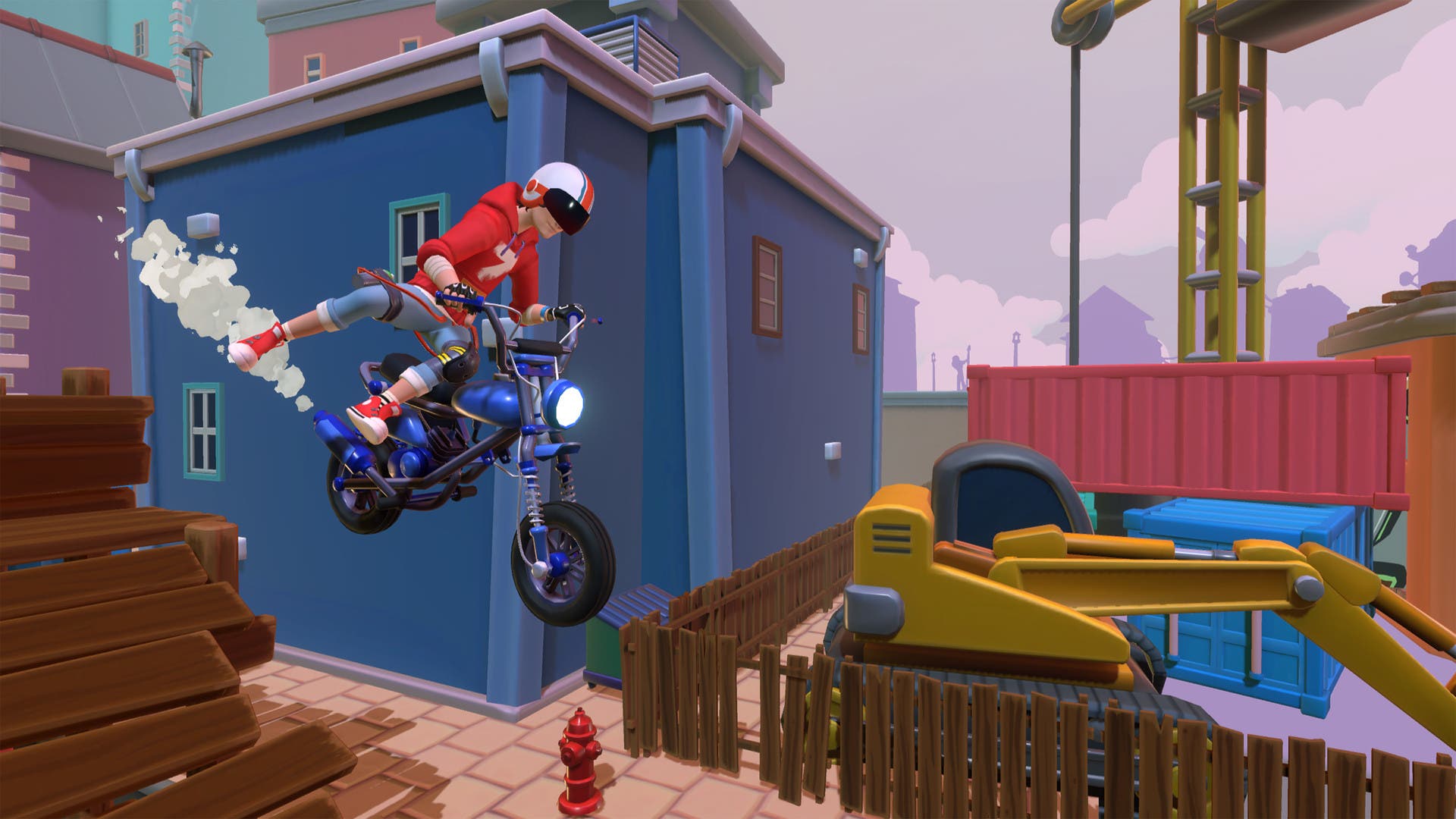 The act of playing the game is rather simple. Right trigger is the accelerator, and left trigger is the brake. Lean the rider and they'll do a wheel or an endo. If you build up enough combos and tricks, you'll fill a meter where you can hit RT+LT to initiate a special trick that slows down time, looks cool, and lets you accrue lots of points. The game does seem overly sensitive in some respects, or rather particular in that both wheels must touch in a certain way or else your entire combo get shuddered. It's rather disheartening, but you do learn how to avoid its strict rulings.
The game prides itself on its customizations, with plenty of options for anyone playing the game to make the rider and accompanying motorbike look how they want. In playing the game, you'll unlock new outfits for purchase using the in-game currency collect as well. There are also new tricks to buy that can be slotted out from the rest. There are new bikes with different stats, but the unlocks themselves are rather unexciting. This is because they all pretty much look the same, and unless you give each a unique look that you don't alter, will have a hard time telling apart unless you look at the stats each time.
What makes it "Deluxe"?
There are six additional customizations options along with a rider and bike skin, as well as a special trick. There are also two DLCs included in this purchase, the Flex and Swag Packs. Buying the Deluxe Edition is the only way to buy the game on any platform that isn't the Switch. And honestly, it's a five dollar difference, so it doesn't feel like anything disingenuous on the part of Tate Multimedia.
Unreal Engine 4 powers the game, and combined with the artwork, it looks incredibly good. The bright visuals are so different that this game should've been called Suburban Trial Tricky. While at lower resolutions, it ran at 60fps on the Switch. Here on PC, there's virtually no limit. There's really not much to say here other than that it performs great at any resolution.
My PC Specs:

– Microsoft Windows 10 Pro
– Intel Core i9 9900K @ 5Ghz (Turbo)
– Corsair H115i RGB PLATINUM 97 CFM Liquid CPU Cooler
– Corsair Vengeance RGB Pro 32 GB (2 x 16 GB) DDR4-3200 Memory
– EVGA GeForce RTX 2080 Ti 11 GB XC ULTRA GAMING
– Seagate FireCuda SSD (500GB)
– Seagate BarraCuda SSD (1TB / 2TB)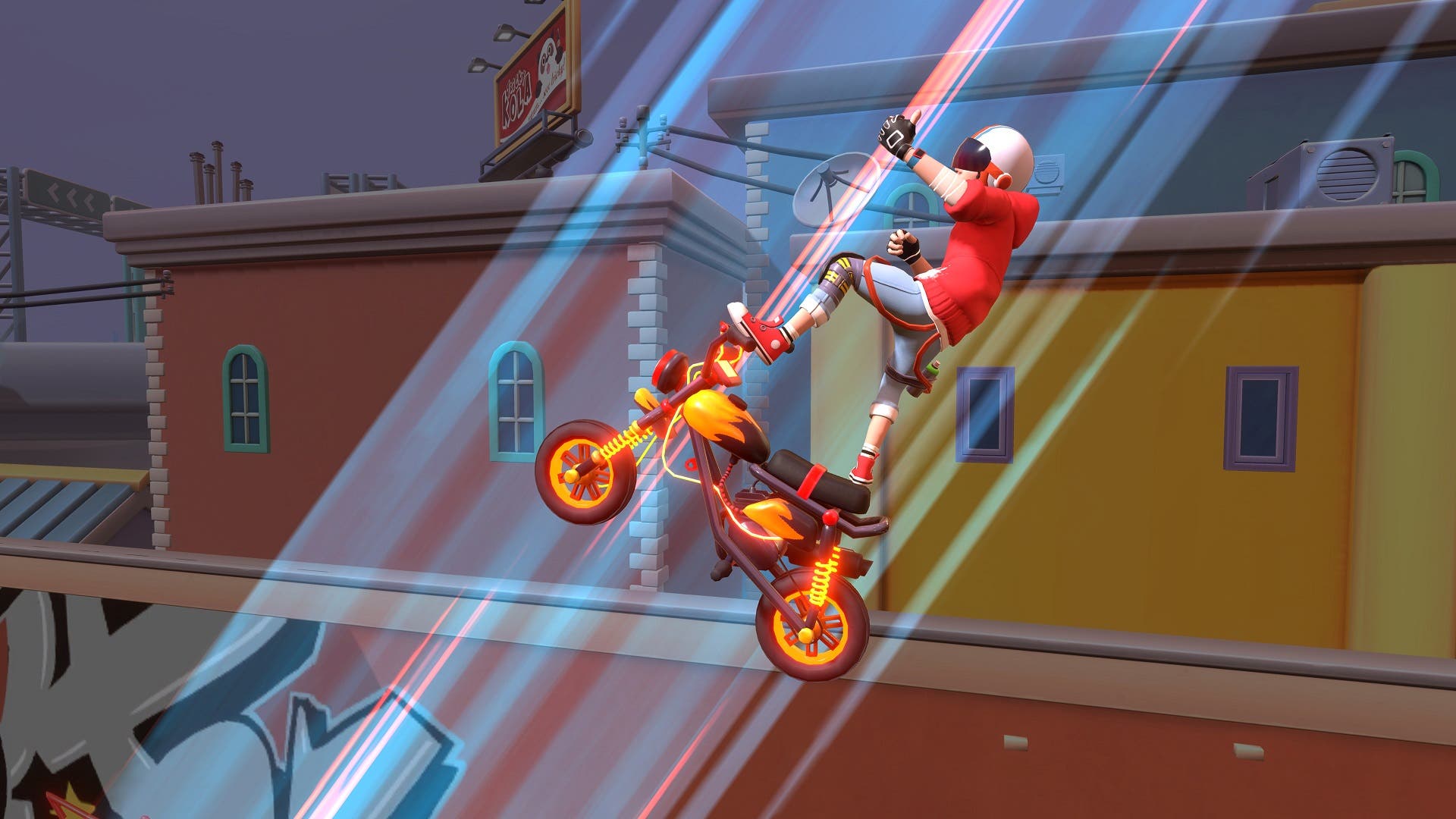 I enjoyed what Tate Multimedia did with Steel Rats in a motorcycle platformer, but the Urban Trials series has really landed for me in Urban Trial Tricky Deluxe Edition. From pursuing every challenge, to the high score hunting, and besting every time, there's something for everyone and a means to achieve it. Whether you've got fifteen minutes or a couple of hours, the game fits in either direction to satisfy and make progress. Urban Trial Tricky Deluxe Edition is great for any age, and a casual experience to get started with expert nuance in the later levels that really defines the experience.
A Steam code was provided in advance by the publisher for review purposes