As a kid, I spent countless hours playing on the floor and my bed playing with Hot Wheels. I constructed tracks from official pieces with whatever I had lying around. HOT WHEELS UNLEASHED captures what our imaginations were as kids, and presents them in exaggerated and expansive ways. Milestone, a developer who's mostly known for their work on motorcycle and simulation games have made one of the most enjoyable arcade car racers in recent memory. HOT WHEELS UNLEASHED is a game for racers, designers, dreamers, and kids from one to ninety-two.
Not since the Hot Wheels expansion for Forza Horizon 3 have we had anything this good in relation to Hot Wheels. And it a lot of ways, HOT WHEELS UNLEASHED exceeds that, because it goes beyond the brand name, going for authenticity above all else. When you're at the main menu, you'll have plenty of options for racing, but the collection is place you'll be gawking at a lot. As you unlock new cars to be added to your roster, you'll be able to upgrade them, and even modify their liveries to your liking. The only thing that go further is being able to get a 3D print of your custom Hot Wheels creation made, and shipped to your home.
Most of the time spent in this game will be with Hot Wheels Rumble, the singleplayer campaign mode for the game. It features different kinds of races from quick races to time attacks to even boss battles. There's nearly 100 races to occupy your time. I played on the Normal difficulty, and it only started getting challenging about halfway through. It takes ten hours to complete all of the races, and to get 100% map completion and winning every race took me about fourteen hours in total. There's a lot of content here, but not all of it is great.
The act of driving in HOT WHEELS UNLEASHED is rather simple. It's mainly just accelerate and turn. Often you'll tap the brake to initiate a drift, but the actual use of the brake will rarely, if ever be used to stop. Drifting is simple, yet rewarding when you get a car that has good enough handling to maintain one. If you time hitting the gas just before the number two appears in the countdown, you'll get an off-the-line boost. The race tracks will have magnetic pieces, boost pads, and even traps like spiders that shoots webbing to halt you in place (complete with a record scratch inserted into the soundtrack) as well as a snake with its mouth open that can close at the wrong time during a jump. There's a lot of obstacles and split-second decisions you have to make that keeps things exciting.
There are six areas to race in: Garage, Track Room, College Campus, Basement, Skyscraper, and Skate Park. They're all unique and special, but they tend to feel limited with over ninety tracks, as repetition starts to set in. More environments or less tracks would have avoided this problem altogether. As a result, not all tracks are created equally. What that means, is that some tracks are really amazing with high-flying jumps, long drifts, or precise turns. Sometimes a track will spit you out upside-down and you'll have to correct yourself so that you land correctly. And unfortunately these kinds of tracks aren't used enough, only appearing in a handful of them. There's also times where there's blind corners that are impossible to scout, that prompt learning only after you mess it up. With so many races, it's easy to get a little burnt out. The in-game secrets incentivize going back and either getting first place or achieving the fastest time to make progress, as you'll have to suss out that maybe you need to play a particular level with the Hot Wheels school bus in order to unlock a secret, or defeat a certain boss to unlock the next.
There's an in-game shop to buy limited items or blind boxes. Naturally, I had reservations at the inclusion of this shop, as kids will be playing this and having to gamble for a car. Rest assured that no real money can be taken here. The shop only uses coins earned within the game, that's only possible from playing. The store rotates items only with an in-game clock. That means every four hours, the shop will display new items, but that's four hours of the game running or actually playing the game to happen. It's certainly interesting, helping ensure you don't miss anything, but four hours of in-game time is a lot, and should really be shorter. Purchasing blind boxes with your extra currency sounds fun, but in practice the likelihood of getting something you want is slim to none. I never got a high-tier car come from there. The closest thing I have is the Back to the Future DeLorean that I bought from the limited items shop. Having completed 100% of the game, there's still some thirty-odd cars I haven't unlocked, like the Teenage Mutant Ninja Turtles van, KITT, and a Snoopy car. And having to depend on luck to get these cars just isn't fun.
Every car in the game has attributes that contribute to its overall ranking, or tier. Stats containing speed, braking power, acceleration, and handling, represented by a number of pips. Boost is also in this category, some boosts are hold from a large tank, and in the higher tiers you get pips of boost that propel you far. Cars can be upgraded from common rarity up to legendary by spending in-game gears that earned from races and other rewards. No single car will have perfect stats, or stats that max out every category. From there, it's about finding the best car that works for you.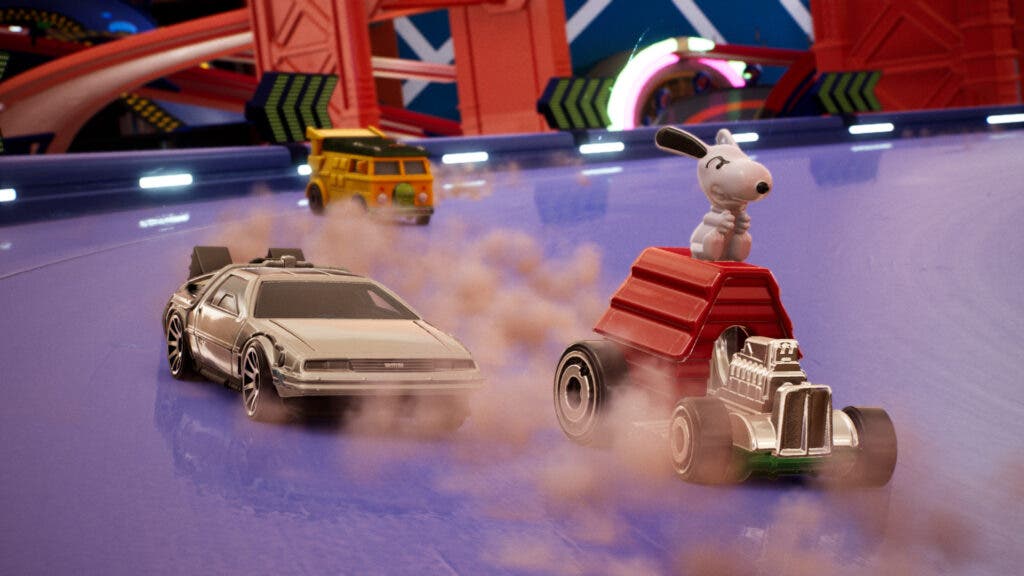 The included Track Editor is an extensive toolset that even the most timid creationists will be drawn to making something. The act of putting together a track is rather intuitive, and there's likely going to be tracks that rival what Milestone even constructed. It's worth noting that the rooms you're placed in, are massive. Creativity will not be stifled by lack of space, as there's plenty to spare for you to make the track of your dreams. The livery editor in the game is not as deep as others, but it's enough to create something worth sharing to the word. Multiplayer is a great place to show this off, but was a mode that I couldn't play prior to release, as seemingly no one was trying to matchmake during the times I tried.
There's a whole customization element around the Basement. It's a place you can customize with furniture, props, and a style all your own, but offers nothing to do. Though, it's something you'd want to do after you've completed the campaign, to be able to use all that you've unlocked. It is however, rather non-interactive. I'd like to see the basement expanded into something more, as I think it'll be the least-used mode of them all.
If it's not apparent by the screenshots, HOT WHEELS UNLEASHED looks the part in a way no other game before it has. The way the metal flakes of the paint shimmer in the light, or how some car's dull plastic doesn't reflect, all have that look. Seeing these diecast cars in motion is surreal, but Milestone have absolutely nailed the visuals. They've been working with Unreal Engine 4 for years, and their expertise shows. This is a gorgeously detailed game that runs at an exceptionally high framerate, at least on PC.
My PC Specs:

– Microsoft Windows 10 Pro
– Intel Core i9 9900K @ 5Ghz (Turbo)
– Corsair H115i RGB PLATINUM 97 CFM Liquid CPU Cooler
– Corsair Vengeance RGB Pro 32 GB (2 x 16 GB) DDR4-3200 Memory
– EVGA GeForce RTX 3080 Ti 12GB GDDR6X FTW3 ULTRA
– Seagate FireCuda SSD (500GB) – Seagate BarraCuda SSD (1TB + 2TB)
– OWC Aura P12 NVMe SSD (2TB)
HOT WHEELS UNLEASHED evokes the feeling you had as a kid playing with Hot Wheels, and cranks it up to eleven. This is the best Hot Wheels game ever made. It doesn't matter who you are, kid or adult, you'll be enamored seeing your favorites in motion. There's so much to love here. HOT WHEELS UNLEASHED is such a joy to play, and hard to put down.
A Steam code was provided in advance by the publisher for review purposes