You'd think free falling out of planes, jumping massive distances, and smashing boards would be tiring after all these years. Truth is, it's not even close. Even the more usual aspects like clearing a checkpoint or a speed trap at a high speed, is just as exciting now as it was back in 2012 when Forza Horizon debuted. Playground Games avoids series fatigue through its timeless gameplay being accessible and creative every time. Forza Horizon 5 is easily the biggest and best open-world racer yet, for an unparalleled and truly next-generation racing experience that's a definite must-play.
Forza Horizon 5 trades cobblestone for cactus this time around, capturing the essence of Mexico all within a massive map that's of a size not seen before, horizontally or vertically. Mexico has been scanned using photogrammetry technology, capturing painstakingly detailed and lifelike locales to look at. There are eleven biomes to explore, with deserts, jungles, urban areas, and even an active volcano. There's really only two seasons to experience this time around, though there's two variations. In the game there's dry, hot, wet, and storm seasons to contend with. Each of them have their own challenges and impact on the overall map such as dust storms and lightning storms. The caldera great for drifting uphill and down, both dirt and paved roads. It's an amazingly looking game backed by incredible gameplay.
The introduction is absolutely breathtaking, with jaw-dropping vistas and incredible race scenarios as you hop vehicle to vehicle, getting acquainted with what this festival will be like. Forza Horizon 5 is essentially a "MMOCarPG", a massively multiplayer online car role-playing game. The massive is more about map size than anything else, but this is entirely online to play with friends and strangers alike. Every action you take in the game help level you up, and provide access to new and exciting things to do. It's wholly satisfying and unrelenting in the breadth of content you have available to you.
There is some continuity here, in that you are playing as your character from Forza Horizon 4 and riding high on the success of the Horizon Britain festival. You're internationally known, yet fundamentally broke for reasons undisclosed. You'll be eagerly rebuilding your garage from scratch, and taking Horizon Mexico to the next level by expanding its stages the only way you know how. The game's campaign, dubbed Horizon Adventure is densely packed with things to do. There are four stages to the festival: the Mainstage for your first set of races, the Apex for Road Racing, the Wilds for Dirt Racing, the Baja for Cross Country Racing, the Rush for PR Stunts, and the Street Scene for Street Racing. Expeditions are like mini-showcases, taking you on a tour of some famous landmarks or historical sites of significance, learning something along the way. The showcases return, and might be the one thing growing stale. They're still engineered to be close races for maximum tension. Horizon Stories were introduced in Forza Horizon 4, and return here with more flavor and exciting objectives. The last game also introduced extra long races that would encompass the circumference of the maps in various ways, and they're even better here.
Your goal is to reach the Hall of Fame in Horizon Mexico. To get there, you'll have to accrue accolade points. You get accolades for everything you do. From winning every race to performing a specific task using a defined vehicle and making purchases. For the more demanding accolades, they can be pinned to the HUD for tracking. As you drive around the open-world or perform in races, you'll likely drift, draft, catch air, or wreck that'll earn you a skill chain. Doing so earns experience that nets you skill points to use towards unlocking rewards or making your favorite vehicles useful. Forza Horizon 5 is a game that respects your time and efforts, and will reward you for it.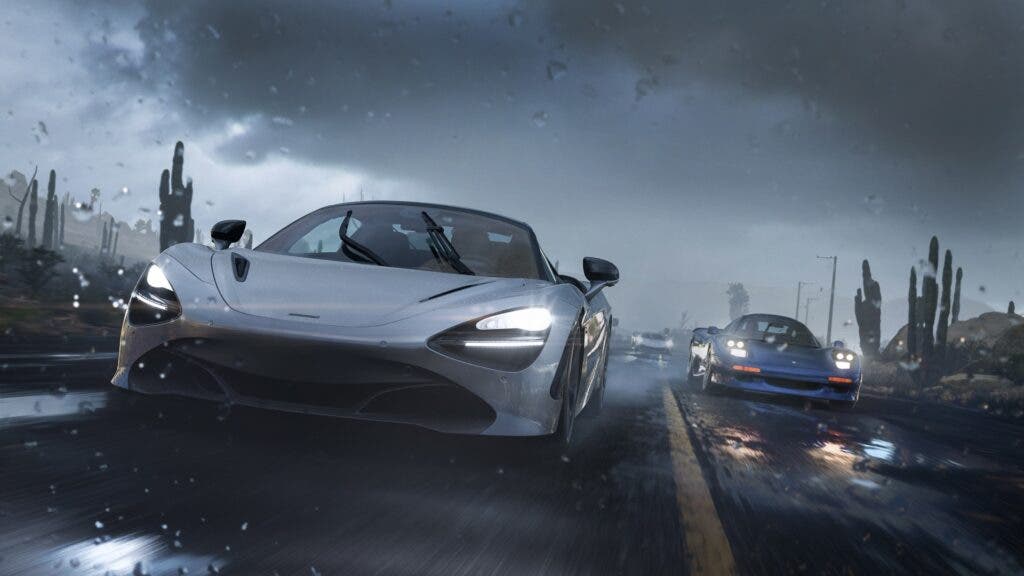 If it isn't apparent, Forza Horizon 5 is an arcade-style racer. It allows you to adjust difficulty and assists that allow you to make it as hard or easy as you want. The act of driving, or simply hooning around the desert is non-stop fun. There's a race type or activity for everyone, from drifting to setting records with speed traps. Or you can partake in illegal street races, then take a Toyota Supra across the dunes with other racers. It's unbridled freedom at its best. With the biggest roster yet, there's over 500 cars to collect. The game makes a bigger emphasis on car collecting, and even doling out rewards for collecting an entire manufacturer's worth of vehicles. I've noticed that a majority of the cars in the game have all-new sounds, and are getting away from the generic and overused sounds they've had in prior years. This effort does not go unnoticed. This is a car game for who deeply care about cars, just as much as it is for those who only have a passing interest.
You can choose to race, or not race as much as you like. The game is so open, you can level up if all you do is tune cars or design liveries and make them available for download in-game. An import and returning feature, is that you can import liveries from prior Forza games easily. Perhaps designing races or challenges are your thing, you can do that. Despite it being a racing game, there are activities in the periphery of racing without having to spend any real time behind the wheel in order to progress.
Bonus boards are back. There are boards that you can smash for quick XP. Smash all of the fast travel boards, and your costs to fast travel around the map get reduced to zero. The complexity has really increased with this entry, and what I would call some devious placement. They become environmental puzzles as you have to suss out the right vehicle, speed, angle, and approach in order to reach some of these. This is by far the best iteration on this kind of collectible within the series yet, growing and maturing with the audience. Barn Finds continue to be a great version of hide 'n' seek, and Playground Games exercising the playground the fullest in every way.
With Forza Horizon 5, there's a clean UI and presentation that I really appreciate, as it was lacking previously. It's easy to navigate, and the menus are quick without any unnecessary animations or transitions that bog it down. When you start the game for the first time, you'll make your character, and it's a bit of a letdown. The customization is just as limited as it was in prior years, and there's only one voice style to pick across two genders. If that wasn't bad enough, the voice acting for your character is some of the worst I've heard all year. Thankfully they don't speak up too often, and it's honestly forgettable after they're done speaking.
New this time is Forza Link, a quick chat system that lets you join up with people easily. In practice, I call up my selected phrases, and was able to be in an impromptu group with anyone I talked to using this interface to start free roaming, racing, or attacking PR stunts. It's a simple yet effective system that doesn't require typing or even using voice chat to do the things you want to do, but with other people. It's a low commitment that ensures everyone can be social without having to be actually social.
It's clear that as Playground Games evolved the series, they would take elements that worked there and carry them over to Forza Horizon 5. absolutely This is just brimming with content. The Festival Playlist makes a return to offer seasonal challenges and unique races to do.
The battle royale mode from the last entry: The Eliminator also makes a return. One hundred racers drive their hearts out to survive an ever-encroaching circle, find upgraded vehicles, and steal opponents vehicles in order to dominate. It's a whole new take on the genre that's a blast to take part in. Also returning is the Super 7, a place for users to create short races in the form of challenge cards to complete under specific scenarios. It tasks with anyone who happens upon them by racing to a point the fastest way possible, accruing a certain number of points, or performing a specific task – and in some cases, all of them. They're an exciting break from the regular races.
New this year is EventLab, this is a fully-featured track editor to be used in creating your own races that encompass the entirety of the map in a grueling endurance race, or finding the devious switchbacks for a tight races for all participants. This is a mode in its infancy, and sure to grow and improve with some incredible designs yet to come.
Playing on an Xbox Series X, it is visually astounding. Running in 4K60 with varying details adjusting to maintain the framerate for Performance mode. Graphics Mode is a stable 4K30 that just positively shines. I don't normally say this, but HDR and an OLED TV really make Forza Horizon 5 a stellar experience on this console. While the PC version can achieve higher frame rates, it just can't compete with the colors, vibrancy, and lighting that OLED and HDR have to offer.
The PC version is another wonderful port from Playground Games. I was averaging around 110fps in 1440p with all of the settings maxed and MSAA set to 2X with ease. The game benefits from SSDs on both, and loads up incredibly quick, even when fast traveling and loading up new races. The game supports cross-save, so you can bounce between Xbox and PC with minimal effort after a quick sync over the cloud.
No matter the system you play on, the vastly improved draw distance is a sight to behold and the most obvious improvement. Then you have the smaller details like how light refracts within smoke and fog. This a game that has a true-to-life look that is closer to matching reality thanks to its ray tracing features. Forza Horizon 5 is a visual splendor in everything.
My PC Specs:

– Microsoft Windows 11 Pro
– Intel Core i9 9900K @ 5Ghz (Turbo)
– Corsair H115i RGB PLATINUM 97 CFM Liquid CPU Cooler
– Corsair Vengeance RGB Pro 32 GB (2 x 16 GB) DDR4-3200 Memory
– EVGA GeForce RTX 3080 Ti 12GB GDDR6X FTW3 ULTRA
– Seagate FireCuda SSD (500GB)
– Seagate BarraCuda SSD (1TB + 2TB)
– OWC Aura P12 NVMe SSD (2TB)
Mexico is an incredible location for the fictional Horizon Festival, and really refreshing. Whether it's the thrill of the race, tools for encouraging creativity, or uninhibited exploration, there's something for everyone to do and participate in this evolving open-world. While the core formula is unchanged over the years and it's a lot more of the same – the same is really good. This is a multiplayer game where you can choose to engage with all or none of its systems at any time. Forza Horizon 5 is an outstanding achievement of gameplay and visuals, and is an exquisite open-world racer for the next-generation.
An Xbox Series X code was provided in advance by the publisher for review purposes