A vanguard is defined as "the foremost part of an advancing army or naval force". The game follows a motley crew of the 'best of the best' military operators from the Allied nations. This team is tasked with doing the things a whole army can't, all the while getting there first. Sledgehammer Games returns to World War II, but offers a modern take on the historic war with Call of Duty: Vanguard. By combining real-world events with fantastical characters and gameplay, it has mixed results with not all parts working the way they should. Call of Duty: Vanguard features one of the better campaigns in recent years, but has a disappointing zombies mode and an anachronistic multiplayer offering.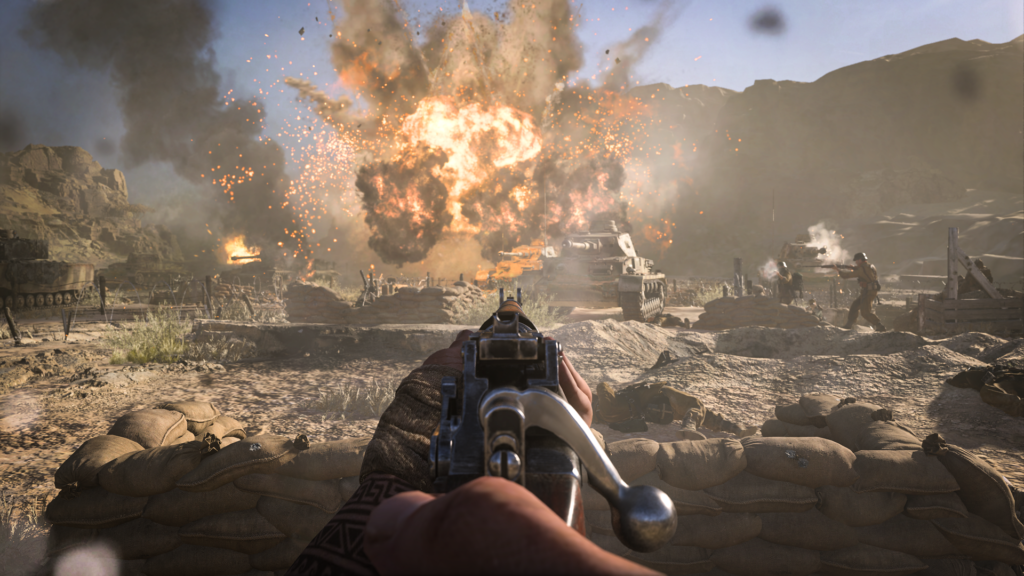 CAMPAIGN
Vanguard is not Sledgehammer Games' first foray with a World War II game, as they released Call of Duty: WWII four years ago. Now, there's no connective tissue between the studio's last game and this one. That's mainly due to the fact they're tonally and structurally different from one another. However, rewriting the rules for World War II gives this game opportunity to do new and exciting things, which it mostly does.
The aforementioned crew of top-tier specialists are looking for something called Project Phoenix. Characters such as Thomas Webb, Lucas Riggs, Arthur Kingsley, and Polina Petrova are introduced. These characters are fictionalized versions of their real-life counterparts from World War II. It wouldn't be a Call of Duty game if you didn't play as a disposable protagonist at least once through the story. It should come as no surprise that you'll be rolling credits around the six-hour mark.
CAMPAIGN (cont'd)
The game focuses a lot on backstory for each of its important characters. After the (then) present day introductory mission, the game is then told through flashbacks from different character points of view during World War II. It's interspersed with cutscenes as the Nazi's learn that Hitler has died, ultimately believing he was killed instead of by self-inflicted gunshot. It's clear early on that Polina is meant to be the most likable and pivotal character. Every character you play as has a "power" that helps them very specifically in each combat encounter. From Lucas' vision that can highlight enemies and snap-to targets and Polina's distraction with a knife, there's a little bit of depth added here. By the end of the game, you'll do what you've wanted the game to do all along, and that's switch characters. It's something that should've happened more, but there's some really slick camera pans when they do it. All of the backstory is meaningful and mostly satisfying, but it all feels like it's a prelude to a future game where it doesn't have to explain anything. But the game wraps up rather cleanly that it'll be interesting if they do continue to tell their story.
It's a shame that the backstories and prior events of the war take up the bulk of the game's storytelling. This leaves little time for this group to coalesce or do some really interesting stuff together in the present. When it's at its best, you're experiencing familiar locales in very intimate ways. I experienced my first jump scare in a Call of Duty game ever when I saw something that indicated to me that I could do something with it, but instead the enemy used it to their advantage. It was a really surprising moment that I ultimately enjoyed, and they did it only once. There was one tense boss battle that felt really different from anything that's come before. Vanguard is not afraid to try new things, and when they do, they almost always pay off.
ZOMBIES
I always preface this same section of a Call of Duty review with the fact that I'm not this mode's biggest fan. I always try the mode to see if it does something to wow me. But in a year where we've seen Aliens: Fireteam, Back 4 Blood, and World War Z, the Zombies mode here is lackluster, and borderline unfinished. With new maps and modes coming next month, this initial form is hardly memorable.
The cutscene that sets up the Nazis determination to win the war at any cost is more interesting than what follows. Whether you're playing the Der Anfang through matchmaking, private lobby, or completely solo, there's not much going on. You'll be thrown into the courtyard of Stalingrad, surrounded by zombies and the occult. From the start, you're given the choice of three objectives to pick from: Blitz, Harvest, or Transmit. After completing each, you're transported back to the courtyard to upgrade, improve, and repair. Then you teleport to the next objective on the list. When all three objectives are completed, you can take on a fourth and final one as the enemy presence is increased. If you survive to that, you can do it all over again for more rewards and better upgrades, or exfiltrate. Exfiltration requires killing a certain number of Nazi zombies, and then making it to the portal in the time limit.
Zombies doesn't need celebrity appeal or anything crazy, but the repetitive missions do nothing for me. It certainly doesn't help you can buy weapons off the wall like you used to, the HUD isn't very informative, perks are recycled, and no longer uses round / wave-based gameplay we've been used to. In a lot of ways it feels "back to basics" that Call of Duty: Cold War Black Ops did, still maintaining the risk-reward mechanism that's driven this mode for over a decade. Long-time players will take issue for the lack of content and ad-infinitum objectives introduced this year.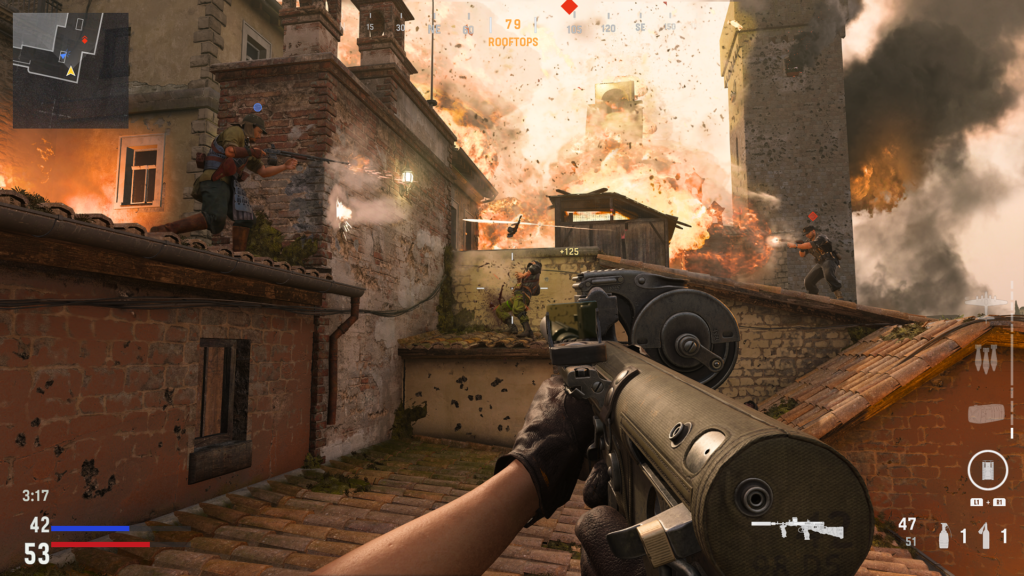 MULTIPLAYER
Those who thought the overall gameplay was slower in WWII, well Vanguard certainly speeds things up. Vanguard is a really fast game, partially dictated by the pacing system. You can choose between Tactical, Assault, and/or Blitz. The "pacing" just means the number of players found on the map, from 6v6, 8v8, and 10v10. The end of match sequence slows the game to a crawl, as you're first treated to a short cutscene of the player who receive the "Play of the Game". After that, you watch the replay of what they did to earn it. Once that's done, you're shown three players who achieved something special during the game, each with their own short animation. Players must then vote for who is the (Team) MVP, which has a strict countdown timer. Now this is fun for the first few matches, but the more you play, the less you want to engage with it and move on to the next match.
Call of Duty: Vanguard touts that there's 20 maps at launch – this is true, but sixteen are reserved for core gameplay, and four for Champion Hill mode. You'll find your standard fare of multiplayer modes such as Team Deathmatch, Domination, Search & Destroy, and others. Everything you'd want to be there is, and doesn't split the playerbase up too much by having too many modes. Castle was one of the first maps I played, with too many corridors for my liking. Decoy reminds me of a Modern Warfare map that is a joy to play. Dome is the only map returning from Call of Duty: World at War, and it's really fun to have back. Champion Hill is a new mode this year, and is an advancement on the Gunfight mode found in prior entries, focusing on duos and trios. It's got depth and a currency system for round-by-round elimination with a reliance on communication and conservation.
MULTIPLAYER (cont')
In addition to the account and weapon experience that can be accrued, now each operator has their own experience bar with levels and unlocks. There's a lot of operators that can be unlocked, which is easy to do with a lengthy but achievement set of objectives. Not all of the operators you can select are found in the campaign, as it seems some of them seem to be lifted from Zombies mode or from future stories.
Probably the most interesting and yet weird things is that all guns that aren't handguns, launchers, or melee weapons can now have ten attachments. It's wholly bizarre that guns from the 1940s can hold ten attachments (let alone that there would be this many types of attachments in this era), and Call of Duty: Modern Warfare (2019) and subsequently Warzone only allows for half of that. It also retrofits modern perks into historical context for things like High Alert and Ghost. It's odd to have these perks present here, as well as all of these attachments, but you wouldn't have it any other way. And hopefully future Call of Duty games allow for this many attachments going forward.
Bear McCreary, the acclaimed composer for so many films, television shows, and video games composed Vanguard's music. Simply put, it's superb, utilizing new instruments and stylings that doesn't feel like anything we've heard in and around World War II before.
Call of Duty: Vanguard uses the Modern Warfare (2019) engine. It shows signs of aging, but still manages to be impressive, especially when it comes to lighting and shadows. Returning are doors and windows that can be opened, but also broken apart by melee or gunfire. Vanguard has some impressive facial and body animations, with the cinematics continuing to be top-notch productions. There's no Ray Tracing this year, but there is DLSS, which is arguably more important. The game on PC will be around 76GB in total, with 25GB of it reserved for the campaign that can be uninstalled to free up some space.
My PC Specs:

– Microsoft Windows 11 Pro
– Intel Core i9 9900K @ 5Ghz (Turbo)
– Corsair H115i RGB PLATINUM 97 CFM Liquid CPU Cooler
– Corsair Vengeance RGB Pro 32 GB (2 x 16 GB) DDR4-3200 Memory
– EVGA GeForce RTX 3080 Ti 12GB GDDR6X FTW3 ULTRA
– Seagate FireCuda SSD (500GB)
– Seagate BarraCuda SSD (1TB + 2TB)
– OWC Aura P12 NVMe SSD (2TB)
Call of Duty: Vanguard is not a bad game, but it feels halfhearted, with most of its heart poured into the campaign. It's something that doesn't live up to its potential, and could've been better. If you're picking this one up, do it for the campaign and stay for the multiplayer to prepare for Warzone. The Zombies mode should be avoided until more content gets added to it in the coming months. We won't know how Vanguard's integration into Warzone will influence the battle royale until next month. As it stands, Call of Duty: Vanguard is good enough to get you through until next month where hopefully there's a more to return for.
A Battle.net code was provided by the publisher for review purposes