Making any piece of hardware that matches or even exceeds its predecessor is no easy feat, but that's ROCCAT's strength. Their latest is the ROCCAT Kone XP, an excellent mouse for the gamer who plays everything from shooters to RTS', and everything in-between to keep you competitive at every angle. The Kone XP is a direct follow-up to the Kone AIMO Remastered that released three years ago. I can say definitively that it has been worth the wait for a gaming mouse this good at what it offers. The ROCCAT Kone XP surpasses, just about everything to be one of the finest mice I've ever used.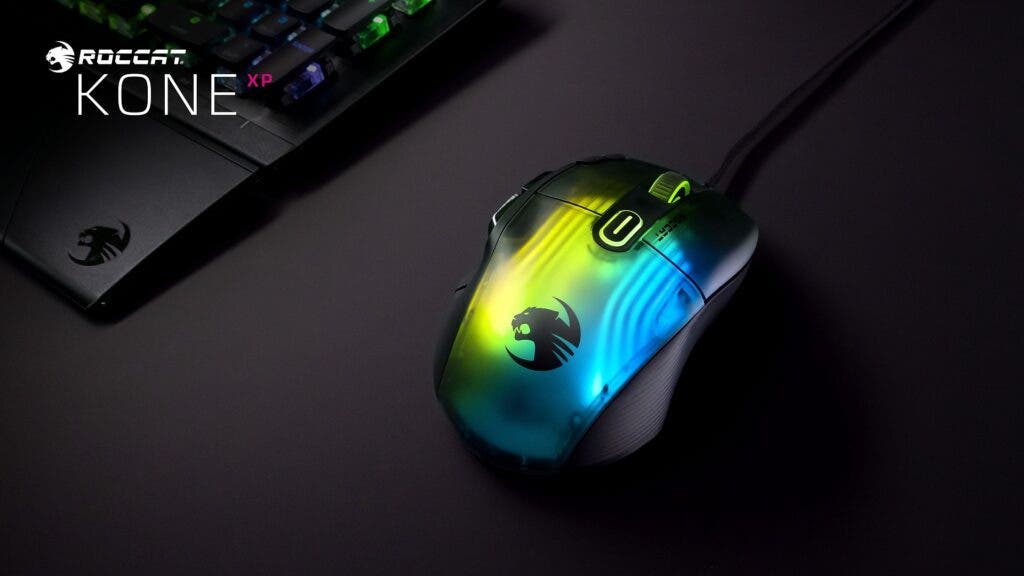 I once thought that the Kone Pro's lighting was striking upon first plugging it in. Turns out that honor belongs to the Kone XP, the new undisputed king of RGB lighting right now. This mouse is an absolute lightshow, illuminating every part of it from the top of the mouse buttons, to the wheel, to even where your hand rests on it with an . It has an astounding twenty-two individual LEDs with eight light guides for a 3D effect. ROCCAT has made sure to retain the iconic Kone shape it's known for while improving on its ergonomics. While it is nowhere near as tacky, the translucent shell evokes the 1990s like it never went out of style. But it absolutely works in 2022, allowing you to see its construction, which is just so fun to look at. It makes the ROCCAT Pyro (the keyboard to compliment the mouse) dim by comparison. It's just so mesmerizing, an absolute dream for RGB enthusiasts.
For the competitive and latency-focused, the Kone XP is also an NVIDIA Reflex compatible mouse. Without getting too in the weeds about it, there's multiple layers of latency on a system alone, from peripherals to GPU to display, with more in-between. By having a mouse that's supported, then it's an offering where the peripheral latency is at its lowest. Combine this with other supported products to further reduce system latency to ensure that you have the purest experience with the lowest possible latency. And in practice, I truly felt like playing games like Battlefield 2042, Shadow Warrior 3, and Ready or Not, gave me tighter precision during combat.
Hardware
There's a surprising 15 buttons on this mouse, with 29 programmable buttons. How the Kone XP achieves this is that one button is dedicated to the Easy-Shift[+] button that sits where your thumb rests, on the shelf of the mouse glide. It allows for 14 buttons to be programmed to completely separate functions then when Easy-Shift[+] isn't being pressed. Think of this like a keyboard's Shift key, and this is what this function allows for. You can have your standard clicks, but with shift you can select the next track, turn the volume up, or play/pause the current track. There's a lot of buttons with nothing configured that are open to whatever you desire, it's a huge switch in customization.
Then you've got your standard mouse buttons, DPI switcher, and mouse wheel. But the noticeable change is that there's four thumb buttons, listed as T1 through T4. They are easy to feel, and reach by touch that you always know what ones you're on, even in the heat of the moment. These additional two buttons compared to other mice expand opportunity for customization for RPGs, MOBAs, and more. It's a welcome addition that will make it hard for me to use any other mouse, since my gaming is high in variety that will make use of all these buttons.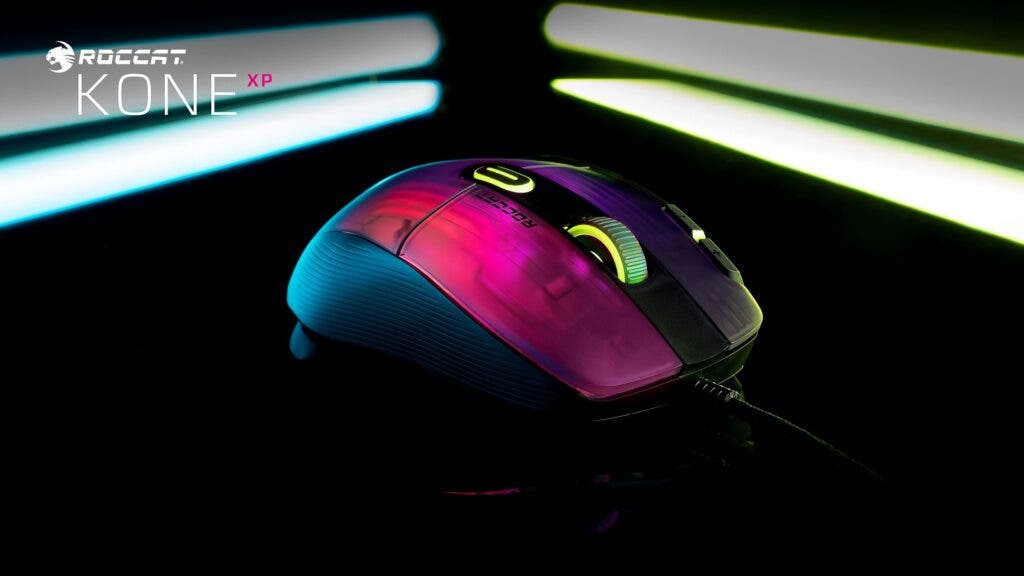 Hardware (cont'd)
ROCCAT promises a 100 million click lifecycle, and that's hard to argue. It's certainly not something I'm going to be able to test realistically for this review. But what I have tested is the responsiveness of the Titan Switch Optical, a technology ROCCAT uses in their keyboards, adapted to mice. It allows for precise and lightning-quick actuation so that there's no gap of understanding whether you clicked or not. The 19,000 DPI Owl-Eye sensor that's on-board that captures your precise movements with incredible accuracy. It's something that's hard to explain, but easy to understand once you use it. The mouse doesn't skip around or fail to track your movements, it's incredibly smooth and everything you've wanted. This though works in tandem with the heat-treated 100% PTFE glides. Though a word of warning, make sure to take off the blue stickers from the mouse after unboxing it, or you're not truly feeling how frictionless these feet are.
This is a lightweight mouse, though I'd argue they should call this a featherweight mouse. Because the act of moving this mouse is just effortless and flawless. Some other things to note, that unlike the Kone Pro's mouse wheel, this is a Krystal 4D wheel. What that means is it's also made of translucent material like pretty much everything else on the mouse, but it isn't fully hollow. The mousewheel has some extra thickness and support. I think this is due to the fact that the mouse wheel has tilt-click functionality as well, bolstering the numerous buttons you can program. Last but not least the USB cord is braided but soft like a bungee cord with their phantom flex cable that's extra durable and resistant to tugs and wrapping up.
Software
ROCCAT Swarm is still the software de jour for non-audio hardware. You've got your settings tab for adjusting scroll and double-click speed, and what DPI the switcher selects. In the button assignment tab, you have full control in configuring almost 30 buttons to what you want it all to do. Advanced settings let you decide the polling rate, calibrate for the surface you're playing on, and if you want sounds to play for certain events. It's a robust suite of options that will not leave anyone disappointed.
While part of the series of tabs and self-explanatory, the illumination tab is simple but a separate conversation. It's here that you can tell Swarm what to do with the RGB when the Kone XP goes to sleep (unused, left idle for a set amount of time). I appreciate that the default selection is for it to turn off, because RGB needs naps, too. Because I like synchronicity, my favorite thing is to set the RGB to use AIMO to seamless blend all the ROCCAT RGB together. It's an intelligent, learning system of providing natural RGB transitions based on the usage of your mouse. It's a hands-off way of letting the colors be changed in a more naturalistic way.
It's bright, light, and ready to fight every other gaming mouse in the space. I'm so impressed by the Kone XP, it does everything I would want and somehow more that makes for a perfect fit. From the buttons to the sensors, it's a mouse that's all about precision. The sheer possibilities of customization is something it excels at without being cumbersome. I just love using this mouse, and you will too. The ROCCAT Kone XP is a revelation of design, accuracy, and usability that makes for a top-tier mouse that everyone should have at the top of their list.
The Kone XP was provided in advance by ROCCAT for review purposes