The LEGO Star Wars games have to hold a special place in developer TT Games' hearts as it was the original that took root and bloomed into a successfully massive, licensed video game machine. From Indiana Jones to Marvel Superheroes to even navigating the lore of Lord of the Rings, the LEGO games have been everywhere since that original release in 2005. But it's here, 17 years later, in 2022, we're returning to where it started, in a galaxy far, far away in LEGO Star Wars: The Skywalker Saga.
The Skywalker Saga is absolutely huge in scale and the first LEGO game to incorporate all nine Star Wars films. The last LEGO release in 2016 only included the Force Awakens. Before that, a couple of collections included the first two trilogies, so this is the first LEGO title to have all of the third trilogy. Keep in mind that this only consists of the core movies; the "A Star Wars Story" movies like Solo and Rogue One are not in this collection. There will be DLC min-fig add ons for the TV series like the Mandalorian and the previously mentioned movies.
Even though TT games has visited the other titles before in multiple releases and collections, The Skywalker Saga is its own thing and better for it. Built from the ground up, the Skywalker Saga makes some pretty significant changes to the LEGO formula, with the result being something that feels fresh and engaging for all ages. Each world you visit in the game is like a mini-hub. You can freely travel between all the planets visited in the Star Wars films and the various cities and locations for each. Not only are each of these hubs massive, some much larger than others, but there are space areas where you can fly around, partake in some challenges, fight some other spaceships, and find asteroids of coins or Kyber Bricks, the game's replacement for the gold bricks of yore. The easiest way, of course, is to just fast travel between planets, but if you wanted to, you could fly from a world into space, then on to the next closest planet without touching the map. It truly makes it feel like you're in the universe of Star Wars.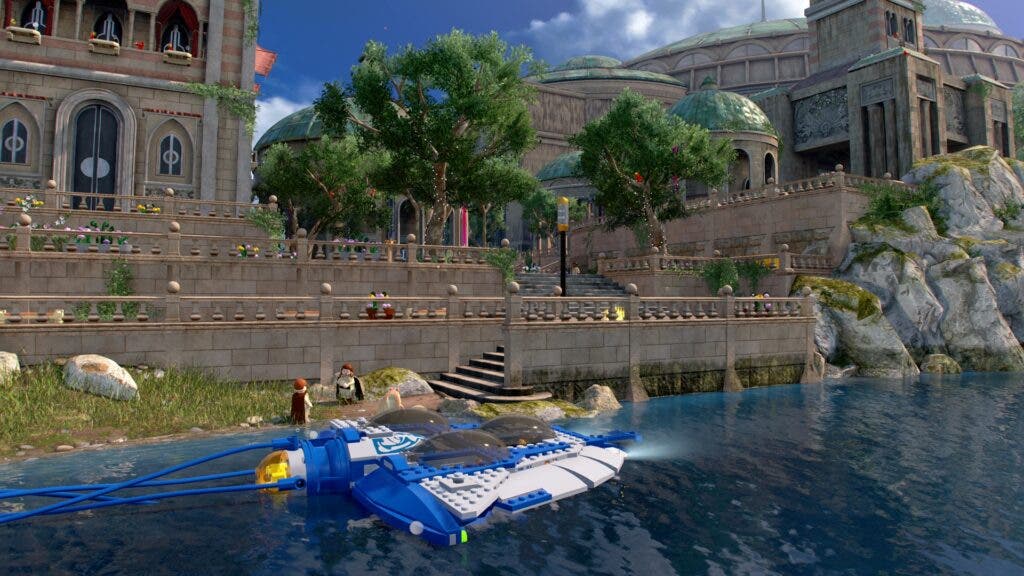 As with the previous licensed LEGO titles, each movie section retells the story simply yet lightheartedly. Suppose you're familiar with the LEGO style. In that case, you know what you're going to get, but if this is your first LEGO title, then be prepared for lots of visual gags and a few puns thrown in for good measure. TT Games have not lost a beat; the gags they've peppered in throughout the three trilogies are great and had my grown-self chuckling. I can only imagine a younger audience rolling around laughing and pointing out the funny bits to their parents and friends. You're not going to get whole movie dialogue but key lines that help deliver the same scenes in a shorter timeframe. On par with LEGO releases since LEGO Batman 2, the Skywalker Saga has voice acting, but what makes the Skywalker Sage unique is that it's got a full voice cast to recreate the lines you're familiar with. On top of that, a few actors do return to voice their characters, such as Billy D William's Lando and a few prominent voice actors from some of the animated series.
As for who's included in this giant game, it's dang near everyone. There are over 300 character mini-figs, not including the incoming DLC. If you have a favorite or a favorite set of characters, you'll be able to find them. You don't get access to them all at first, but as has been in the LEGO series of games, you have to unlock them through the collection of LEGO studs. The studs are a currency to be used for the aforementioned character purchases but also skill tree unlocks. Yes, you read that right; The Skywalker Collection includes a skill tree. Not just one on top of that, there is a smaller upgrade tree for each class of LEGO character, and there are nine of them. Each character class has unique abilities they can use and ones that can be utilized in-world to solve puzzles. Droids like R2-D2 can hack into computer terminals, Jedi can use force powers to move objects, Scavengers can use equipment to help traverse environments, etc. Character classes aren't just for unlocks either; some NPC characters will only talk to specific classes. For example, early on in the prequel trilogy, there is a library you visit. The librarian will only talk about a particular mission she needs to do if you're a bounty hunter.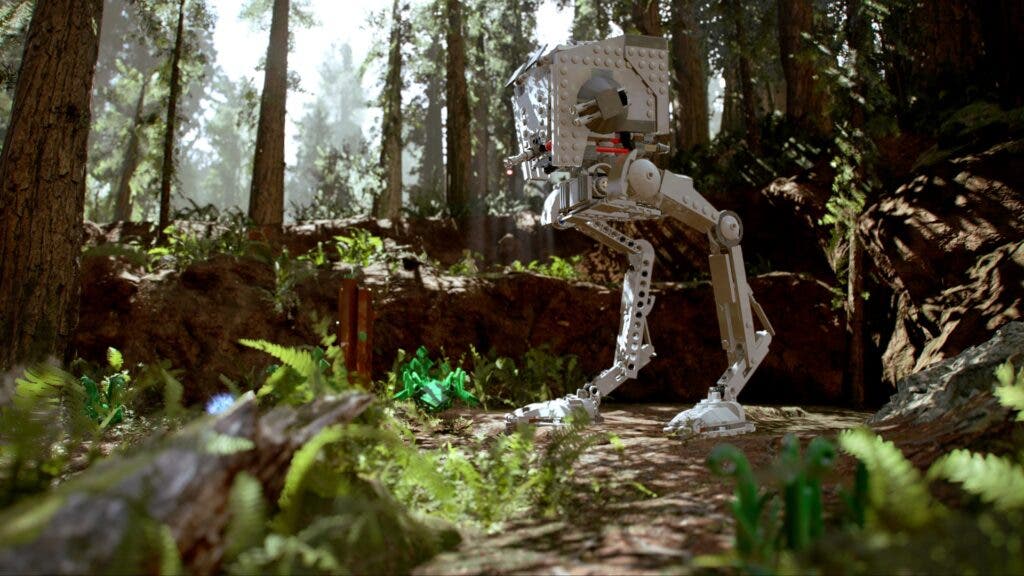 The combat in The Skywalker Saga has seen an upgrade as well. The camera has been pulled tighter to your character and fights now feel a little nicer to complete than in previous entries. TT Games has introduced a basic combo system to help alleviate that repetitive spamming of a single attack button. It is a light combo system, so expect to mash on that attack button still. As a Jedi, blocking is very useful. I don't recall if that was something you could do in previous LEGO titles, but it helps out in the boss fights peppered throughout the game. Ranged weapons are also improved as the camera shifts to a tighter third-person over-the-shoulder perspective. Give you finer aim at enemies or environmental challenges. You can even take cover behind certain level geometry if you need a breather from all the action.
Now, what would a LEGO game be without some cooperative play? Thankfully The Skywalker Saga includes the series staple drop-in, drop-out co-op mode that will split the screen for two players to get in on the fun. Unfortunately, I could not test the co-op functionality at the time of this writing as it is only couch co-op; there is no online play to speak of in this title, which is unfortunate. Kudos to TT Games on keeping the couch co-op, though. Playing with a friend in the same room is still one of the best ways to experience the LEGO games, in my opinion.
I have been having a ball with this game; the new combat has made things much more fluid and exciting, the in-game puzzles are still easy yet thought-inducing, and the excellent new upgrade system and unlocks got me itching to dive back into the game to unlock more and more. The Skywalker Saga was first announced in 2019 and has had a delay or two to get to this point, including an unfortunate crunch cycle that the devs have had to deal with. But those delays have paid off. The developers at TT Games have crafted a top-tier LEGO title full of polish and one that has gotten its hooks in me all over again.
An Xbox Series X code was provided in advance by the publisher for review purposes