Formula One was acquired by Liberty Media in 2017, who brought new eyes to the sport and made it much more appealing. I have the exact same thoughts towards F1 22 where the full influence of EA's purchase of Codemasters can really be felt with this entry. It's a lot flashier, full of energy, and has "trax" blaring in the menus that's undeniably EA. For the second year in a row, Codemaster's Formula One game has come out even earlier than the year before it. As a result, some areas it does feel rushed and a bit buggy, but they're absolutely minor to the fact that the racing is top tier. Codemasters are again in top form, and F1 22 is an excellent racing game that's an easy victory for fans of the sport, and aims to make you a fan if you aren't already.
The real-life counterpart to the sport saw a lot of changes this year, and all of which have been incorporated into F1 22. All cars have the new rear and front wing shapes, over the wheel wings, 18-inch tires, and all using E10 fuel (10% bio mix). The game also sees Formulation Laps for tracks that require it, and Safety Car periods take more prominence. Abu Dhabi, Australia, and Spain have been revamped to match real-world updates as well. Nothing feels amiss or disjointed from the real-sport, and there's such attention to detail in getting that not only looking right, but feeling right, too. This is bolstered by the Immersive and Broadcast styles to the pit stops, formation laps, and even safety cars. Immersive puts you in the role as the driver during these events, and Broadcast gives you the camera angles you're used to when watching on Sky Sports.
The bulk of your time will be spent playing the Career Mode, where you bring in a driver of your own creation to make their mark on Formula One. You'll choose between a one-player or two-player career mode (the latter returned last year). Then you decide whether to be just a driver, or both driver and manager, able to create your own team and stake your claim. There's a final choice to be made about whether you enter into Formula Two first, or jump straight into F1. It's all pretty standard fare here, as the bulk of either mode is research and development. By going through race weekends, you'll earn points to bolster R&D advances to the cars for your team. Practices determine the best race strategy while boosting times for R&D to be completed. Qualifying sets your starting position, and Sprints are a race for some easy points and final position setting for the Race. Once the lights go out, it's a transcendent experience of thrilling competition and tight cornering.
Braking Point, the story mode found in F1 2021 is gone in favor of a new mode: F1 Life. This mode doesn't have a story, but the effort that would have gone into it has been refocused on making you more of a character, and a place to showcase your achievements and stature. For the most part, F1 Life is superfluous and adds no meaningful additions to the game, and the side effect of what it does add, is really enjoyable. A big part of this mode is earning tokens that let you purchase supercars and put them on display in your home. In addition, you can take these supercars onto the track and race them in Time Trials or Pirelli Hot Laps. This is the most exciting part of the mode, because you can race select Aston Martin's, Ferrari's, and Mercedes-AMG's on your favorite tracks. Each car has its own detailed cockpit and camera view, along with a new HUD element for the tachometer and speedometer. There's also medals to be won for how well you do on each of them, though it doesn't stop there, there's all sorts of events to partake in: drifting, autocross, checkpoint chase, and average speed zones. It's a stark contrast to how the Formula One machines perform, but it's just really fun that exists at all. Now you can customize your space with pre-built selections, look at all the cars in the game, customize a trophy rack, and watch replays and highlights, but it isn't great. I hope this mode gets expanded for next year, but in its introductory year, it has a lot of maturing to do.
Solo mode gives you your choice of typical Grand Prix and Time Trial modes you know, but the Pirelli Hot Laps is also selectable here. Trophies earned for performance in career modes also show here. Multiplayer looks stacked this year, with social and weekly modes to partake in, with rotating challenges. Given that I had the game prior to review, I was unable to find lobbies during the review process.
For some reason Codemasters felt it necessary to add a quicktime event when approaching the pit lane. There's a countdown timer and timed button press that will either make your pit stop extremely efficient, or excruciatingly egregious. It's totally unnecessary and I guess an aspect of the real-sport, but the implementation is odd, to say the least. Overall it can be ignored as it isn't that intrusive, unless you like your time in the pits to be at an absolutely minimum. The game has great options for fine-tuning the AI for exactly the type of racing you want to have. There's also an Adaptive AI option which is meant for newer players, with Normal and Full options that will do everything it can to ease any and all frustrations as you learn the ropes.
Career mode is not without its drama, there are rivalries that can manifest as a result of media interviews. These can be used to compliment certain parts of your team for their good work, other times the media coaxes you into declaring a rival and from there you'll be in competition. This continues until a point threshold is reached, and you'll have to find a new one. Rivalries can be between teams, or even with your teammate. You'll earn acclaim for everything you do better than them, acclaim is used for rivalries and also as experience to level you up as a driver that's used across all modes. It all feels natural and not at all forced.
It seems to be a silent option, but now you can choose between audio mixes like Cinematic, Driver, or Broadcast-focused mixes. Cinematic is the default, and goes over-the-top with sound for those who just want to be bigger and louder. The driver mixes amplifies the sound of engines and tires of not only your car, but the ones near you. If you race in cockpit view, this is an absolute must to hear that raw energy while tearing through Monaco's tunnel. The broadcast mix aims to replicate the TV watching experience when watching the feed. Having these options are rather close when compared, but you're likely going to find what you enjoy most.
While they are minor, I ran into a few bugs with my time in F1 22. Sometimes the subtitles for the radio would be stuck, obscuring a lot of my HUD but also making the team go completely silent on you. In some races, it would break free of this and communicate crucial data, other teams nothing would get them to speak, even if your tire wear was extreme or almost empty on fuel. I always had clear weather in almost all of the races I took part in, so I tested racing in the wet to see how it felt. This needs some work because no matter the speed I was going, the rain is just a straight vertical drip from any camera instead of being pushed horizontally due to the speed. I say this not because it's some trivial visual glitch, but it made it hard to see in addition to it not being realistic. None of these are game breaking by any stretch, but it was a bummer that they existed to begin with.
As expected, F1 22 performs incredibly well. I had all of the ray tracing turned on and at ultra quality for shadows, reflections, ambient occlusion, and even transparent reflections. With a full grid, I was always attaining around 100fps without it breaking a sweat. DirectX 12 is used again by default, and it's quite performant as it tends to be, offering all the bells and whistles of ray tracing. Normally I'm a DLSS guy, and that's because I have an NVIDIA GPU. However, the implementation yet again is a bit blurry, even with version 2.4.0.0 (not the latest) being used. I did experience a consistent crash to desktop when selecting "DLSS – Balanced", so maybe don't do that until there's a patch. To clear up the blurry visuals, I used "TAA and FidelityFX Sharpening" and the game just looks stunning and crisp.
It maybe goes without saying, but using my Fanatec CSL Elite F1 Set works great. It's simply plug-n-play, and you're racing with no setup or fiddling. It couldn't be a smoother experience using a racing wheel in this game, the support is on-point.
My PC Specs:

– Microsoft Windows 11 Pro
– Intel Core i9 9900K @ 5Ghz (Turbo)
– Corsair H115i RGB PLATINUM 97 CFM Liquid CPU Cooler
– Corsair Vengeance RGB Pro 32 GB (2 x 16 GB) DDR4-3200 Memory
– EVGA GeForce RTX 3080 Ti 12GB GDDR6X FTW3 ULTRA
– Seagate FireCuda SSD (500GB)
– Seagate BarraCuda SSD (1TB + 2TB)
– OWC Aura P12 NVMe SSD (2TB)
– Fanatec CSL Elite F1 Set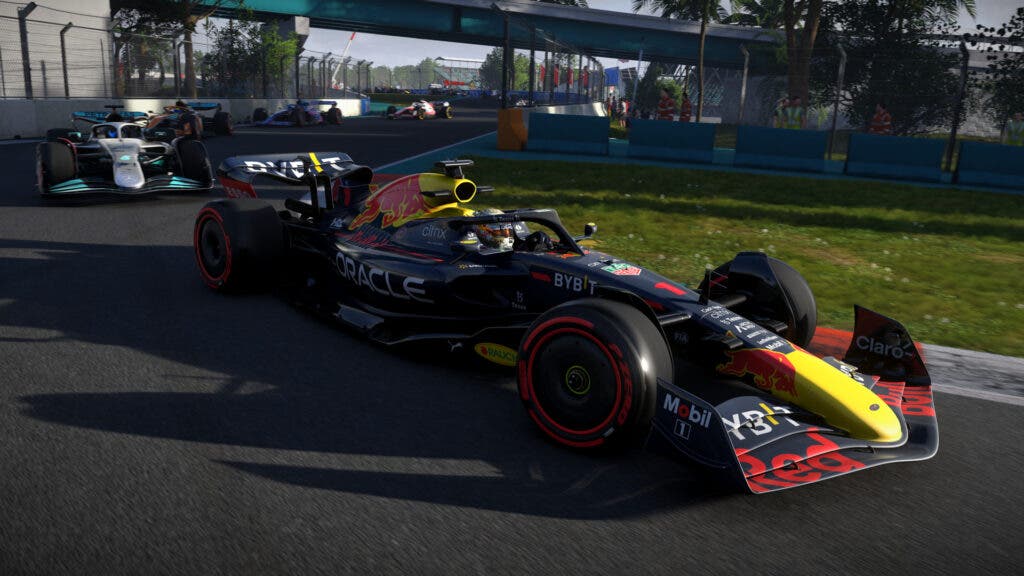 Codemasters put more focus on graphics and presentation into F1 22, adding style to the substance. Make no mistake though, the core gameplay and racing is perfectly preserved and updated as it should be. The F1 Life mode is underwhelming and largely superficial, but it does flesh out the overall experience of the game to not make it as stiff, backed up by the EA Trax soundtrack. It has a few bugs and foibles, but none of them hold it back from greatness. The new rules put in place make racing these incredible machines more exhilarating. F1 22 is a masterclass in simulation, and one of the finest racing games that's a must play.
A Steam code was provided in advance by the publisher for review purposes