From Press Release:
August 19, 2022 – To celebrate the upcoming launch of FLASHOUT 3, Jujubee will release the first FLASHOUT game, in remastered version, for free!
The classical AG racer, FLASHOUT 3D, originally released more than 10 years ago, will be back later this month, to celebrate the upcoming launch of FLASHOUT 3! Jujubee, the developer behind this racing games series, will not only offer the first game for FREE, but has also remastered it and enhanced with upgraded graphics and new features!
You can add FLASHOUT 3D: Enhanced Edition to your Steam Wishlist now, by following the link below:
https://store.steampowered.com/app/2022780/FLASHOUT_3D_Enhanced_Edition/
If you didn't have the chance to play this game 10 years ago, this might be a good opportunity for you! FLASHOUT 3D: Enhanced Edition will be out on Steam on August 31!
But of course for most players the main treat will be the third game!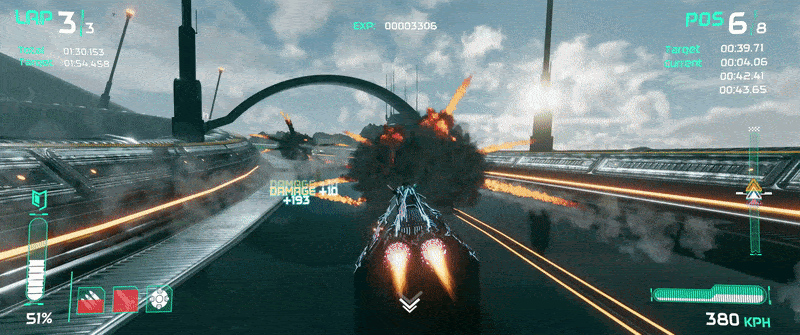 Soon after you lay your hands on the remastered version of FLASHOUT 3D, the third installment to the series will hit digital stores! FLASHOUT 3, coming September 22, 2022, will be obviously much more advanced than the classic, 10-years old remastered game and will support VR and motion simulation platforms. You can check out the playable demo version of FLASHOUT 3 on Steam! The demo version features one circuit (Star City), one ship and 3 types of weapon! A full 3 laps race, with enemies and explosive action! Oh, and there are online rankings too, so you can join the competition to find out who is the fastest!
The demo also features a dedicated music track that should pump blood into your veins!
FLASHOUT 3 is coming to PC and all popular consoles (Nintendo Switch, PlayStation 4/5, Xbox One, Series X|S). The game will launch this year. The launch of the PC version is scheduled for September 22, 2022. On PC, the game will support motion simulators and VR.
Also don't hesitate to add the game to your Steam Wishlist!