From Press Release:
Launching on Xbox Series X|S and PC this Winter, The Forest Cathedral is a first-person psychological thriller from Whitethorn Games and developer Brian Wilson that uniquely blends 2D platforming and 3D exploration in a harrowing scientific journey. Today, we're going to give you a little insight on how you'll use advanced environmental technology to complete puzzles that directly affect both unique gameplay styles, and slowly help you uncover the horrific effects of the pesticide DDT.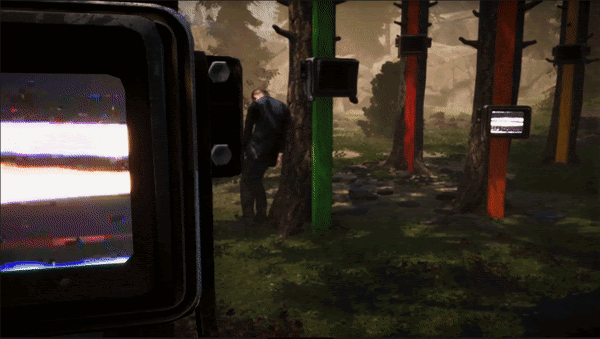 Rachel Carson may be the star of the show, but she's not the only playable character in The Forest Cathedral. As you explore and uncover the narrative through the vibrant 3D forest, studying the impacted flora and fauna of the island, you'll need some assistance in order to progress your research. Adding an extra layer between the player and the in-world computer terminals placed all over the island, you'll take control of the Little Man, a tiny worker inside the computer helping Rachel complete her many tasks. Each computer terminal on the island is unique, as are the levels within them. In order for the Little Man to help Rachel with her tasks, he must run, jump, and avoid pitfalls and obstacles in increasingly complex platforming puzzles. Whether it's turning on generators, opening gates, climbing trees, collecting data, or any number of research-related tasks, the Little Man will always be at the ready to help Rachel uncover the true impact of DDT.
A dramatic reimagining of the life of Rachel Carson, The Forest Cathedral invites you into the life of the infamous scientist whose investigation into the harmful effects of DDT eventually resulted in the creation of the Environmental Protection Agency. You'll take on the role of Rachel, who has assumed a field research biologist position on an expansive and vibrantly rendered forest on a remote island. While completing her weekly tasks, she quickly realizes things aren't as they seem. What secrets will Rachel discover on this island? Many will try to silence her, but somehow, the truth must come out.
Key features of The Forest Cathedral include:
Hey, Little Man: Switch control between Rachel Carson in the 3D world and the Little Man inside the 2D world of her advanced environmental scanning tools in order to solve puzzles and platforming challenges
Nature in Peril: Explore a meticulously crafted forested island, dense with trees, animals, fish, and insects, all impacted by the dangerous effects of DDT
The Sound of the Silence: The game features a fully voiced narrative to invest players in the harrowing history of the attempted silencing of Rachel Carson, backed by an enchanting original soundtrack
The Forest Cathedral will release on Xbox Series X|S and PC via Steam this Winter.
To keep up with all things The Forest Cathedral, be sure to follow Whitethorn Games on Twitter, Facebook, Instagram, Youtube, and Twitch, by joining the official Whitethorn Games Discord, and by visiting https://whitethorngames.com.