Like the Roman god this is named after, the Vulcan II Mini from ROCCAT is forged from fire and metal for a masterwork. This is the first gaming keyboard from ROCCAT catering to keyboard aficionados who want to reclaim desk space and have a littler footprint for their deck of choice. It's a 65% keyboard, which omits the numeric keypad, and condenses the function and extra keys to alternate key presses without dedicated keys. The form-factor is small on size but big on features, making the ROCCAT Vulcan II Mini an acquired and satisfying taste.
The Vulcan II Mini is like the kitten of keyboards, tiny yet full of energy and love that will bring a smile to your face. This is the my first 65% keyboard, and overall I'm impressed with just about everything. I've had this keyboard for several weeks, and it took at least a week to retrain my brain for the form-factor and layout. Developing this new muscle memory was a really good test for how I've been using keyboards for nearly thirty years. There's nothing wrong with any of it, but for how I use a keyboard from writing to gaming to other applications, I felt I was hampered in certain respects.
Even when plugging it in during the day, the lighting is staggering, and at night, this is a luminous keyboard to behold. The Vulcan II Mini has a two-LED system, which allows for you to use your color settings that you desire, but the second LED can be dedicated to indicating keys that have alternate functions like cycling profiles, adjusting brightness, or media playback. There's 30 multi-function ROCCAT smart keys to program and utilize. This "high-resolution RGB" and "next-gen lighting" as ROCCAT calls it is no doubt-impressive, contrasting that of the Pyro keyboard. The reasons for that are the fact that the key caps are thin, allowing for the clear, dual-LED linear gaming switches to shine without much getting in the way. This isn't Christmas Vacation levels of blinding, but it's bright and is now on-par with that of the Kone XP mouse to accompany it. There's something to be said about the font and crispness of each letter and character. I just love the way the 'ROCCAT Vulcan' is etched into the space bar, something you'd find on a face plate but the form-factor dictates otherwise.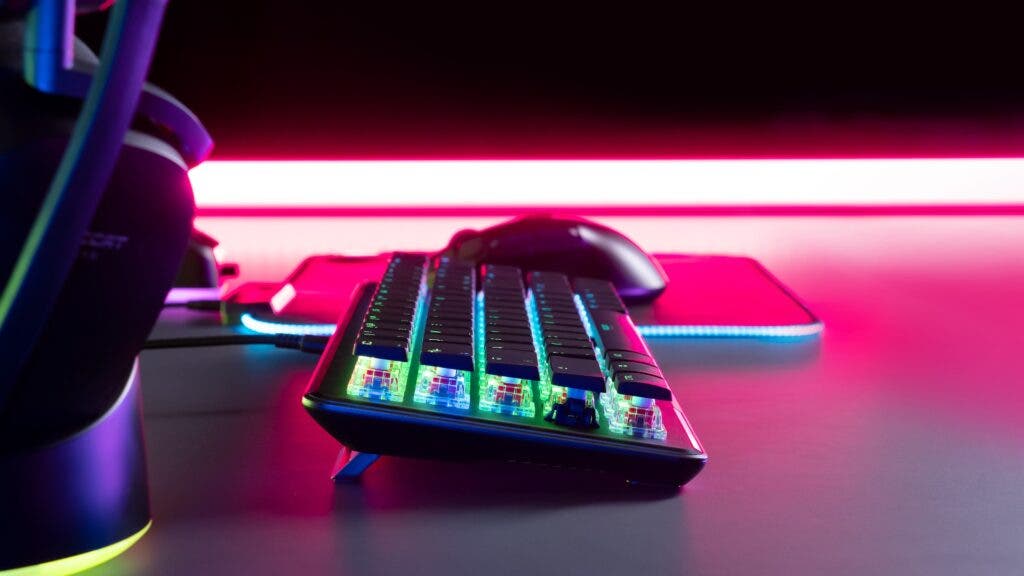 I play a variety of games, and the first-thing was to try first-person shooters. I played both Battlefield 2042 and the Call of Duty: Modern Warfare II Open Beta, both of which performed admirably. It seems that FPS games are the most organic and natural-feeling games to play. Playing real-time strategy games or an MMORPG like World of Warcraft was not challenging, but it did feel a bit limited.
The pros to the Vulcan II Mini makes it an easy recommendation, as I wrote this review with it. For instance, the keys are closer together, so finger travel is reduced significantly. You won't lose out on features like media controls, the windows button, or even the extra keys like Insert/End/Page Up/Page Down. This is because they are alternate key presses thanks to the Function (Fn) or Easy-Shift[+] key. The Vulcan II Mini is also the easiest keyboard to clean, not even needing to remove the keycaps. There's not many cons, and what issues I do have are just quibbles in the grand scheme of things: there's no extra keys or a ten keypad, as this is handled in other ways, and by design, but they are missed. I'll say that it gets a bit clumsy at times to execute some commands, but it's not insurmountable.
Pricing wise, the ROCCAT Vulcan II Mini is the most expensive of the gaming brands when comparing to HyperX, CORSAIR, or Razer. With something like the Huntsman Mini being the most equivalent, the Vulcan II is still $20 more. That being said, I think it's mostly worth the asking price, as the quality more than makes up for it.
There's so many impressive things that come in this miniature package. The 32-bit Arm Cortex M3 Processor makes the lighting smooth, even, and not reliant on whatever processes are happening on your PC. There's also a 4MB for on-board storage for up to five profiles, making it so you don't even need the software once programmed. Portability is part of the idea with this, as it comes with a detachable USB-C cable, and it weights a mere 500g without the cable – not even 550g with it. It's a lightweight keyboard that boasts 100 million keystrokes for the new Titan II Switch Optical keys. ROCCAT knows you'll have your own preference, and supports most third-party keycaps that use the cross pattern.
Swarm Software
Not much has changed here. The general section lets you reset all, set your desired character repeating, and whether you want sound feedback like a typewriter or laser sound effects to play when you type. It may be a mechanical keyboard, but if you wear headphones, an additional sound that might be muffled is a good idea. You can also assign the lighting of your keyboard to use the AIMO lighting system, that also synchronizes the lighting with all connected ROCCAT products – it's continually fascinating to watch it not use obvious patterns to cycle through colors seamlessly.
The key assignment is what's a big deal here, as you have the option of viewing all the keys as a keyboard or just a list. Here you can set all the macros, functions, and smart key functions of the keyboard. The default ROCCAT functions are a big help in getting this customized the way you want. Every single key can be modified to have a new alternate key assignment to maximize how you'll use it.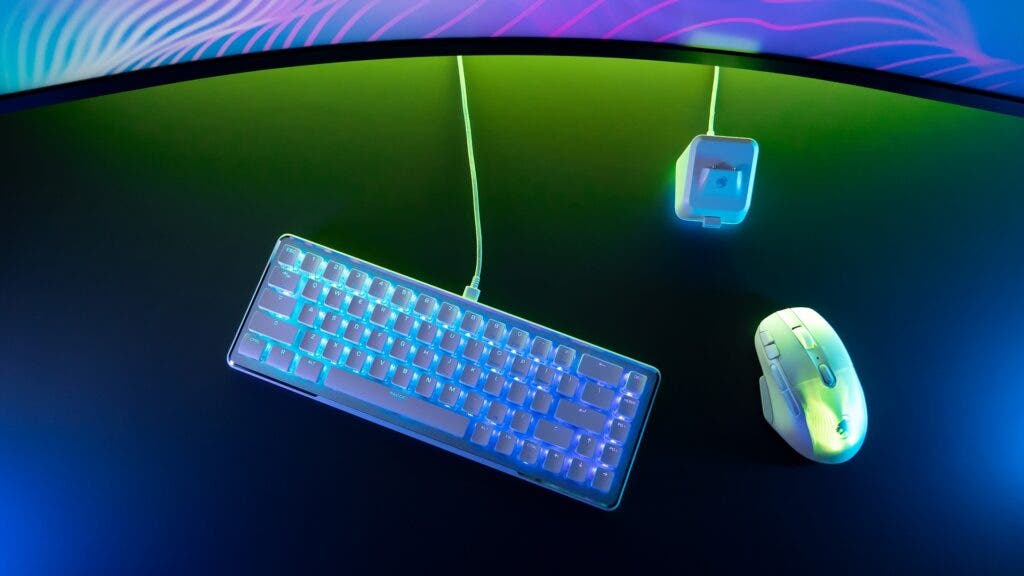 For such a small introduction, there was nothing but a positive impression for what the whole Vulcan II line of keyboards are going to be like – and they're gonna be big. Even though it's pricey compared to other models for the size, the Vulcan II Mini illuminates why it is worth it. This simply won't be for everyone, and will be dependent on what you want from a gaming keyboard's size. The multiple key presses to do simple actions to that of a regular keyboard is not so much clumsy as it is cumbersome to do on a frequent basis. The ROCCAT Vulcan II Mini is a gourmet keyboard that's an exceptional delicacy.
A Vulcan II Mini was provided in advance by ROCCAT for review purposes