News
Oct 03, 2022
Bethesda is celebrating the 25th Anniversary of Fallout all month long with sales and updates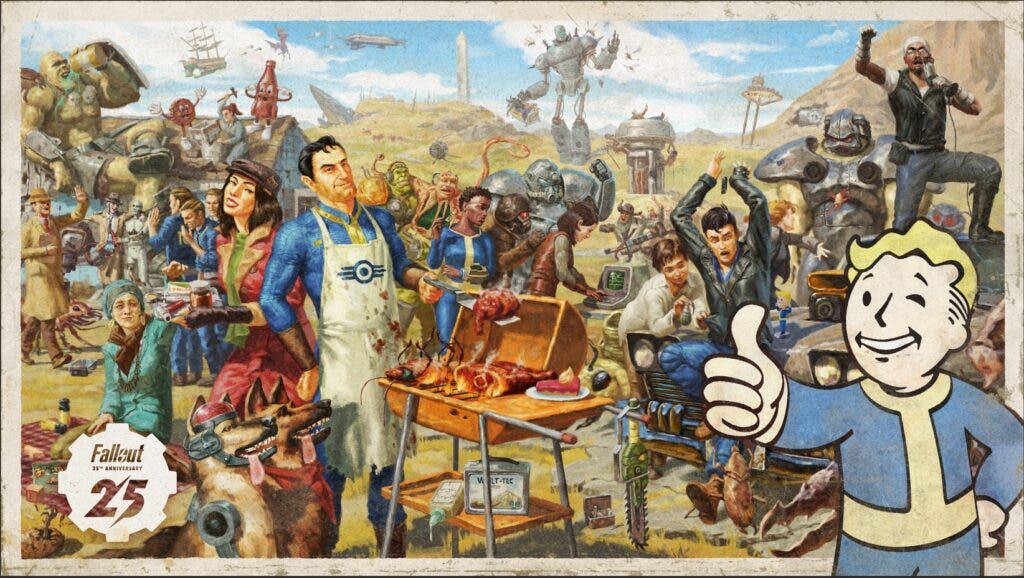 From Press Release:
We're excited to announce October marks the 25th anniversary of the Fallout franchise! Join us all month long as we look back on twenty-five years of this iconic franchise, featuring developer retrospectives and tons of activities across the entire franchise, including:
Free week of Fallout 76
New Fallout Shelter Quests
Huge sales
Giveaways
And so much more!
Each week in October fans can visit www.fallout25th.com to learn what we've got planned for that week's festivities.
Read on for more details about what players can expect throughout this anniversary month.
FALLOUT 76 FREE WEEK 
Haven't taken a dive into Fallout 76? Explore post-nuclear Appalachia with your friends during Fallout 76's Free Week, concluding October 10. We'll also be offering Fallout 76 on sale during the Free Week, allowing you to keep playing without missing a beat of progress at a discount.
A NEW UPDATE COMES TO FALLOUT SHELTER! 
We're adding new content to Fallout Shelter for the first time in over four years! Take on an alien threat in an all-new quest line featuring new enemies, take up arms with new weapons, recruit new Dwellers and decorate your Vault with a new celebration room theme. We'll have more to show off when the update launches next week, so stay tuned!
SAVE BIG DURING FALLOUT'S FRANCHISE SALE 
Newcomer to the Fallout universe or longtime fan looking to fill some missing entries in your collection? We're offering deep discounts across the entire Fallout franchise! Players on Steam have until October 18 to take advantage of the anniversary sale, while sales on Xbox and PlayStation platforms end on October 12.
For all the latest on activities and events around the 25th anniversary of Fallout, visit www.fallout25th.com.