Dakar is an annual event organized by the A.S.O that takes place every January, where an arduous and exhausting two weeks of survival and endurance tests the world's greatest drivers. Dakar Desert Rally is one of only several video games made about this event. The last time we saw a game about it was four years ago with Dakar 18, a solid attempt that didn't review well. Many improvements can be found here in this year's game, but it too has its fair share of problems. While it's true that the issues hold Dakar Desert Rally back from greatness, I maintain that it's an exhilarating and harrowing style of racing you won't experience elsewhere.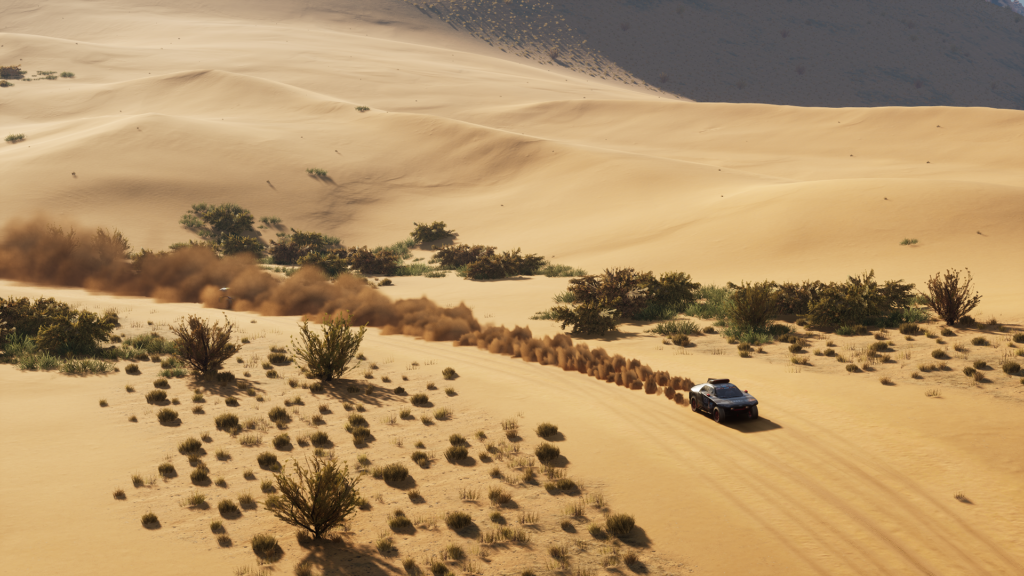 There are five classes that participate in Dakar, and all of them are drivable from real-world teams and drivers. You've got legendary racers like Tim Coronel and rally driver Carlos Sainz, Sr. (yes, the father of the Formula One driver). With cars, bikes, trucks, quads, and sxs as your options, you'll fill-up your garage with all your in-use vehicles, and anything new that you acquire either through winning in the sponsor wheel or buy, can be put into a warehouse for storage. Bikes and quads are agile, but fragile and far too easy to be inadvertently crushed by something bigger. Trucks aren't my favorite or the fastest, but they don't slip around corners – though they have a tendency to topple over on uneven terrain. Cars have been the best to me podium-wise, but even all-wheel drive vehicles have the potential to be ill-equipped for any rally event. There's always a risk, and almost nothing is guaranteed, which is the story of Dakar in a nutshell.
Once the map is presented to you, you'll have your choice of events to partake in, with anywhere from three to eight stages, or races to compete in. A cumulative total of your time across all races determines the winner. The game features all of this year's events, including 2020 and 2021 as well. Participants of Dakar are not drivers, they are pilots. Navigation is handled through a carefully curated roadbook with directions from your co-pilot. This along with a GPS system to correctly gauge when you properly pass through the correct waypoints. They will guide you from the start at the Departure Special Stage (DSS), all the way to the Arrival Special Stage for an unfortunate acronym of ASS. All of this is done in the metric system, and for those who use the imperial system where possible, kilometers are baked into the sport.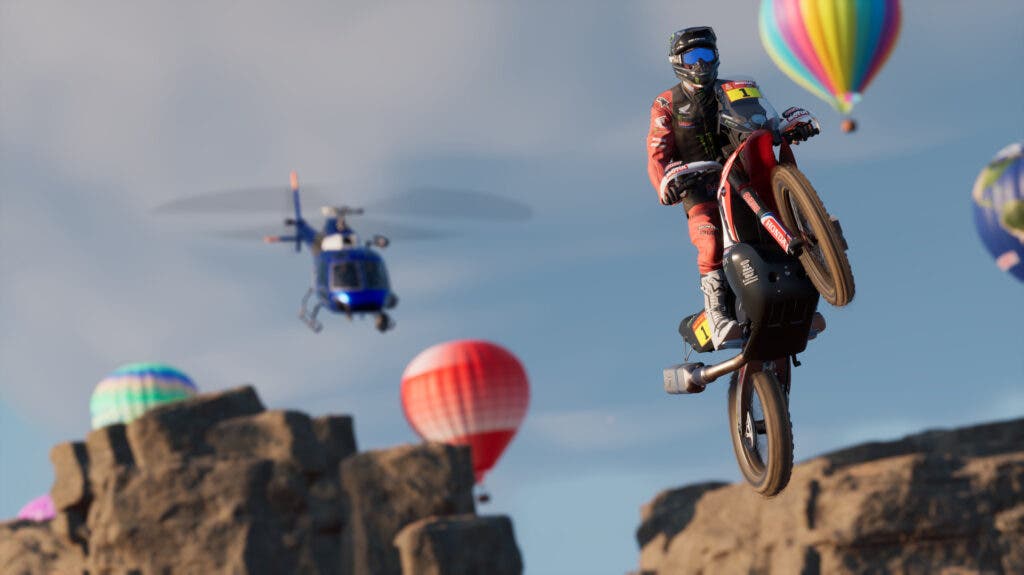 There are three difficulties in Dakar Desert Rally, Sport is recommended for all players, new or returning in some form. You might be tempted to start on something not "easy", but you need the handholding in the early hours until you get a handle on things. Next is Professional, where the training wheels come off immediately. The navigation beacons and helpful UI elements disappear completely, and you have to be 100% reliant on your co-pilot, listening to their words to guide you to the finish line. Lastly, you've got Simulation mode which is only unlocked after you reach Level 25. It's only for those looking for a one-to-one experience to the real Dakar, and are likely using a wheel and pedals to play the game. I spent most of my time on Sport mode, and it's certainly the most accessible and interesting modes. On this difficulty, it has you start the stage with other racers so it isn't lonely, but it's crowded to say the least. Professional is more authentic as you're solo on the start line, but the drawback is not being able to follow other racers as a guide if you get lost. My favorite feature is on anything but Simulation, I can quit the race at anytime and it'll save where I'm currently at, and can resume later.
A problem with Dakar 18 was that there was no sense of progression, it was just an endless slog of racing. Here, Saber instituted a leveling system using experience point (XP), as well as rewarding you with currency known as Dakar Points (DP). The currency can be used for purchasing vehicles, and to repair them between stages. As you race, you'll get bonus XP and DP for maintaining max speed and going through waypoints, on top of wherever position you end the race at. For every event, there's a special vehicle that can be gifted to you, provided you meet the steep requirements. If you beat every event in first across all five classes, you'll be given the prize car featured. It's a lot of work, but gives you an additional goal and a means to get acquainted with all classes.
Damage is an ever-present danger that permeates the game and real-life Dakar. If you take too high of a jump off a dune, you risk breaking off the front wheels, and while it's somehow driveable, it's no way in competition form. You can repair mid-race, and continue with time penalty so it doesn't force a full restart – there are no safety nets, no rewinds here. You're free to go in any direction you want, as long as you pass through the intended waypoints. If you manage to get lost though, you can reset to the last waypoint you passed, at the loss of time. Fuel seems to be of no consequence, though I did find it funny that driving the Audi e-tron, an electric vehicle, still used a fuel gauge. The impending doom of one false move is what keeps tension at the right height throughout.
I've gotta say, the AI in this game are very aggressive towards you, and only you, it's like "Mad Max" out there. Though it's fun watching the other racers crash out on tight turns and difficult terrain, but not when it happens to you. You could be minding your own business, going downhill, and someone will purposely get in your way. Those seven minutes of careful driving are now undone by aggressive AI, and either the massive damage or time lost to something you weren't even instigating. Your co-pilot is of no help, often chastising you for getting in a fender bender, when it wasn't your fault to begin with.
While you wouldn't think the desert is the place for different types of weather, everything from sandstorms to thunderstorms to blizzards are all here. These rough-and-tumble vehicles are all equipped with ultra-bright headlights and powerful windshield wipers to navigate the terrain and brave the elements, but sometimes there's no avoiding being blinded by flying dust and dirt. I found a way around poor visibility is to switch to the helicopter cam, which is a camera that feels very disconnected from your player, but the best view.
Saber had touted in a couple of trailers prior to release that Free Roam and Creating a Team would be in the game. At the time of this writing, neither are, and will now be coming in a future update, according to the roadmap – so it feels like a bit of a rug pull. Having these advertised features notably absent is disappointing at best. The game has a staggering 20,000 square kilometers of desert and other biomes to explore. I really look forward to just cruising without someone yelling in my ear or being spun out by road ragey robots.
Let's talk about the bugs, because there are many of them. The game's performance is good most of the time, but I found there to be these odd micro stutters would happen, causing framerate inconsistencies. It eventually evens out, but I think supplants the other issues. I also experienced a situation where I was suddenly flying off the path, tumbling in an ever-accelerating roll to no end and completely annihilating my vehicle. There were times during braking where I could not turn at the same time (it would let me in most cases), or the game would overcorrect. The Steam reviews section has many of its players complaining of the same issue. Other times it was just a simple crash-to-desktop viewing the cars in my garage.
Undoubtedly the most impressive in all of Dakar Desert Rally are its visuals. The game has excellent performance, apart from the aforementioned stuttering. With everything maxed, I was getting well over 120fps. This can be improved further with the use of DLSS, and aside from some dithering on sand and snow, was not noticeable downgrade in visuals. I was constantly in awe of the stunning vistas, and for a game that takes place in the desert, there's varied locales that will take your breath away. From the sunsets in Al-Wajh or Neom to the snowy Tabuk in the north, there's a surprising amount of not-mirage beauty to take in and experience while on the brink of control.
My PC Specs:

– Microsoft Windows 11 Pro
– Intel Core i9 9900K @ 5Ghz (Turbo)
– Corsair H115i RGB PLATINUM 97 CFM Liquid CPU Cooler
– Corsair Vengeance RGB Pro 32 GB (2 x 16 GB) DDR4-3200 Memory
– EVGA GeForce RTX 3080 Ti 12GB GDDR6X FTW3 ULTRA
– Seagate FireCuda SSD (500GB)
– Seagate BarraCuda SSD (1TB + 2TB)
– OWC Aura P12 NVMe SSD (2TB)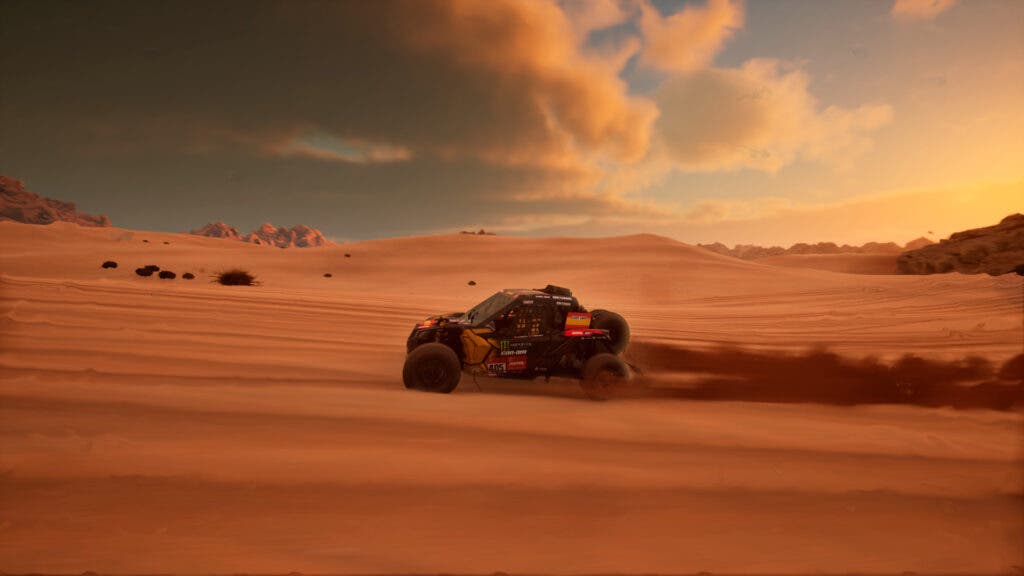 Dakar Desert Rally is a way to experience Dakar in digestible chunks, that never overwhelms the player. Admittedly it's in dire need of some patching, but what's here is absolutely playable and enjoyable until then. It's so close to greatness, but the bugs and missing features make it feel not ready and incomplete. Dakar Desert Rally is still a great introduction to the sport, and when the dust settles, what remains is a solid racing game that's like nothing else.
A Steam code was provided in advance by the publisher for review purposes