From Press Release:
Seattle — 30 November 2022 — Publisher tinyBuild and its drug empire survival sim, Cartel Tycoon, is set to receive its second major update after its 1.0 release: Sacred Lamb. Arriving on Steam, Epic and GOG on November 30th, the update brings sweeping improvements to the famed sim.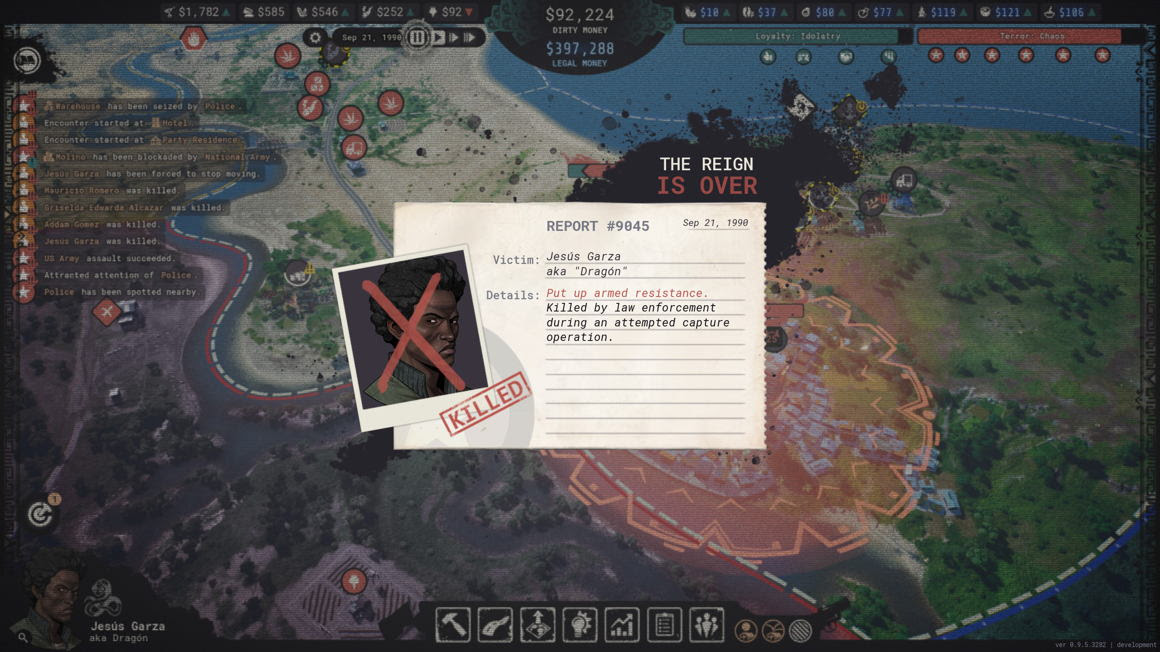 Set in a fictionalized Latin America, Cartel Tycoon sees players take on the role of a drug lord as they expand their operation, control territory, fight off rival gangs and evade the authorities. With the need to earn continued loyalty while striving to maintain yourself as the capo, Cartel Tycoon offers a challenging experience where death isn't necessarily the end. Players are free to assign Lieutenants who will continue your dynasty by rebuilding your empire when your grip fails.
In Sacred Lamb, players can expect all new end-game content set against the backdrop of a unique branching storyline. With multiple endings, the decisions players take will directly affect the outcome and the cinematics that they'll experience. Alongside extra sandbox settings, there's new Lieutenant abilities, user interface refinements in a highly anticipated research tree search function and cartel emblems to further customize your drug operation.
Sacred Lamb Update Features
A New Questline: Exciting new end-game content is accessible in Sandbox mode! Capture all of the Special Buildings to start a compelling storyline with new characters, twists, and difficult decisions! Get new unlocks for completion.
New Settings for Sandbox: Play around with Market and Events settings! Make them as harsh and frequent as you want or turn them off completely.
Research Tree Search Bar: Find any building or an upgrade using a new search bar.
Character List: Now all of the characters are easily accessible through a menu, not just your Lieutenants! Find Mayors, Gangs, and Story Characters easier.
New Lieutenant Abilities: You can now turn on or off certain Lieutenant Abilities, added a new one and changed some old ones like "Coordinator.
Key Features
Grow your empire. Develop your humble farming operation into a massive logistical system comprising plantations, laboratories, aerodromes, and more.
Reign your way. Tycoon action on an epic scale with dozens of upgrade paths and endless strategic combinations.
Death is inevitable. When your capo falls, promote one of your unique lieutenants to take control and continue growing your cartel.
Everything – and everyone – has a price. Launder your hard-earned cash to develop your empire, maintain your lieutenants' allegiance, and bribe corrupt politicians.
Defend what's yours. Evade the authorities and square off against rival cartels on the path to profit.
Endless replayability. Explore a dynamic narrative system with dozens of unique characters combined with limitless sandbox gameplay.
Play a variety of modes. Story mode for those looking to dive into tens of hours of rich narrative within the game's world. Hardcore permadeath Survival mode for those looking for a challenge. And a highly customizable Sandbox mode for those looking to play by their own rules!
Cartel Tycoon is available on Steam (rated Very Positive), the Epic Games Store, and GOG for $29.99 / £23.79. Those keen to talk business can head to the bustling official Discord where they'll find fellow leaders and developers. Keep up with Moon Moose on Twitter and Facebook.