Turtle Beach has been investing heavily into simulation hardware, and the result is some high-quality gear. Turtle Beach said the VelocityOne Flightstick is "built for flight sims and space games" in their trailer, and it's true as it feels like a composite of flight and space technology. This flightstick is a standalone, yet all-in-one stick that's the most expensive of its kind, yet the most impressive in its class. This highly compatible stick is not a stepping stone to something better, it is the start and endgame with the Turtle Beach VelocityOne Flightstick.
Setup
After removing VelocityOne Flightstick from the great packaging that ensured its safety, there was no assembly to be done, it's essentially plug-and-play from there. While I enjoy assembling things, having something that's no hassle and you just can start playing no time is something that will appeal to many. You do have to download software as there is a required firmware update before you can start using it. So in general, this flightstick is ready-to-go, aside from this. There's a "VelocityOne Flightstick" app you download from the Microsoft Store, and is a small install size at 181MB. Updating is a breeze, and a simple process, and just works. Once you're done with it, you don't need it again. Though you do have to manually check every so often for firmware updates as it doesn't tell you when a new one is out. There's also a companion app you can download on mobile. It's not required but utilizes Bluetooth to make easy changes to dead zones, lighting, stick response presets, left or right orientation, and equalizer (EQ) modes if you plug-in a headset for Turtle Beach sound profiles. This too is something you make changes to a couple of times and then stop using afterwards. It'd be nice if one piece of software controlled all of these instead of a PC and a mobile app, but it's fine. Though I'm sure many will scoff at this.
It's worth noting that this flightstick is compatible with Windows 10 and 11 PCs, Xbox Series X|S, and even Xbox One. It's one of those flightsticks that you buy once and can move about the house to different systems with ease if you own multiple. From the jump, there's a few standout elements of the flightstick. There's an OLED screen, a gorgeous design, and a great design. Aside from the stick itself, I noticed the 10-foot long braided USB cord, being able to accommodate all sorts of setups and distances with ease. What you'll miss, is that the silver circle that encompasses the flightstick is actually a dial that can be rotated and clicked as it navigates menus. It's got a futuristic look to it, but also has some subtlety to it as well.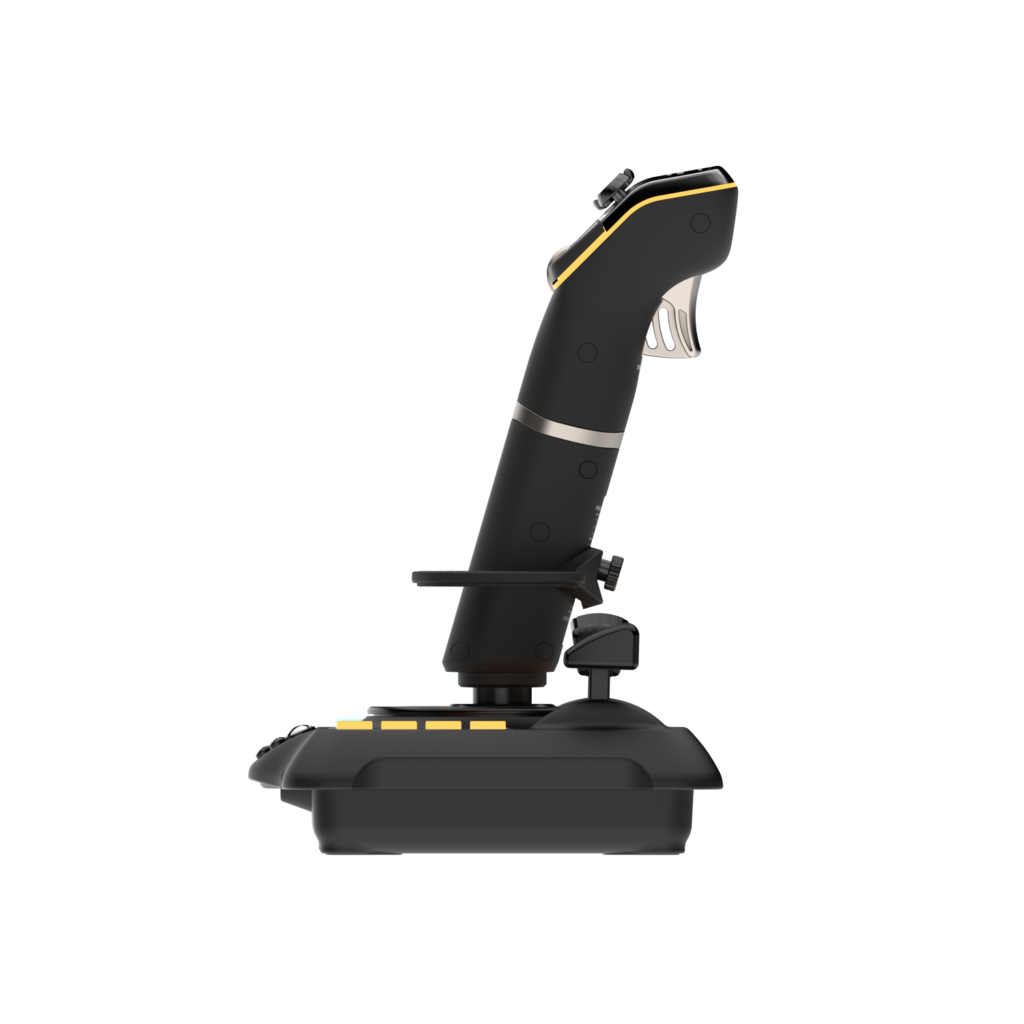 Usability
Once you've got everything plugged in and updated, it's time to start using this. In practice, the stick immediately feels stiff to move. The main issue I encountered early on is that the base isn't very heavy, so it's easy to push or pull back on the stick and the base lifts off your deck. This is something I got used to where I'd push down while orienting the stick to avoid this, or my left hand would hold the base while I navigated. There are mounting screws you're given to secure it onto a stand, which removes this concern entirely. This is an ambidextrous stick, so everything from the hand rest to the levers can be reversed for left-handed players. The levers are smooth, though at times would stick or not register completely. Forcing you to over-accelerate, then dial it back – I expect this to be fixed in a firmware update. For controlling the throttle while flying, this feels good, but when you have to adjust the flaps, it's unnatural to reach over and make that adjustment. It's a symmetrical design that looks great, but isn't always efficient to use. There are 8 axis in total, and while I say they are stiff, I'd bring a counterpoint that this ensures that movement is smooth for each of them. You can set the stick to use a different profile for precision or faster movement to offset that. Overall, the springs are nice and tight for rudder and general movement, and the movement feels weighty and purposeful.
One of the most striking things about this flightstick is the OLED screen that that tells you the firmware version, if Bluetooth is enabled, hand orientation that's set, what mode it's in (PC or Xbox), what mode the axis is set to, trim setting, and a chronometer for flight or game time. Activating the timer requires the radial dial. Clicking the right side starts the timer, and again to pause. Resetting it to 00:00:00 is as easy as pressing left-click. You can't alter what this screen displays, but it works well and you can adjust all settings using this screen and the radial dial.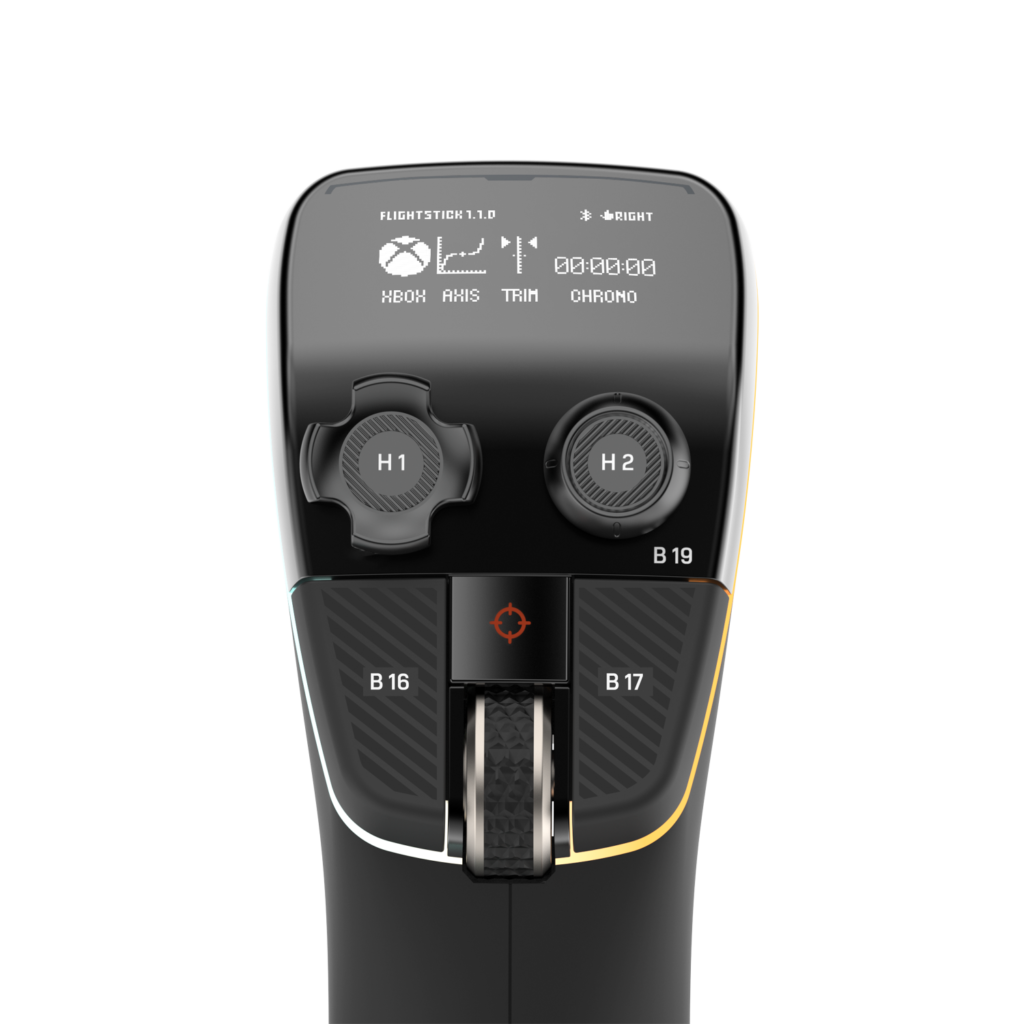 Usability (cont'd)
Believe it or not, there's a touchpad on this thing, too. It's the one with the target icon, this lets you navigate areas in a cockpit for interactivity. Below that is a scroll wheel which can be used to navigate menus, and during flights is used to adjust a plane's trim. There's 27 buttons in total to customize, and this offers a lot of flexibility to make it work how you want it to. I really like that the throttle has a distinct click when you've put it in reverse, and is a nice touch.
There's a real clever use of the Xbox buttons here. ABXY take on B1 to B4 buttons, with the right-side housing B5 to B8 with an alternate ABXY design. You can choose to let this flightstick be lit up with a variety of color options. Though, at the time of this writing there's not a way to set custom lighting. But I was able to find a scheme that fight my personal preference. All of the big "B" buttons are illuminated, then there's an outline at the top of the stick, similar to what you'd see on a mouse, then at the bottom where the gimbals and radial dial reside, is more RGB. It's bright, colorful, and downright gorgeous.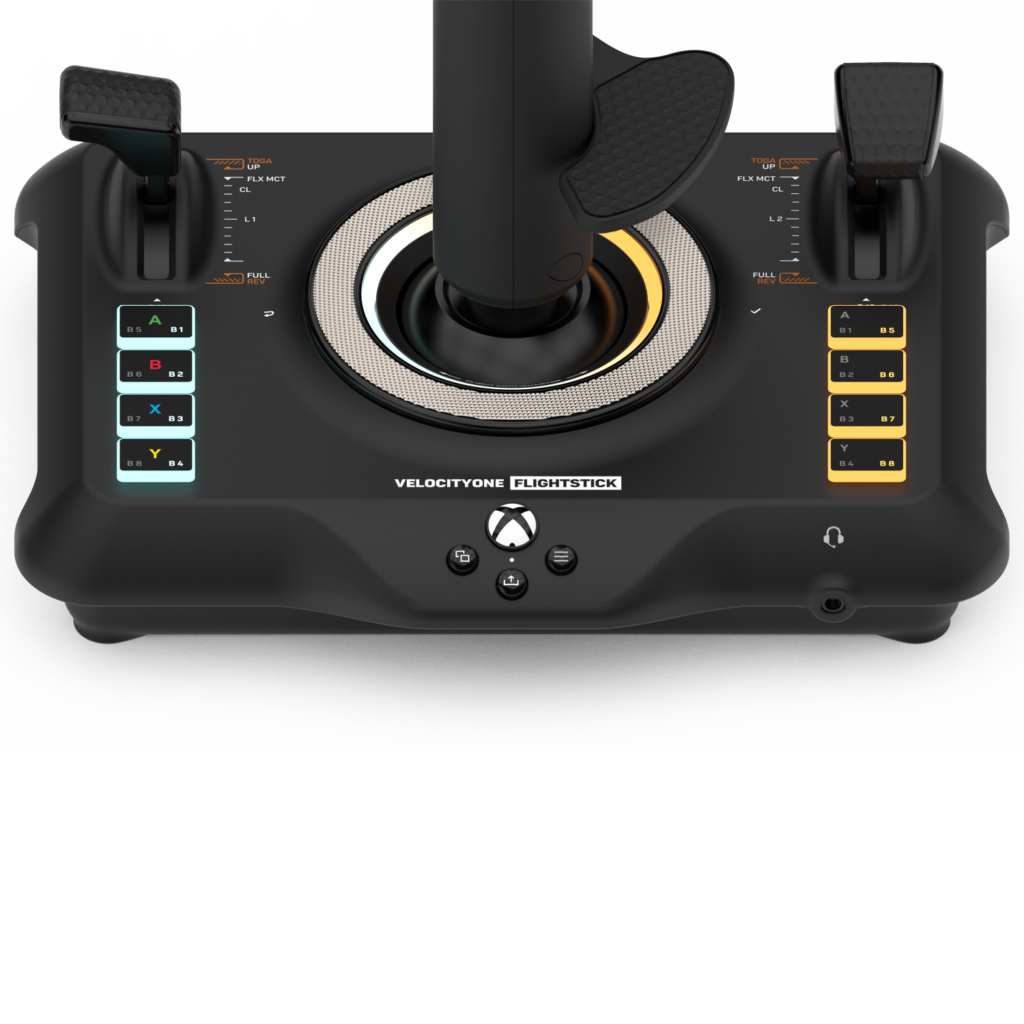 Games
I put this flightstick to the test against with the most recent flight sims and space games that I own, and if it didn't work right away, I was able to configure it for — all except for one.
This flightstick was basically made Microsoft Flight Simulator. I had a blast with regular flying, and no tinkering was needed to use it to its full potential. Now, I had said that it in my Thrustmaster TCA Yoke Pack Boeing Edition review that I "can't go back for flight sims without a yoke system". This is mostly true, if I wanted to fly commercial aircraft. But for something like the 'Top Gun: Maverick' content that was released, this flightstick fits in perfectly with fighter jets. Then you've got the mother of military and combat sims DCS World, it works wonderfully after you've configured it. There's not currently a profile that takes care of this for you. It feels so great here, and is another compliment to the flightstick. In EVERSPACE 2, while in Early Access was able to configure everything manually to use it. In X4: Foundations, it mostly works right out of the gate, but some mild tweaking is needed. I did have to configure the controls in Project Wingman, but it works well there. Due to licensing agreements, this flightstick simply will not work in ACE COMBAT 7: SKIES UNKNOWN. It's unfortunate, but this flightstick is mostly recognized, but do not have profiles to ensure ease-of-use. This is not unusual, and most should be familiar with the setup process before taking flight.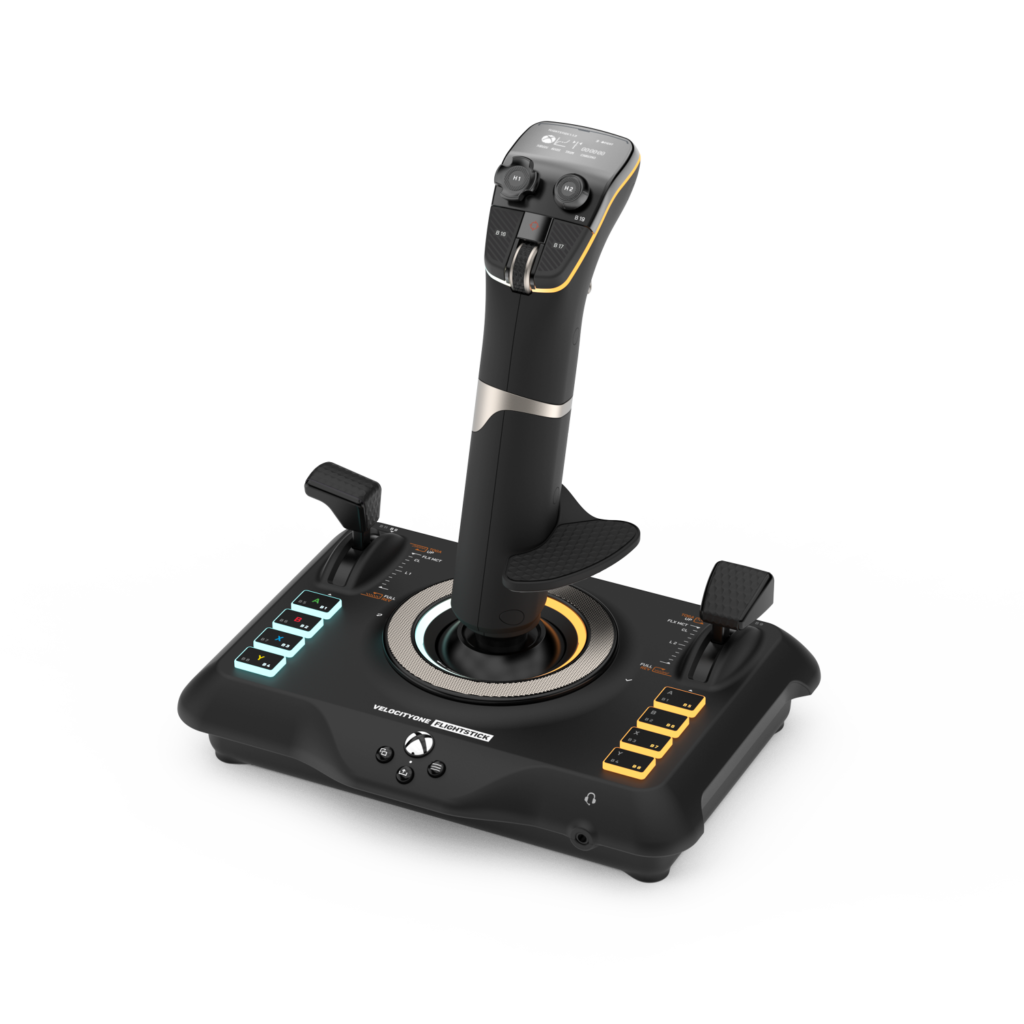 While not perfect, this flightstick is an impressive and great way to start your flight career. It's got a few issues around weight distribution, button placement, but everything is easy to overcome or work around. I absolutely love using this flightstick, and with it being so easy to get in-place, is my new go-to for all things flight. The Turtle Beach VelocityOne Flightstick is smooth, sleek, and has features that others simply don't for the price.
The VelocityOne Flightstick was provided by Turtle Beach for review purposes