The Maono DM30 USB Condenser Microphone is a budget-friendly option for gamers, streamers, and podcasters alike. Even if you're looking for a good, budget-friendly mic to chat with the group on Discord, Maono has an excellent little package.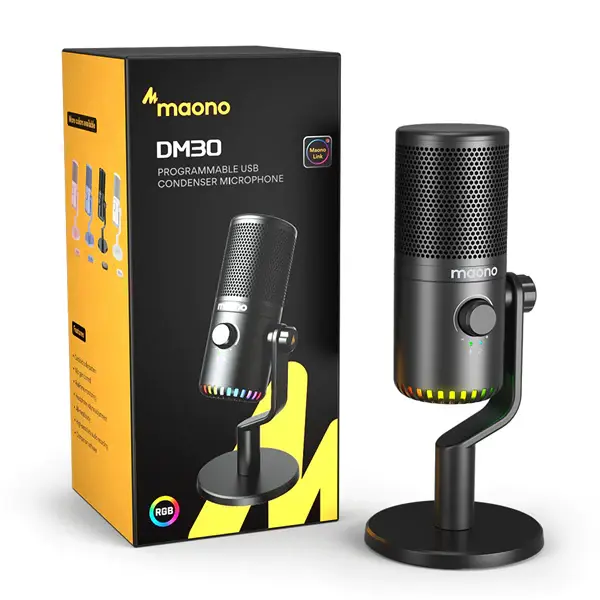 One of the DM30's standout features is its high-sensitivity condenser microphone core, which allows for 24bit/48kHz high sampling rate. This means that the microphone will pick up even the slightest sounds, making it an excellent option for those who want to capture high-quality audio but best if you do so in a quieter part of your home. Another great feature of the DM30 is its cardioid pattern, which performs great noise suppression. It will only get rid of some things, but it does well for the price of entry. Since it's a cardioid pattern, the microphone will only pick up sound from the front, doing its best to eliminate background noise. This is especially useful for those who want to hide the sound of their keyboard or mouse clicks while recording gameplay.
Maono also sent along the MIS50 Isolation Shield to test with the microphone, which helped in subduing some of the background noise and echo that would still bleed through. It was most notable in my current setup of playing games on the couch, where I'm more in the middle of a room and don't have a wall directly in front of me. Since the DM30 has a cardioid pattern, it's optional, but it did help in my current setup. The Maono microphone isolation shield uses a multilayer noise reduction design that is even foldable! It closes like a book and is about as wide as a hard-cover encyclopedia. Inside the aluminum alloy housing is a high-density acoustic EVA foam that can help cut down echo, and it comes with mounting hardware to fit on most universal mic stands.
The DM30 uses a real-time monitor output 3.5mm headphone jack. This allows you to hear your audio in real-time while recording, an always welcomed feature so you can hear yourself talk during intense sound fx in games or if your headphones do their best to cancel out your own voice. Additionally, the microphone comes with the Maono Link PC/Mac control software that will allow you to make real-time adjustments to the microphone's settings. It allows you to adjust the mic gain, headphone volume, tone, the fun RGB lighting, equalizer, limiter, compressor, and more. The software gives you complete control over how your microphone looks and sounds. As this is a USB mic, it has a USB-C port for connection to your PC and includes an adapter that can swap between USB A or C male ends.
For mounting, there are standard 3/8″ and 5/8″ threaded ports on the bottom, so you can connect the DM30 to most universal brackets. You also get a little style in the form of multiple color options. You can choose the best match for your desk setup from Black, White, Purple, or Pink. Regarding build quality, the DM30 is a well-constructed microphone. The base and grille are made of metal, which gives it a premium feel, while the knob is plastic. The stand also slightly helps reduce vibration and desk sounds. There is a pad between the arm and the microphone unit tasked with this, but don't expect full-on shock mount suppression. You'll still want to keep your hands and knees away from where the mic sits. The included base stand is one of those stubby desk mounts, so it may only work for some setups; luckily, it has the previously mentioned threaded ports to mount in other ways. Unfortunately, the stand does not support a shock mount, and I'm unaware of Maono offering one for the DM30 as of this review.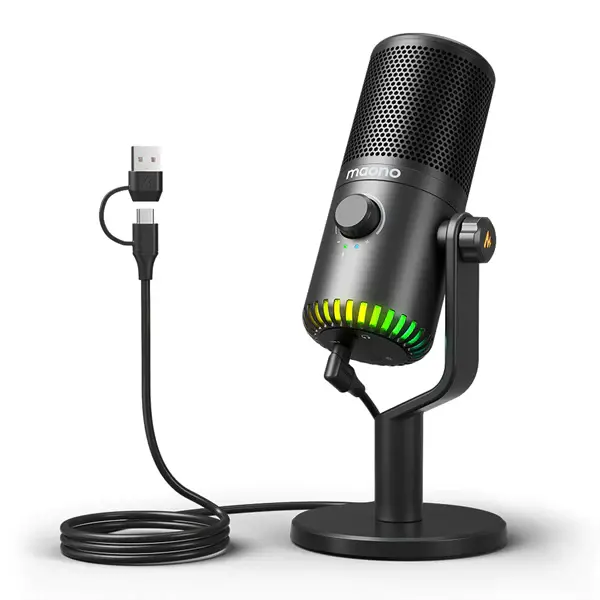 Overall, the Maono DM30 USB Condenser Microphone is an excellent option for gamers, live-streamers, and podcasters looking for a budget-friendly microphone that provides high-quality audio. It's a wonderfully made condenser microphone that utilizes a cardioid pattern and real-time monitoring features, all for a budget-friendly price. Altogether, this makes it a great option for those starting out who want to capture high-quality audio or for pros who need something simple on the go. Despite some minor drawbacks, such as the stand's lack of shock mount, the DM30 is still a solid choice for those looking for a budget microphone with good audio quality.
The DM30 Condenser Microphone was provided by MAONO for review purposes