This is painfully obvious to PlayStation 5 owners, but Sony's latest console does not offer a lot of storage from the moment you boot it up. And it doesn't take long before every download feels like the internal storage is drawing its last breaths as the final gigabytes of data gets consumed. Thankfully, Sony knew of this limitation and offers extended storage via USB drives, also for inserting an additional SSD in an available M.2 slot. That's where our story begins for WD_BLACK's SSD offering. Depending on the chosen size, the cost may come at a premium, but it's a necessary and worthwhile purchase all the same. As it stands, the WD_BLACK SN850 NVMe SSD is top-tier quality, and wicked fast.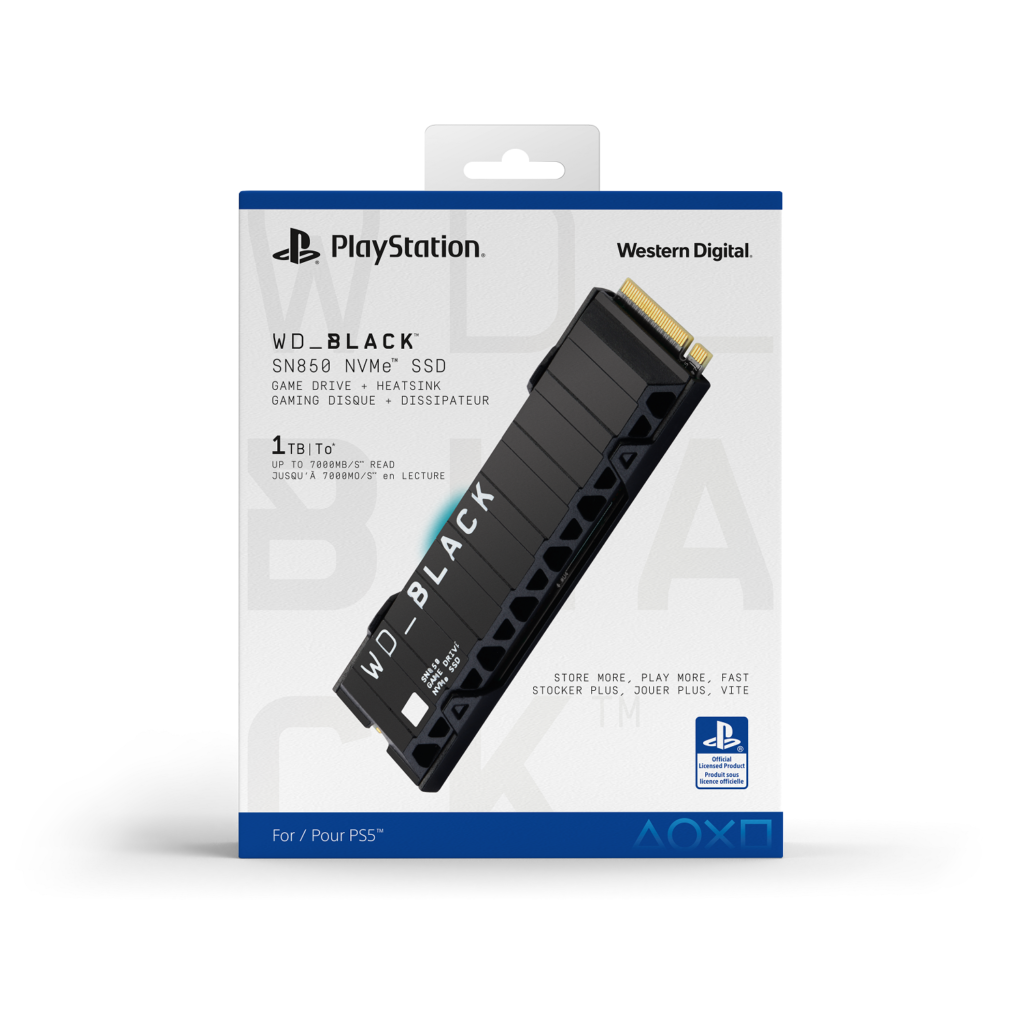 Editor's Note: This SSD was used strictly on the PlayStation 5, but it's able to be used on a PC with a Gen4 PCIe compatible motherboard
It wasn't until 10 months after the PlayStation 5 launched that Sony introduced the ability to expand your system's storage. With the release of software version 21.02-04.00.00 or higher , you can now do just that. WD_BLACK has licensed official PlayStation 5 SSDs that maximizes the capabilities. Now, the branding of that blue and white box doesn't matter, as long as it meets the requirements Sony has officially outlined. Though it's helpful for those that don't know a lot about hardware to easily identify that the thing they're buying is for the console they own, it's the path of least resistance.
There's three options await you in terms of size: 500GB is the minimum, with the mid-tier of 1TB, or the absolute beast at a max of 2TB. The SN850 comes with a heatsink built-in so that it can dissipate heat both from the drive and the console itself, no matter how intense the action. Now if it does reach certain thresholds, the drive will slow down to cool itself, but the heatsink helps prevent the need for that in most situations. Despite the branding and box, this is an SSD you can place in your PC – it even has an addressable RGB light you can customize to your liking.
Installation
I had never messed with trying to disassemble my PS5 before, so I followed Sony's text and video guide to do so (though I'll say the video guide was better at this). I was able to take the cover, remove the screws, insert the SSD, place the screws in their new place, put the cover back on, and power it up in under 10 minutes. That's simplicity and efficiency at its finest, I'm convinced that anyone can do this
After getting the PlayStation 5 booted back up, you know you've done the right thing as it will detect the "M.2 SSD" and prompt you to format it before you can use it. Upon completing that short action, you're now able to use it and now you've got more space for all the games you've accumulated across generations and even your PlayStation Plus subscription.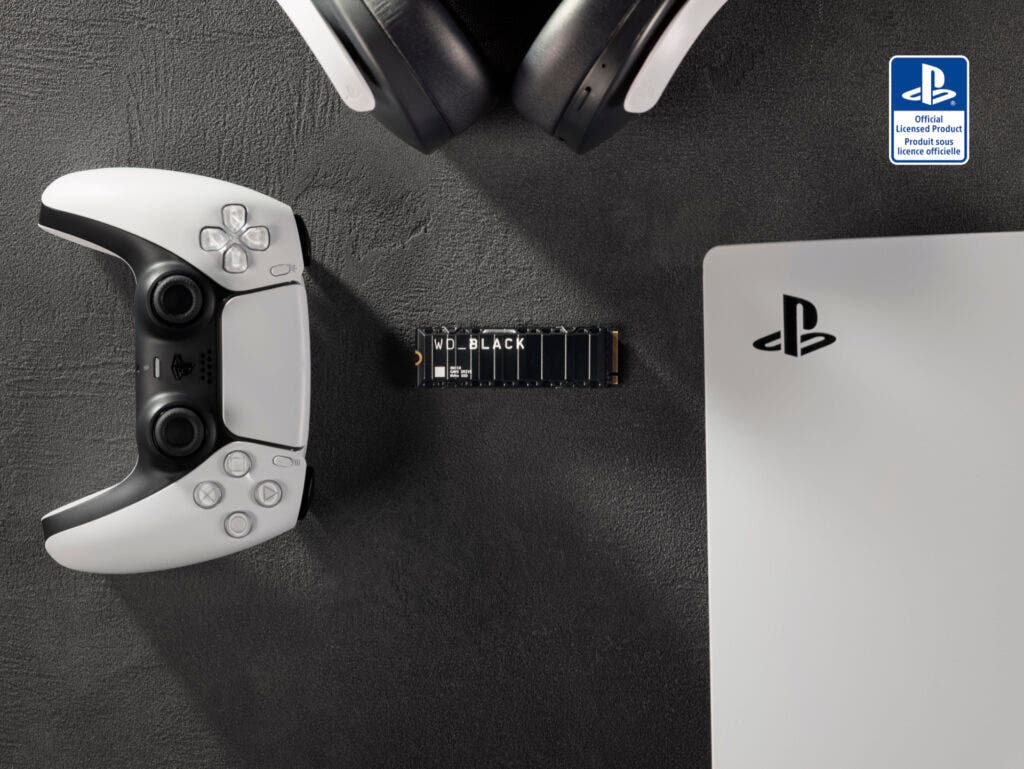 Speed
For comparison internal drive the PS5 comes with is a custom-built 825 GB (667 GB available) solid-state drive, with an equal read/write speed of 5,500MB/s. For the WD_BLACK SN850 NVMe SSD, it has a read speed of 7,000MB/s and a write speed rated for 5,100MB/s. However, after formatting, the PlayStation 5 did a speed test that was nearly at 5,3000MB/s – those speeds are slated for the 1GB model, whereas I have the 2TB one. So this thing screams .
The default PS5 drive was pretty full, so I decided to copy over both PS4 and PS5 games I had. I chose my two largest PlayStation 5 games for testing:
Marvel's Avengers is 112GB
Took 80 seconds to move to the WD_BLACK SSD
To copy it back to the PS5 SSD, took 8 minutes.
Gran Turismo 7 is 106GB
Took 70 seconds to move to the WD_BLACK SSD
To copy it back to the PS5 SSD, took 7 minutes 30 seconds
Again, it becomes very clear that the WD_BLACK SN850 is an absolute speed demon.
Usage
In two different scenarios, the default PS5 SSD just doesn't compare:
Marvel's Avengers
PS5 SSD: Takes 22.71s to get to the main menu, and 14.85s to go from menu to playing the game
WD_BLACK SSD: 12.34s to get to the main menu, and 7.42s to go from menu to playing the game
Gran Turismo 7
PS5 SSD: Takes 22.71s to get to the main menu, and 14.85s to go from menu to game
WD_BLACK SSD: Takes 7.53s to get to the main menu, and 14.13s to go from menu to playing the game
There's a setting that you'll get prompted for, or can set latter is to designate what the "default" drive is for downloading PlayStation 4 or PlayStation 5 games to. I've relegated to making the internal PS5 SSD serve my PlayStation 4 games, and the WD_BLACK drive now handles all my PlayStation 5 games – with plenty of room to spare.
If you're going to own a PlayStation 5 for any amount of time, know that digitally storing your games and even with a physical disc, your drive space will dwindle faster than you can beat ASTRO's Playroom . In fact, this is actually a really good time to buy an SSD, as they are coming down in price. I was consistently impressed at WD_BLACK's offering here, as it just offered no comparison to what you get out of the box, both in speed and size. If you've got the need, the need for speed, then this is a blazing fast choice with the WD_BLACK SN850 NVMe SSD.
An SN850 NVMe SSD for PS5 Consoles was provided by WD_BLACK for review purposes