You wouldn't know it by looking at the blank cover of WWE 2K23 , but this year's entry is all about John Cena. The now legendary wrestler has entered his twentieth year with the company, and is easily the most loved and equally hated man in all of wrestling, largely in part to his success. This thought can also be said about the WWE 2K series as a whole, a love / hate relationship with the fans that you can now appreciate for all its accomplished this year. Visual Concepts have really fine tuned what worked with WWE 2K22 and eschewed what didn't. WWE 2K23 is a sim brawler that has really found its footing, and gives the series the necessary attitude adjustment it has needed.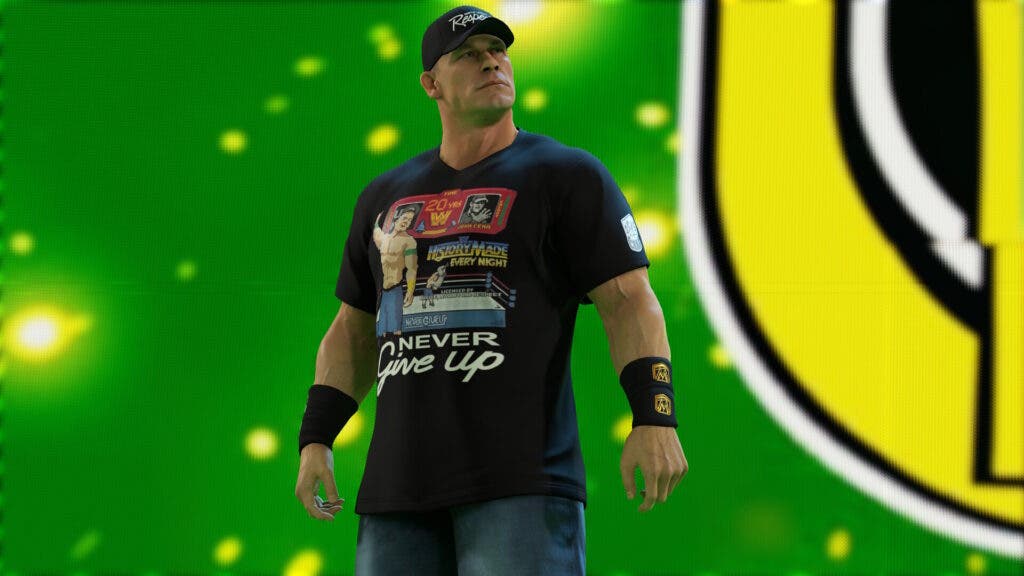 John Cena headlines this year's 2K Showcase, a mode that is a reflection on the career of a WWE superstar, allowing you to relive and replicate the matches and moments in their career. It's honestly weird to think of John Cena in this way, but he's earned it. This mode has an surprising twist, in that you often play as John Cena's opponents, and the matches he reflects on in interviews are of his losses. One of his mantras is to "Never Give Up", and this is exemplified with the series of matches you'll play, understanding that there's something to be gained from losing. It's a very fun flip of the script, and shows how humble and modest John Cena is, a world record holder for the most Make-A-Wish wishes granted. The mode asks you to complete main and side objectives, and the more things you accomplish, the more rewards you'll garner at the end of the match. It's rather straightforward, but can be rather demanding as you need to spend a lot of time in the menus to know what it is you need to do, and how to perform the moves necessary to progress. It's a minor annoyance in the grand scheme, but a momentum killer nonetheless. That said, the mode is unlike prior years, and that alone makes it all worth it.
In playing the game, you've got your standard fare of quickplay matches to take part in, from one-on-ones to tag matches to the infamous Hell in a Cell. There's not a lot new in this department, however there is one addition, a long-awaited one. And that's * clears throat and says in a William Regal voice: * "WarGames!" The WarGames match, made famous by the late, great Dusty Rhodes slaps two rings together, shoves three or four teams in, and drops a cage on all of them for one of the most chaotic and exciting match types in all of wrestling history. Being able to finally play out a WarGames match of your very own making, or even replicating one is a highlight that never dims.
The roster for WWE 2K23 is not only the best it has ever seen, with over 175 superstars of past and present, but it's the most up-to-date one. "The American Nightmare" Cody Rhodes is now in the game, and it feels both weird and exciting to see him a part of the series and this company again. Though, there are cases where some superstars do not reflect their current status. For instance, the fantastic Piper Niven is still referred to as the horrendous "Doudrop" in-game, but that's a more recent adjustment than some of the others. It's still far less of a disconnect than we've seen in prior years (to no fault of 2K or Visual Concepts), but there's also some deep cuts of characters you wouldn't expect to see. There's even some crossover stars you'll find in the list like Logan Paul, and a few locked behind DLC, such as Bad Bunny. There might be a few omissions of your favorites, but the roster is pretty jam-packed, and there's variants that can be unlocked across its plentiful modes.
Getting into a brawl as smooth as it was in last year's game, but here stamina matters more than before. Sure you can send a flurry of attacks in a combo, but if you're a bigger character, you can't keep that up. The game allows and has many momentum swings, a true tug of war that a real match would have. Compared to years prior, counters are much easier to pull off, though they still have a tight window for timing them correctly. Thankfully, they are now unlimited, giving you many opportunities to stop an onslaught of attacks from one or more opponents. When you're pinned, you now can time a button press to kick out or use the right stick that emulates the motion of a kick out that kicks out just before the count of three. It's a really clever system that I hope never changes, it's just too good. With all of these systems in play, it's up to you to tell a compelling story, and the game will give you a match rating for keeping up the excitement and tension through it all.
The creation suite is as deep as an ocean again this year, though it bears many similarities to last year's options. You can create your own wrestlers, general managers, arenas, and more. And anything you can't or don't want to make, the community will have your back with their creations for you to grab from the in-game browser. Finally you can import created wrestlers into the MyRise mode, which lets you take them through one of two stories that it wants to tell. This year's MyRise mode offers multiple paths, none of which are particular exciting but better than last year's offering. The first one is Legacy, which sees a second generation superstar stumble and fall from grace, and have to work their way up. The other is The Lock, a mode where you sit atop the roster and have to deal with the jealous and competition therein. They're both fun in their own right, and shows that there's room to grow in this mode for future entries.
Other modes I haven't been too fond of like MyGM is a more managerial focused mode. And then there's UNIVERSE, which puts you in charge of absolutely everything, essentially making you Triple H, deciding storylines, matches, and everything in-between. Lastly, MyFaction was introduced last year and I didn't spend too much time with it. When I dove in for this year's entry, I was pleasantly surprised at what I found inside. This is a card based game where you build out a faction of your own making from cards you collect, either earned or purchased with real or fake money. There's multiple currencies, but there's plenty of free money thrown your way that you can progress respectably. New this year is being able to take your faction online and play matches against real people. Other options are AI matches that you can play as any of your stable members, and complete objectives in-match. This was once a mode I didn't care for before, but am oddly invested in, and will keep returning to.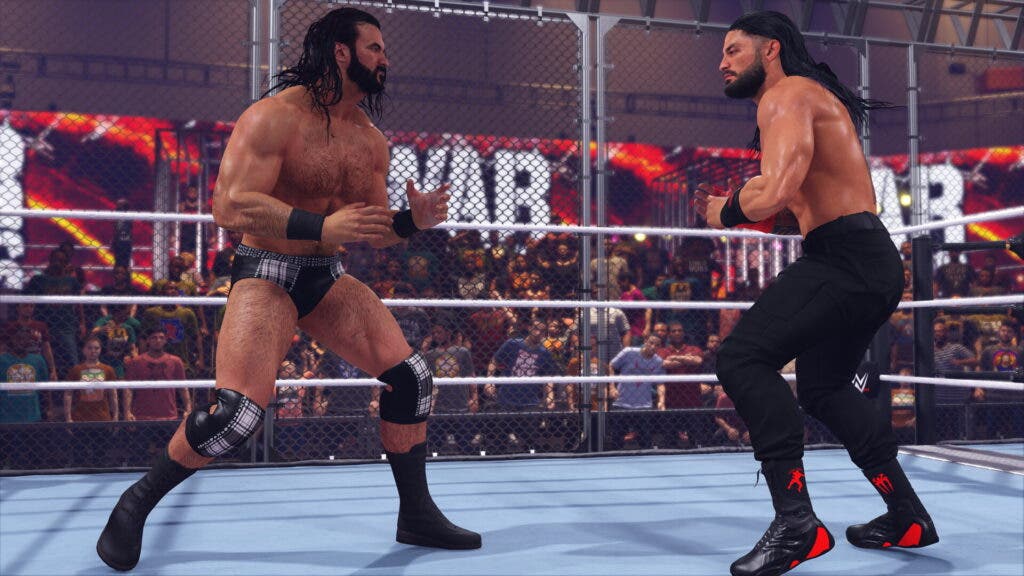 I'm happy to report that the PC version of WWE 2K23 is the next-generation version. So it shares models and textures to that of the PlayStation 5 and Xbox Series X|S versions. Having that next-gen parity over last year is a vast improvement. Wrestlers will enter a match dry as a bone, and if it's a prolonged bout, will finish with sweat dripping out of their pores. The game just looks great in action, and at times can hitch or drop frames, but it is mostly consistent. I don't have anything of note to complain about, there are a few bugs that need to be ironed out, but it's really smooth experience top to bottom.
My PC Specs:

– Microsoft Windows 11 Pro
– Intel Core i9 9900K @ 5Ghz (Turbo)
– Corsair H115i RGB PLATINUM 97 CFM Liquid CPU Cooler
– Corsair Vengeance RGB Pro 32 GB (2 x 16 GB) DDR4-3200 Memory
– EVGA GeForce RTX 3080 Ti 12GB GDDR6X FTW3 ULTRA
– Seagate FireCuda SSD (500GB)
– Seagate BarraCuda SSD (1TB + 2TB)
– OWC Aura P12 NVMe SSD (2TB)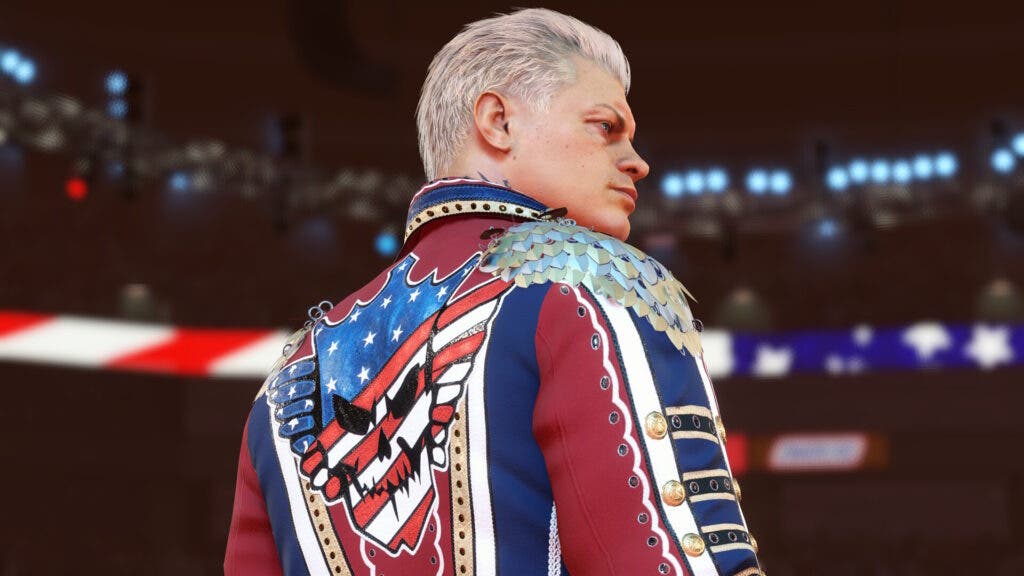 While WWE 2K23 is a visual, presentation, and gameplay step-up over WWE 2K22 , it's a ladder's climb up if you've been away for more than a year. It tends to cater to those who played last year's game, but I think the game does enough to get anyone acquainted with all of the systems. There's a mode for everyone to like in here, tons of matches to engage in, a stacked roster of favorites and newcomers, and of course WarGames! It's all backed by great gameplay and controls that's the best yet. WWE 2K23 is the freshest feeling WWE 2K game in years, and is worth getting excited about.
A Steam code for the WWE 2K23 Icon Edition was provided in advance by the publisher for review purposes