The PGA TOUR series from EA SPORTS has been on hiatus for the past eight years, and its resurrection with the simply named EA SPORTS PGA TOUR is mostly a return to form. If nothing else, its release is perfectly planned with The Masters Tournament at the Augusta National Golf Course. While the timing is great for capitalizing on sales, there are parts of the game that feel rushed to meet this deadline. Though it falters in a few spots performance-wise, the gameplay is the best since its last outing and a better presentation and feel than its competitor, but not without its challenges. Revitalizing the old EA SPORTS vs 2K SPORTS rivalry makes for a solid, if flawed golf simulation in this reboot of EA SPORTS PGA TOUR.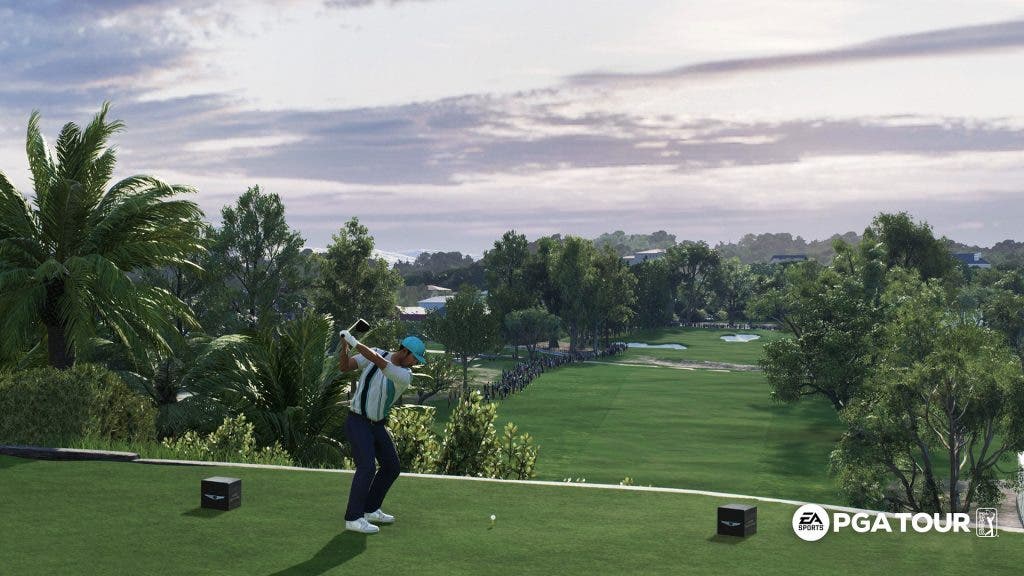 The focus on Augusta National is for good reason, as most of the game revolves around the "Road to the Masters". It allows you to play challenges from each day of The Masters, as it happened, and then replay them to perfection. I've never played a game so tuned-in to moments happening in basically real-time.
There are several modes of play: quick play that lets you pick your created or favorite golfer on your selected course for any number of holes. Then you've got your competitive mode, this is the online multiplayer to play people across the internet on Amen's Corner of Augusta and Random 9 Holes. Though this is not to be confused with the social mode, which also is online multiplayer but offers "low-stakes play" isn't not limited. There is another online multiplayer component with Tournament, which you enter yourself into different tiers of competition for bragging rights. If you want to keep things intimate, you can play private matches online with friends for that feeling of golfing on a Sunday. There is a Challenge mode that houses the challenges from The Masters and The Players' Tournaments, you can also relive "Championship Moments" from prior years across various groupings, and this is where the tutorial is tucked away with "Coaching Academy". All of these are great modes on their own, but just suffer from unfortunate clutter of the user interface and experience when it doesn't need to.
However, the bulk of your time will likely be in the Career mode, as it the only place that has longevity. You can start in one of three championships, to progress up to the PGA Tour, or you can just choose it from the start. This is similar to how F1 22 and other games have tackled career modes. Player customization is pretty lacking, as you can select from a number of pre-made heads and tweak from there. I would've liked to see the face technology that the EA UFC series has used to bring your face into the game, but that's simply not here. You'll then set what clothes your golfer will wear, and when. As you progress and earn the game's currency, you purchase new gear to equip and showcase at future events. Your created player for Career Mode will earn XP for everything they do, from the mundane of hitting shots to the more impressive double eagle. These experience points will level you up, and points can be spent on stats that allow you to improve as a player over time. You feel a tremendous sense of growth, but when you're just starting out, everything feels a tad out of reach, so I think the leveling could be better balanced to correct for this.
Real-life golf pros are ever-present in the game, from top players like Jordan Spieth and Scottie Scheffler, but notably missing are the series' prior namesakes Rory McIlroy and Tiger Woods. Smartly, women are also playable, and their stats even outperform that of some of the men on the roster (for good reason). There are a staggering 30 golf courses to be found in EA SPORTS PGA TOUR, and they're all great, accurate, and completely stunning recreations of courses in play today. Naturally, the cover star of the game, Augusta National is an impeccable of the technology behind the game and the beauty that place has. As someone who's been to The Masters a few times, going through hole by hole is like how my mind remembers it, it's so realistic. Then you've got the place where it all started with St. Andrews, complete with its gray skies and cobblestone, it's a place steeped in history you can feel as you play it. There are also staples like Pebble Beach with its cliff side views that can't be beat. The fact that EA has secured all four majors in one game, puts it a cut above the rest. This is complimented by the wonderful flybys the camera will do as it explores all of the important parts of each course before you settle in to take your first shot.
There's a good amount of control options in the game, and the game will ask and even test you on it, to make sure those are what you want to use. The famous "three-click swing" system is noticeably absent, now promised in a future update. What remains is utilizing the left or right analog stick for swings, which for the most part works, but any deviation other than straight can send your ball on a trajectory that you won't be able to recover from. And even times when I felt I hit it straight on, the game's indicator would say otherwise. Better or simpler controls must be implemented for the long-term, because there's too much with the current implementation. And if nothing else, I just want to the commentary to stop roasting me for making bad shots or putts – they have no chill at calling this out.
For anyone getting into the game for the first time, which is going to be the case for a number of reasons, the game just throws you in without any training. I mentioned earlier that the tutorials are buried in menus, and this makes for onboarding of new players a lot tougher. When participating in challenges, it's a painstaking effort to reload if the goal is to hit six shots over 300 yards, and on the fifth shot you make a mistake. There's no quick restart to have you start over, and it's an arduous process that it shouldn't be. In general, the feedback you get is subpar towards learning how to become better.
Everything relating to gameplay runs at an extremely high framerate, without slowdown or problems. Oddly, the pre-rendered videos that introduce a course or during loading are choppy or glitchy. The game supports 21:9 without a problem, and is a really immersive experience having such a wide view angle. The Frostbite engine is working overtime with this one, everything looks true to life and every course just looks incredible, down to all the blades of grass.
My PC Specs:

– Microsoft Windows 11 Pro
– Intel Core i9 13900K @ 5.8GHz
– ASUS ROG RYUJIN II 360 ARGB AIO Liquid CPU Cooler
– G.SKILL TRIDENT Z5 6000MHZ 64GB (32×2) DDR5 RAM
– ASUS ROG Strix GeForce RTX 4080 16GB GDDR6X
– WD_BLACK SN850X M.2 (4 TB)
– LG UltraGear 34GP950B-G (21:9 Ultrawide @ 3440×1440)
While the menu navigation is clumsy, the videos are glitchy, and the ball-hitting can be spotty, this is a far better effort than the series' last outing. The closest we have in the golf space is 2K's PGA TOUR 2K23, but it doesn't hold a candle to what EA SPORTS PGA TOUR offers. Having all four major golf tournaments is a huge boon to the game's benefit, and Augusta National is well worth the purchase alone. I'm actually surprised at how well the live service element is done, the game feels more connected than most other sports games. EA SPORTS PGA TOUR is satisfying in its own right, the start of something solid, but needs more polish that I think will happen in due time with patches and updates.
A Steam code was provided by the publisher for review purposes