The SteelSeries Aerox 3 Wireless (2022 Edition) is an impressive gaming mouse that promises a 200-hour battery life and sports a lightweight look. It fulfills those promises with uninterrupted gaming sessions and being able to forget that you're even using a mouse at all, because it's so light. It has a wonderful construction, despite it looking impossibly sturdy, and it's breathable design keeps things comfortable even in the most intense situations. The end result is that the SteelSeries Aerox 3 Wireless (2022 Edition) is a magnificent and reliable ultralight wireless gaming mouse on a budget for wireless.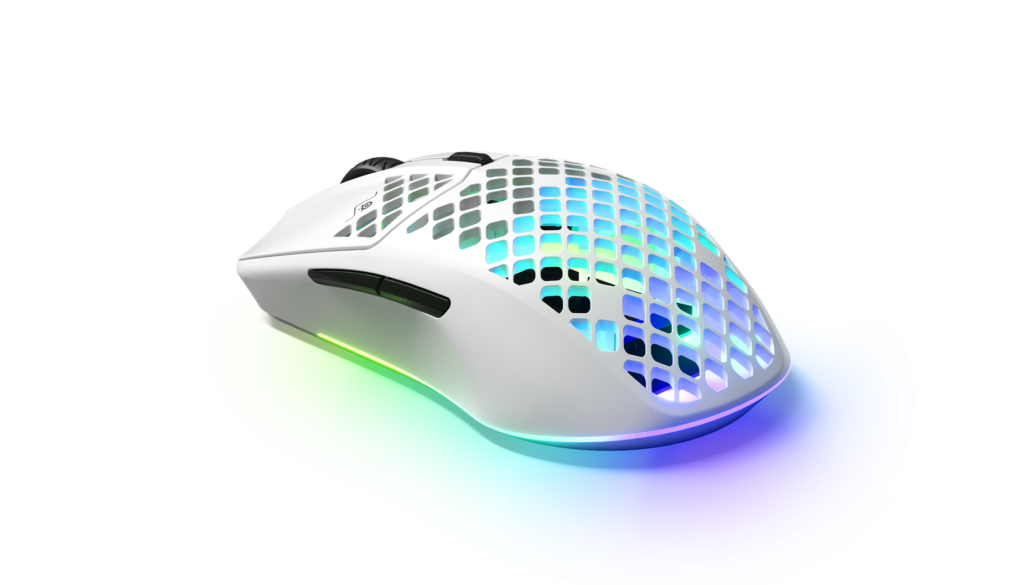 Unpacking the SteelSeries Aerox 3 Wireless (2022 Edition) from its modestly-sized box reveals an equally modestly-sized mouse. Packed with a USB-C to A cable, dongle, and even a wireless extender to help make the most of its wireless capabilities. The USB cable is a braided black cable, and while the mouse I was sent is the 'Snow' variant, so I was hoping the cable would match the mouse color. In this regard, the Onyx (black) and Snow (white) versions are identical. I do like the white, merely because how well the colors of the RGB bounce off of it when it is awake. Now, this is an ultralight mouse, and it's diamond-cut-shaped shell showcase the innards. And in doing so, it's easy to see how this only weighs 68 grams (0.23oz). In terms of its ultra lightweight design, it's on par with the ROCCAT Burst Pro Air to be an equivalent mouse in terms of features and pricing.
It's a mouse that's ambidextrous in design, but it leans towards right-handers based on the usability of its side buttons. The mouse has an excellent textured matte plastic that feels grippy to have your hand rest atop. There's a total of six buttons: left, right, middle, scroll, two side buttons, and a DPI switch. The side buttons are eyebrow-trimmed narrow, but offer a tactile response when pressed. SteelSeries promises 80 million clicks, and while I can't reasonably test that or verify it, you'll just have to trust that impressive number. On the underside, the mouse has, as they say "100% Virgin Grade PTFE Glide Skates". What that means is, the PTFE or Polytetrafluoroethylene (say that five times fast) is best known for its non-stick properties, and the mouse never snagged or slowed on my mouse mat, it glided with ease. This is a compact mouse, but not one I'd call small, and it's also rather sturdy, though I do have concerns for the USB-C port, as it seems like there's a potential for it to break, giving the light framing around it. SteelSeries also operates the Aerox 3 Wireless sensitivity using CPI (Counts Per Inch) instead of the tried-and-true DPI (Dots Per Inch). They're essentially the same, especially when you see the mouse has a CPI of 18,000 like other mice of its kind. Where it differs is the TrueMove Core optical sensor, which guarantees to work on nearly any surface without problems, and in addition to the PTFE feet, just moves smoothly. There's a lot of technology that's proprietary to SteelSeries, but in practice seems to be cutting edge and powerful.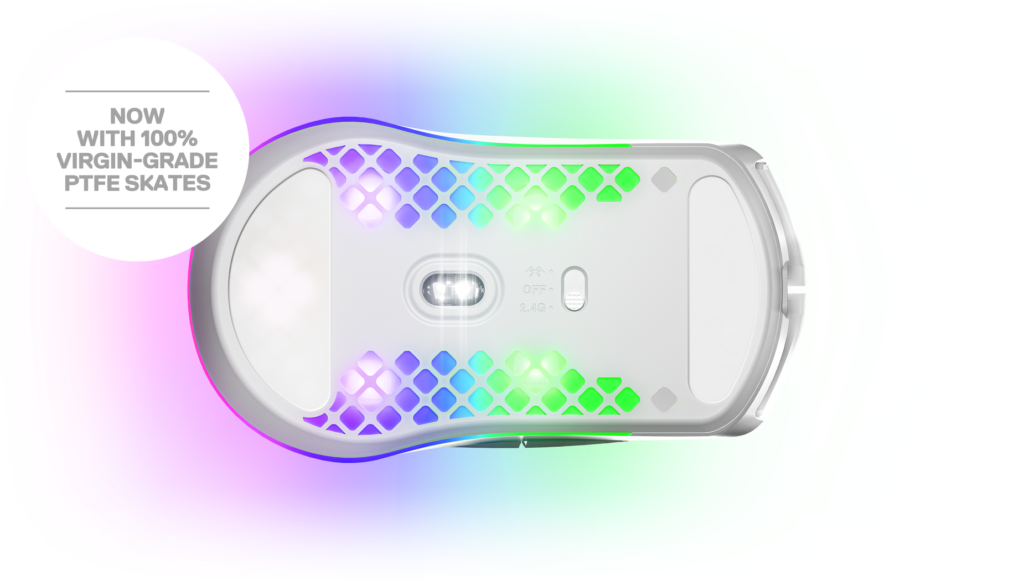 The core feature of this mouse is the wireless 2.4GHz mode, and it works with minimal effort and time taken to pair it. The dongle can be plugged into any USB port, but the recommended use is the USB cable + wireless extender + dongle. Interestingly, the Aerox 3 Wireless doesn't have a slot for the dongle to reside in the mouse, making it not as portable as it could be. That said, the Bluetooth 5.0 mode allows the mouse to work without the dongle or software, so it can be portable in that way. The Aerox 3 Wireless can pull double-duty as a gaming and work mouse, if you're so inclined. The mouse can also operate by just plugging in the USB cable as it charges, making it wired for a time when you really need it. It being wireless by design, the mouse will sleep to save battery life, and on the flip-side I did notice there's a slight lag when waking the mouse up. Beyond that, it's very responsive. From the time I unboxed it, it took three days of rather intense usage before needing to charge it – that's impressive.
With this mouse, I threw all kinds of games at it, first was first-person shooters like Call of Duty: Modern Warfare II , Battlefield 2042 , and Escape from Tarkov . All of them work as expected and seems to be the ideal genre of game because of how easy it is to move the mouse around. I then checked out the recently released space combat game EVERSPACE 2 , and being able to move your ship around with such ease felt really good. It didn't seem to be as useful for MMOs like World of Warcraft or Guild Wars 2 , mainly due lack of excess buttons you'd want to have, but it's far from a bad option. In the utility of using the mouse, the lag from the wireless was imperceptible, and its lightweight nature satisfies quick movements. I will say that if you're going from a regular mouse to an ultra lightweight mouse, you'll likely have to adjust sensitivity as you were compensating for heft before. I'm not a sweaty hands guy, but my hand felt like it was able to breath through its openly perforated design. That said, if you are, the mouse is the first to receive an "IP54 rating", meaning it has water resistance as well as protection from dust and fur.
Firmware update woes
I did have one issue with the mouse, and that happened when I first got it connected, starting using the SteelSeries GG software to update the firmware and patch it to the latest version. Once I connect USB to extender to dongle as instructed, the firmware updater told me to press 'Enter'. However, once I did, it didn't accept my prompts, and nothing I could do would initiate the next step. I simply plugged in another mouse, which did allow me to press "Start" for the next step of the process. I then searched online afterwards to see if I missed something, but Reddit posts and YouTube videos confirmed that what I did to solve the issue is how others have as well. This should absolutely be better, and is an abject failure in firmware updates. Hopefully SteelSeries can sort that out, but admittedly it isn't a critical flaw to fix, just an annoying one.
SteelSeries GG
Like other software suites of its kind, this is the area where you'll perform software and firmware updates to your devices. Additionally, this is where you customize the illumination and tweak the settings to your liking. There's three lighting zones on the Aerox 3 Wireless, letting you make it be reactive to actions you're doing, or more passive design. In the software you can set timers for when the mouse goes to sleep, or when the illumination dims. There's also a "smart" setting to detect it based on movement, and all of these help ensure a long battery life between charges. To preserve battery life, you'd want to lower the polling rate, but in doing so you'd lose out on accuracy. The polling rate can be set anywhere from 125 – 1000Hz. You can even define the acceleration and deceleration rates. The angle snapping is not a feature I mess with, but is present if you're looking for it. Unfortunately, the battery meter in app is only only represented by three bars, and doesn't tell you the percentage or how much time is left. SteelSeries GG offers a healthy amount of control to get the mouse to your liking.
SteelSeries backs up its claims with the Aerox 3 Wireless with an impressive battery life, an ultra lightweight design, and a cool design. In games, there's no perceived lag on responsiveness, only when it wakes up from its slumber. The firmware update process is unfriendly, and needs work. It looks great, and feels even better to use in your hand. It's simply a mouse that doesn't disappoint, and is kind to your wallet. The Aerox 3 Wireless (2022 Edition) is a responsive, and most of all, a great value for a competitive wireless gaming mouse.
The Aerox 3 Wireless (2022 Edition) was provided by SteelSeries for review purposes