News
May 12, 2023
TerraScape's "FOUNDATION" Update introduces quality of life improvements, bug fixes, and new content today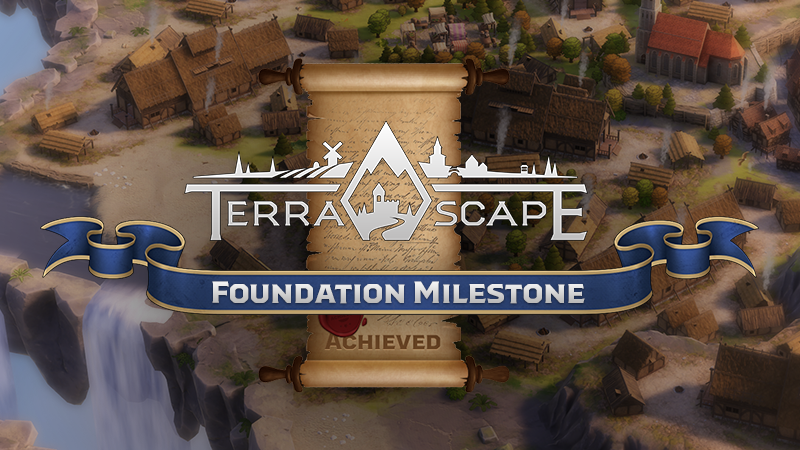 From Press Release:
Oberhaching, Germany, May 12th, 2023 – Independent German developer Bitfall Studios in partnership with publisher Toplitz Productions announced today's release of the FOUNDATION update for sandbox city builder / puzzle game TerraScape.
The update adds new content which finalizes the Foundation update for the game's current milestone and incorporates four new merged buildings in the form of Mining Enclave, Fish Farm, Vineyard and Forest Settlement. In addition to that, Bitfall Studios has also introduced new Action Cards, a type of card that has a specific effect or action associated with it. In TerraScape, players can earn various new and unique Action Cards with special strategic values, like generating new resources.
Also rounding off the FOUNDATION update are map overlays, which allow players to see their world's surface and building locations clearly. The overlays can also help the player find valuable resources and open tiles in their growing kingdom.
"The FOUNDATION update for TerraScape gives players more ways to maximize their score and the new merged buildings also provide a strategic scoring opportunity,as well as adding to the visual aesthetic of the game" said Nico Pattmann, Co-Founder and CEO of Bitfall Studios GmbH.
Further feature expansions are planned, with new maps, challenges, modes and buildings that Bitfall Studios will integrate during early access later this year, as detailed in its product roadmap. The next major feature update will be the Meta Update which introduces Co-operative Multiplayer and even more decks.
For more information on the game and the opportunity to pick it up in its latest Steam sale later today, check out TerraScape's Official Steam page here.
FOUNDATION UPDATE CONTENT:
New Content
New Merged Buildings
New reward mechanic for Merged Buildings (spawning of resources on surrounding tiles)

Mining Enclave

Fish Farm

Vineyard

Forest Settlement
New Action Cards
New Maps
Added three hard terras for Freeplay & Multiplayer
New Features
Map Overlays
Hexagon grid

Ressources on the map

Buildable tiles

When building: Highlighting of influencing buildings
Quality of Life
The highly anticipated Undo button (undo your last building placement)

Additional notifications (Rewards from Merged Buildings, reached Medals, unlocked Deck Selection Slots)

Added configuration option for multiplayer target score
Changes
Balancing
Increased target scores for puzzle terras ("Ferry Tales", "Riverdance", "Take Square", "Oh my Cod", "Priest to meet you", "Mainstreem", "A chapel a day" and "I beg your garden")

Rebalanced Granary and Monestary
Misc
Added new button that opens the Terra Rating Panel

Improved player input and input device switching

Best building in statistics is now displayed with points
Bugfixes
Fixed a multiplayer issue where it was no one's turn