From Press Release:
Skövde, Sweden – 17th May 2023 – Stunlock Studios has announced today that V Rising's highly anticipated first major update, "Secrets of Gloomrot," is out today! This free update marks the celebration of the one-year anniversary of V Rising's highly successful Early Access launch, which has led to mass critical acclaim and selling over 3 million copies.
Welcome to the harrowing biome of Gloomrot, a colossal new zone featuring two distinct regions contorted via the pursuit of sinister science. This is one of the many revamps to the already sprawling area of Vardoran, offering even more to explore and conquer. With all this extra space, there is now more to do; V Rising's vampiric gameplay has been enhanced with new items, enemy types, combat options, and gameplay features: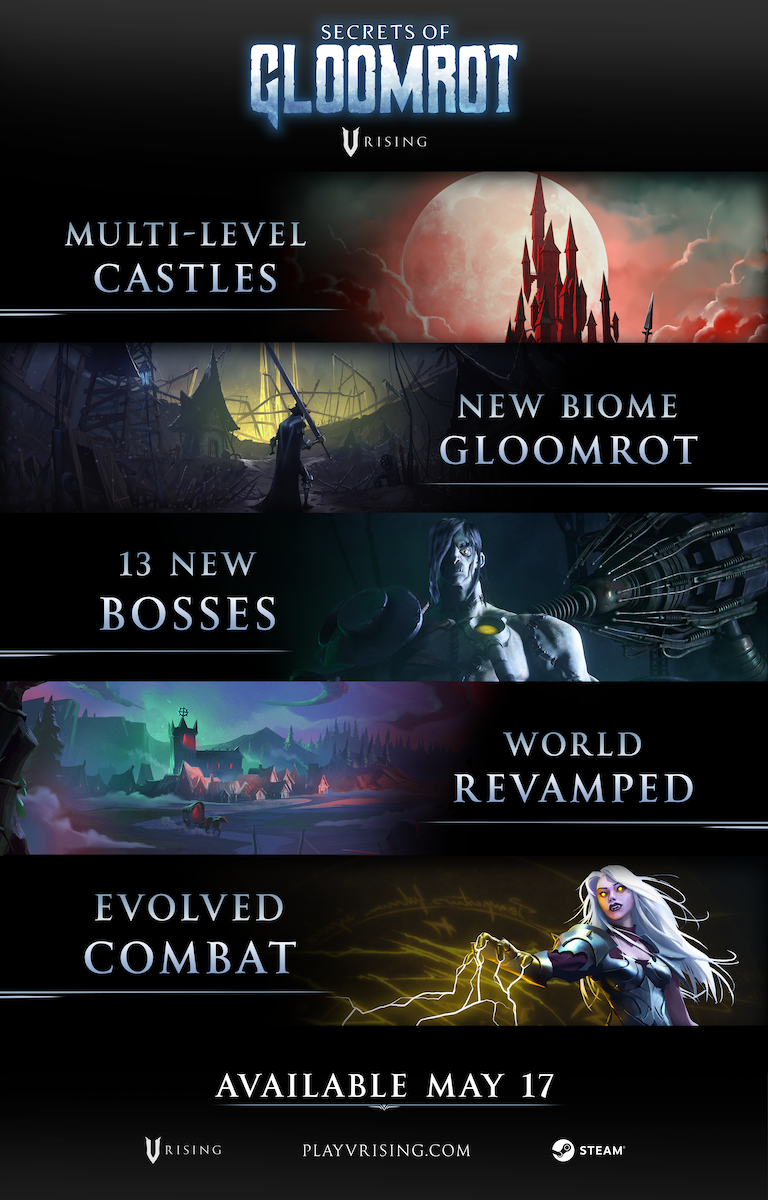 BUILD EPIC CASTLES
With this update comes multi-level castles, the new territory system, and sweeping improvements to building and decorating your lair! Finally, you have the tools to make a mighty citadel worthy of your power.
ENTER GLOOMROT
A massive new zone with two unique areas twisted in the pursuit of cruel science. Journey through noxious valleys and thunderstruck highlands, confronting grotesque experiments and robotic marvels born from the twisted minds of the Trancendum.
HUNT 13 NEW BOSSES
New powers roam the lands. On top of the 30 new enemy types to overcome, 13 new V Blood bosses can be found all across the land of Vardoran. Defeat them in epic showdowns so that you can drink their blood to gain their knowledge and abilities.
EXPLORE A REVAMPED WORLD
Vardoran has been reimagined! From beautiful new vistas that house terrifying and mystifying new enemies to the cursed, choking mist that warps the Cursed Forest experience, you can discover the human-infested lands as if it's your first time again.
EVOLVED COMBAT
Confront these new threats with an ascended spell system that has been revamped to make each spell school feel unique, including the new Storm magic. Modify your magic with new spell jewels. Cut down waves of enemies with the sweeping strikes of the greatsword, or go for black powder devastation with the dual pistols.
Get ready to experience a thrilling new adventure in the world of V Rising!
Visit playvrising.com/expansions/gloomrot to learn more and start your journey to Gloomrot today.
More on V Rising:
Survive as a newly awakened vampire in a world ruled by humans and rise to become the next Dracula. Feed on blood to gain new powers, hide from the scorching sun, and engage in real-time PvE and PvP combat set in a dark fantasy realm. Raise your castle and invite friends to join as you explore a vast open world, pillage villages, skirmish with bandits, and delve into the lairs of supernatural beasts. Attack other players' castles or become a diplomat in a game of blood, power, and betrayal.
Buy now on Steam: https://bit.ly/3UewC9W
Visit our Website: http://playvrising.com
Follow us on TikTok: https://www.tiktok.com/@playvrising
Follow us on Twitter: https://twitter.com/VRisingGame
Like us on Facebook: https://www.facebook.com/VRisingGame
Join the Discord server: https://discord.gg/vrising
Subscribe to the Stunlock Newsletter: https://www.stunlock.com/newsletter