News
Jun 06, 2023
Celebrate the 30th Anniversary of Jurassic Park in Jurassic World Evolution 2 with FREE Update on June 8th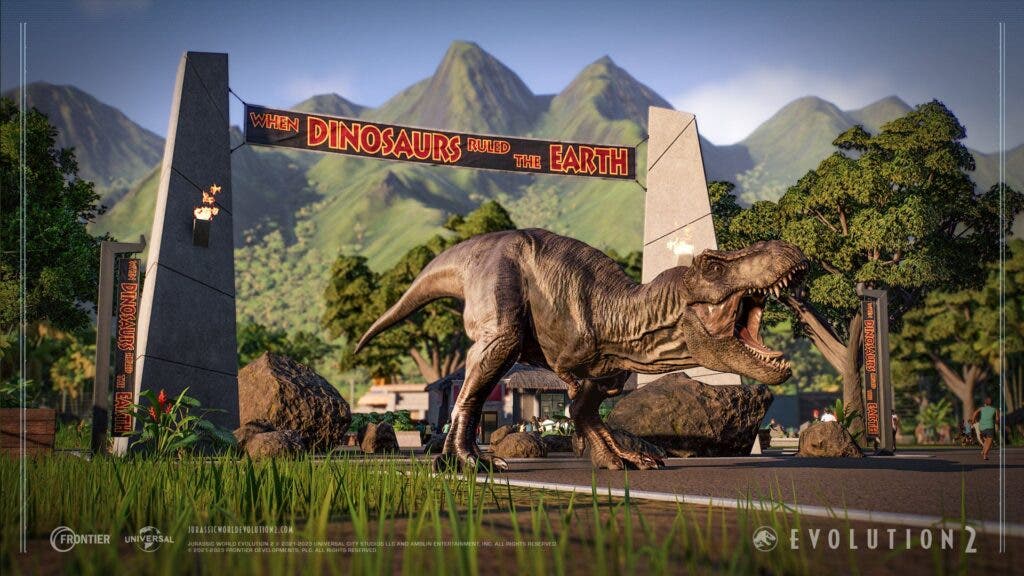 From Press Release:
Cambridge, UK – June 6, 2023. Frontier Developments plc (AIM: FDEV, 'Frontier') announced today Jurassic World Evolution 2 players will receive a free base-game update to commemorate 30 years of the ground-breaking, blockbuster adventure film Jurassic Park on Thursday 8th June. The update will be available for all players on PC via Steam, Epic Games Store, Windows Store and GeForce Now, PlayStation®5, Xbox Series X|S, PlayStation®4 and Xbox One.
Embrace nostalgia 65 million years in the making with more than 20 iconic decorative items, instantly recognisable from the beloved 1993 film from Universal Pictures and Amblin Entertainment. The update contains everything players need to design the ultimate Jurassic Park tribute – from a colorful statue of the ever-smiling Mr. DNA, the park's original educational mascot, to the classic Airlock Gates from the original film.
Fans can introduce a new banner arch bearing the unforgettable words "When Dinosaurs Ruled the Earth," construct the Les Gigantes Mural, which conjures scenes of freshly escaped Velociraptors on the hunt for Tim and Lex, and place the Power Bunker in which some of the film's central characters take refuge.
Also arriving as part of the update, players can direct guests and staff around their parks using a set of classic paths, faithfully designed to evoke their Jurassic Park counterparts. Completing the update are further decorative items such as the T. rex and Alamosaurus skeletons, ever-memorable 'Big Pile of …', Small Electrified Fence, and more.
PlayStation Plus subscribers can also create the dinosaur park of their dreams in Jurassic World Evolution 2 this month, with the base game available for free on the platform throughout June.
For full details of the free update, visit: https://www.jurassicworldevolution2.com/news/jurassic-park-30th-anniversary-free-update-coming-june-8.
The free update content requires the Jurassic World Evolution 2 base game to download and play. Jurassic World Evolution 2 is available on PC via Steam, Epic Games Store, Windows Store, and GeForce Now, PlayStation®5, Xbox Series X|S, PlayStation®4, and Xbox One for a suggested retail price of £49.99/$59.99/€59.99. Jurassic World Evolution 2 is also available to play via Xbox Game Pass.