AEW: Fight Forever recounts the days of WWF No Mercy and even WWE Smackdown vs Raw with its accessible and arcadey gameplay. This isn't a simulation-focused game like the WWE 2K series, and is a breath of fresh air for the genre. If you're only familiar with WWE , there's some faces you might recognize if you don't know the AEW brand. While the game at times can be buggy and janky, it gets the important things right to be a standout. AEW: Fight Forever is the new kid on the block for wrestling games and this promotion, but this is undoubtedly the most fun I've had playing a wrestling game in close to a decade.
There's three main modes of play in AEW: Fight Forever . The first of which is Exhibition, which lets you compete in a variety of match types: 1-on-1, 2-on-2, 3-Way, 4-Way, Casino Battle Royale, Exploding Barbed Wire Death Match, Ladder Match, and Mini Games. While most of these seem like standard fare, there's certainly a couple that stick out and bear explanation. The Casino Battle Royale is like any other battle royale where four competitors are in the ring at a time, the twist is that there are only 21 entrants. In All Elite Wrestling there can be solos, tag teams, or trios – for Fight Forever however, only solos or tag teams as the game doesn't support trios. There's a draw from a deck of cards that you pick at random, which determines your entry into the match. It's unfortunate that you can't skip to your turn, but if you get eliminated, you can skip to the end of the match. In AEW, the match starts with five wrestlers and a new one every three minutes. Oddly, in AEW: Fight Forever they start with only four wrestlers, and immediately throw in another wrestler once one gets eliminated and not after the three-minute timer. It's an odd disconnect for sure, but hardly an issue. And then you've got the Exploding Barbed Wire Death Match. It's as brutal and eruptive as it sounds, where two wrestlers go head to head where the ring rope is lined in barbed wire and after 30 minutes (or two minutes in-game), the entire ring blows up with anyone near it. Yuke's took some weird deviations, but it manages to hold true and ultimately the match plays out better in-game that it did in its disappointing AEW PPV from a few years ago.
The Road to Elite is paved with a really good story mode. Sure the writing can be schlocky and borderline not fitting of the character speaking it, but that's part of its charm. You can only have one save going, but they only target one year of a wrestler's life in AEW. You'll have to manage the wrestlers energy, motivation, money, and other aspects as they work through their career. The game will offer opportunities such as title shots and unique matches you'd be even hard-pressed to be televised. Along the way you'll make friends in which you'll take selfies with, and save to your snapshot album, and plenty of enemies. It's a structured mode many will gravitate towards, as you can play with anyone on the AEW roster, or someone you create yourself.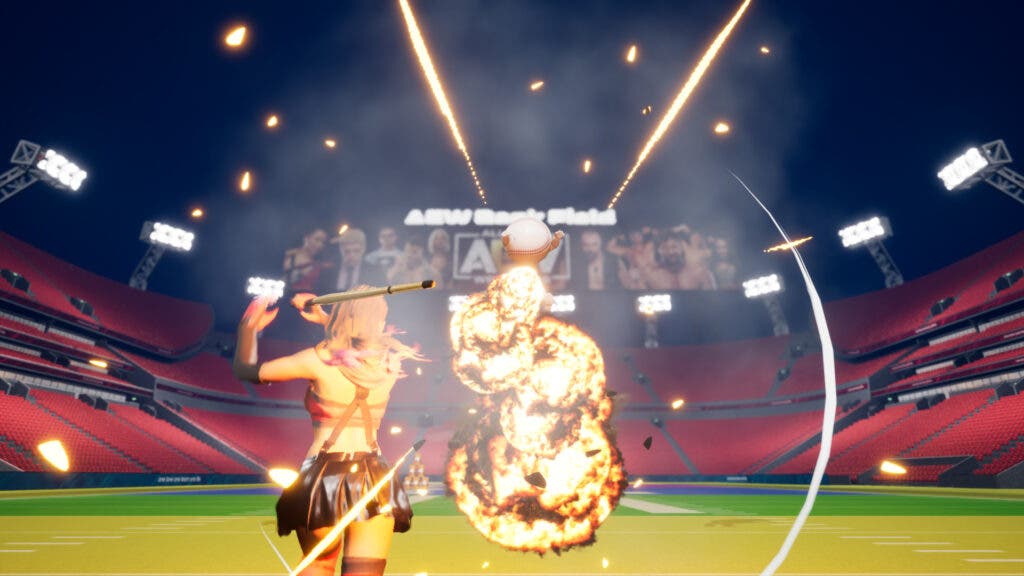 Online modes are present and accounted for, with Ranked, Casual, and Private Match options available for all kinds of players. While it isn't the most robust, it has all of the settings and features you'd want, and there's no multiplayer achievements. I do want to note that I was not able to find a match during the review period, so I'm unsure how the netcode will be. There's an in-game set of challenges that are rather mundane like defeat 50 opponents as Kenny Omega or play 200 exhibition matches. It comes through time, but they aren't very creative. Then there are Daily and Weekly Challenges that can be done a bit quicker, and for easy money. It definitely feels like these are built for the upcoming Season Pass, as well.
In AEW: Fight Forever , you're able to create your own wrestler, team, and arena. The create-a-wrestler feature is detailed but not as robust as some other games of its kind. That said, I was able to create a wrestler that looked something like me, that would be able to use the closest thing to Triple H of WWE's "Pedigree" finishing move as his own, a sit out facebuster. Creating your own team takes one step further in allowing you to form tag teams of unlikely pairings, dream teams, or replicating what isn't present in the game. Being able to create your own arena really adds a personal touch on top of just seeing custom wrestlers in the ring. If a wrestler through a storyline changes alignment from face to heel (good to bad), or vice versa, you can make the game reflect that. I'm not sure if the game will have roster updates in the way other sports games do, so being able to modify existing wrestlers for things like that and attire is really cool. Creative types will have plenty to work with and share with what's available here.
When you think about it, this is a fighting game at its core. The motion capture they did for this game is incredible, and all of the moves are not only authentic, but look great. Combat consists of punches, kicks, grapples, modifiers, and even the use of weapons. If at any time you need assistance pulling something off for a certain wrestler, you can pause and refer to the in-game move list. This list differs from wrestler to wrestler, to include the situations in which certain moves can be executed. I like Fight Forever is also smartly context sensitive. If there are two wrestlers whose heads are together, you'll be able to bash them together or do a team-up move with your tag team partner. It's an intricate system, and learning its nuances does take time, but the end result is very rewarding.
There is an in-game shop for this game, but I have to call out that it only uses in-game money, and at least at this time, no real currency. You'll be able to buy apparel, arena items for custom creations, moves, entrances, and more. For instance, you can buy alternate outfits for The Young Bucks and Dr. Britt Baker, D.M.D. In addition, special characters can be unlocked such as founding member and now WWE Superstar Cody Rhodes. You can also play as referee Aubrey Edwards. The shop has nothing predatory or invasive, and is a joy to interact with.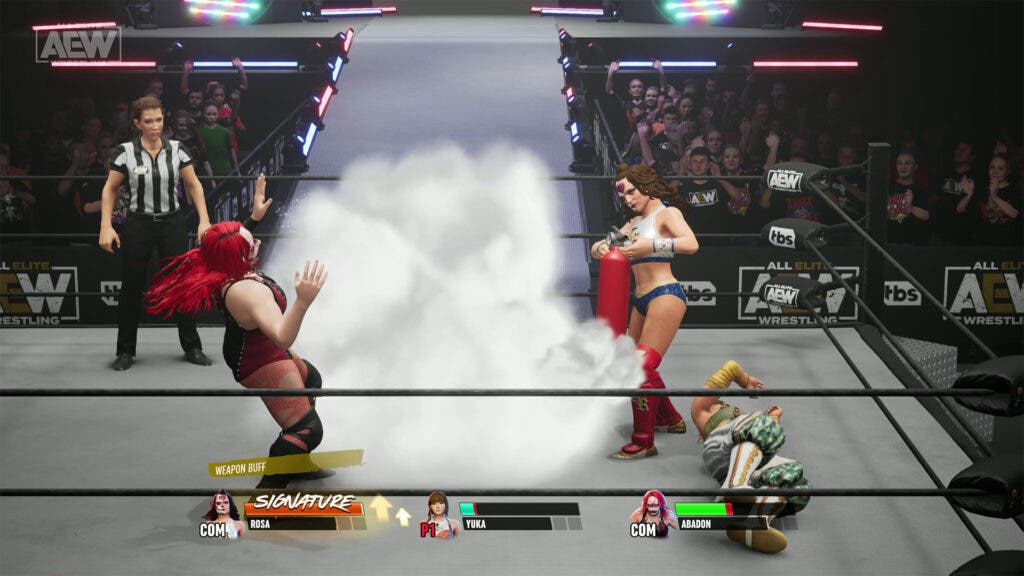 AEW: Fight Forever is a weird mix of outdated and up-to-date. A lot of the tutorials (which are merely just pop-up screens detailing a feature or control scheme) have William Regal teaching you, who hasn't been with AEW for several months. The aforementioned Cody Rhodes being playable makes sense from when it began development, and was a founding member, regardless of current employment. What's odd is how the game is missing talents who have been there for quite some time now, like Danhausen, Jamie Hayter, Saraya, and Toni Storm are all missing from the roster. The tag team known as FTR is weirdly missing, yet their music is present. Now, I'm sure they'll all find their way into the game sooner or later, but it's all very disjointed and doesn't feel as current as it should.
To complain that this game is missing things from something like the WWE 2K23 is a bit unfair, but not having full entrances is something this game should not be short on. The game features Death Triangle as a trios, but you can't play trios matches. Managers are available to accompany wrestlers to the ring, but only wrestlers can be selected and not an actual manager. Commentary is interestingly absent, and the announce team is present in various ways, they only speak a few words before the match has begun, and that's it. The match consists of in-game music or however you've configured the jukebox to play. There's a lot of missing features and quality of life I would've liked to have seen, but it does have things other games don't. Namely, you can attack wrestlers post-match before being peeled off the other person and the match ending completely.
All Elite Wrestling maintains records for its wrestlers. In the game, everyone has a "0 – 0" record to start with. As you play, they gain wins and losses, whether you're in control of them or not – it's brilliant. For competitors that have championships, even in exhibition matches, these belts can be put on the line to be won if the other player is victorious. The game will record these details and they will be the champion until they are defeated in the next title match. It's a really smart system that adds a "living" component to it that I haven't quite seen.
While there are highlights during the match and in big moments, but you can't watch or save full replays. This is probably for the best, because anytime the game cutaway to a highlight, it would showcase all the characters to include the ref in a t-pose before maybe showing the exciting thing that happened. Sometimes it would just freeze playback and not show anything at all. The game is often full of glitches and bugs that you can't help but notice and don't ruin the fun.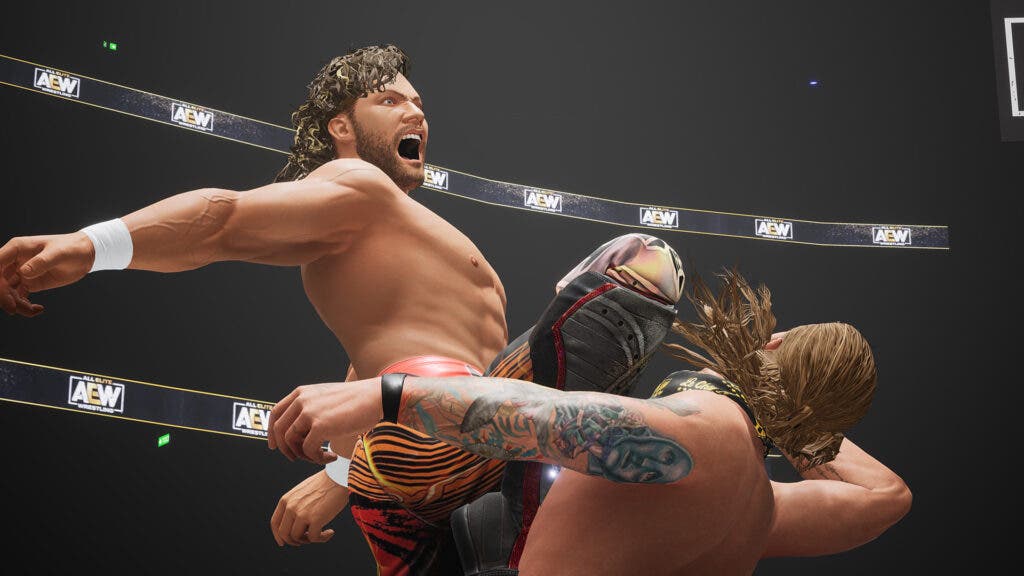 I think it's worth pointing out that AEW: Fight Forever lets you remap every button to something else. So if there's a control mapping you'd prefer to have, nothing is off limits. Sadly, the game doesn't support ultrawide monitors. This is further evidenced by the fact that some on-screen elements slide off-screen but not completely. Thankfully the game does properly full screen and just institutes the black bars on the sides, and this is something I can more than live with. I typically turn off Vsync in games, because I can achieve framerates higher than the game's cap, which is 120fps. With AEW: Fight Forever , I was able to achieve anywhere from 350 to 550fps across all match types, and that's not a typo. This game runs incredibly well, remarkably smooth, and all of this is with DLSS off and all of the graphics settings set to 'High' (highest available).
My PC Specs:

– Microsoft Windows 11 Pro
– Intel Core i9 13900K @ 5.8GHz
– ASUS ROG RYUJIN II 360 ARGB AIO Liquid CPU Cooler
– G.SKILL TRIDENT Z5 6000MHZ 64GB (32×2) DDR5 RAM
– ASUS ROG Strix GeForce RTX 4080 16GB GDDR6X
– WD_BLACK SN850X M.2 (4 TB)
– LG UltraGear 34GP950B-G (21:9 Ultrawide @ 3440×1440)
Fun is at the forefront of AEW: Fight Forever and should be celebrated for achieving that. This is unfortunately a game that has its issues, and whether intentional or not, is a dated experience. The arcade wrestling is great, and such a different experience to what else is out there. It's clear this was made with the purest of intentions, and is an honest to goodness game. I think as the name implies, AEW: Fight Forever will have a long life, but the next iteration will have to see some serious improvements to be competitive. AEW: Fight Forever is a newcomer game from a veteran developer, and while there's room for improvement, this is a solid start for what is a should-play wrestling game.
A Steam code was provided in advance by the publisher for review purposes