From Press Release:
Los Angeles/Cologne, Germany//Shenzhen, China, 22nd August 2023 – Global game development and operations team TiMi Studio Group announced today at Gamescom Opening Night Live the return of Delta Force, an iconic first-person shooter (FPS) video game series originally launched as a PC game 25 years ago. The new game, Delta Force: Hawk Ops, will feature cross-platform play across console, PC and mobile when it launches at a date to be shared at a later time. Players can pre-register now at playdeltaforce.com, and follow @DeltaForceGame on Twitter, Facebook, and YouTube to be kept informed of the game's upcoming plans and receive a free in-game item at launch.
Delta Force: Hawk Ops intends to launch with three exciting, distinct game modes:
Campaign Mode – Black Hawk Down: This exciting new campaign mode is a return to the infamous Mogadishu battle from the movie, featuring both the movie characters and their likenesses and the officially-licensed remaster of the original Delta Force: Black Hawk Down video game.
Extraction Mode – Hazard Operations: Squad up and take on other teams or AI-controlled mercenaries and royal guards in the Hazard Operations, the most tactical take on the popular extraction genre to date. Random events across this massive map will keep players engaged, as well as selecting challenging PvE-focused missions as part of the experience.
Large-Scale PvP Mode – Havoc Warfare: Compete as part of a large team on a massive map, featuring authentic terrains and including military vehicles, tanks and helicopters in a grand war.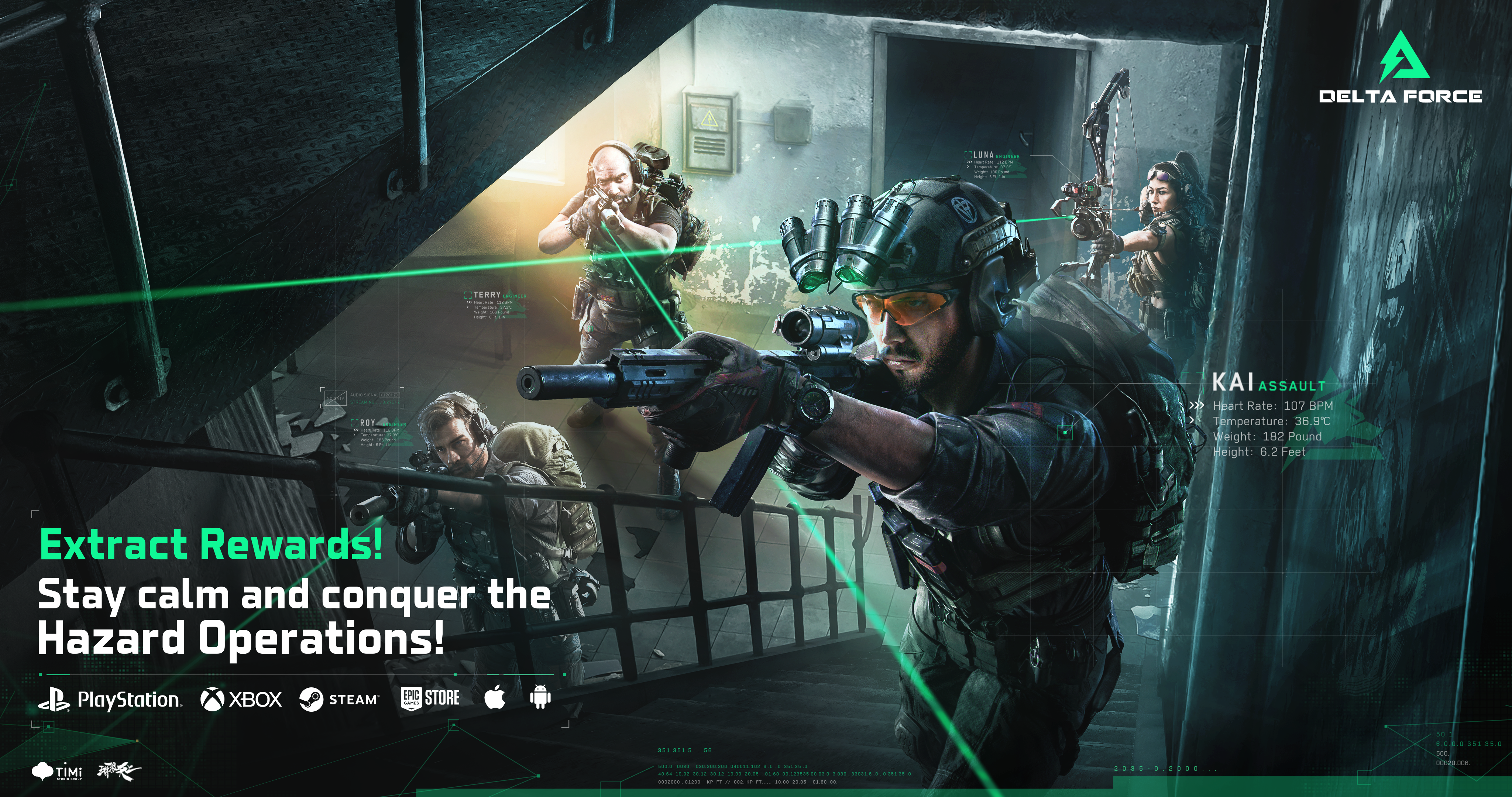 Gameplay will feature a strong dose of tactical combat in each mode, as players will select from four Operator classes at launch. Choose from the dominant firepower of the Assault class, showcase your superior tactics with the Engineer class, heal teammates and keep your team fighting on as a Support class or create havoc through the element of surprise as Recon class.
"Delta Force is one of the most iconic, original games in FPS history and it will soon be time for this fantastic series to return for players on all devices – console, mobile or PC – to play," TiMi J3 studio general manager Leo Yao said. "We believe we've honored the original series while creating a modern, tactical, operator-based game to be enjoyed by players worldwide, of all skill levels, for many years to come."
The announcement was officially made with the game's announcement trailer as part of Gamescom Opening Night Live, marking the first title in the series since 2009 and a continuation of the Delta Force gaming brand that launched in 1998. TiMi has assembled a global co-development unit, called "Jade Team," which features extensive experience making hit PC games for the Chinese audience. Jade's FPS team is led by Yao, who is one of the most successful game makers in the world, leading teams in the development of Call of Duty: Mobile and CrossFire Mobile.
Delta Force will also participate in "Into the Infinite: A Level Infinite Showcase," which is on August 23 and is also part of Gamescom. Game director Shadow Guo will present some information about Delta Force and TiMi will present a new video showcasing both the game's history and the title's new lore, which is set in the near future on a North African island where elite corporate mercenaries, dangerous tribal guards and cutting-edge AI technology create an exciting setting for players to make their way.