A series that started 14 years ago continues with Trine 5: A Clockwork Conspiracy . This puzzle platformer boasts some of the tightest controls and cleverest designs the series has seen. In the four years since Trine 4: The Nightmare Prince, it just feels like it's the right time for a follow-up. Frozenbyte's commitment to innovation of their coop puzzle platformer is remarkable. Trine 5: A Clockwork Conspiracy is fresh, exciting, and above all, the best entry yet.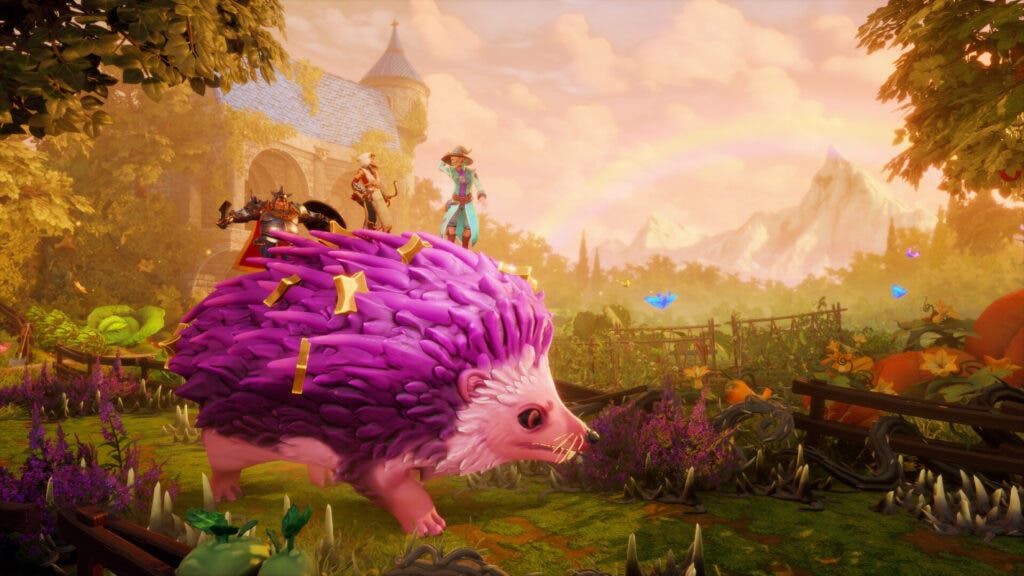 The "Heroes of Trine", Zoya the Thief, Pontius the Knight, and Amadeus the Wizard are facing their greatest threat yet. Framed for crimes they didn't commit, a kingdom has now turned their back on our heroes, and so begins an adventure to right the wrongs, and clear their names whilst fighting a rising robot army. The narrator returns, giving an overview of events as the characters transition from level to level. While this is the fifth adventure for these hours, the way the characters are written seem off from how they should be after all this time. Zoya (the thief) is still stealing, because I guess that's who she is? And it seems Pontius is an idiot because he's some kind of oaf? It just seems off, and not very respectful to how far they've come.
Act I certainly feels like a tutorial to get acquainted with the characters and their abilities. Zoya occupies the first level, then you play as Pontius on the second level, and lastly Amadeus on the third. After this the gang is reunited and you're able to play them all. You can swap between them at-will, except for the times they get separated. Other times characters will go out on their own during a level, challenging you to navigate an area using only their abilities. When together, you have opportunities for some really fun synergy like using Amadeus' platforms and Zoya's hook to rappel her way up onto a ledge to continue forward.
The gameplay loop of Trine 5 is platforming, collecting gems, solving puzzles, fighting, and moving on to the next level. It's a really satisfying loop that doesn't follow this order, but will incorporate these elements in some fashion. There's some new tricks that every character can take advantage of, like bouncing off of shovels in the ground or diving underwater. The diving and underwater segments doesn't come up that often, though it's fun when it does. Over the course of the game, modern problems will require modern solutions. So Pontius will be able to throw his sword into a wall for anyone to climb off of, and Zoya will have her arrows bounce off walls.
Certain checkpoints have you depositing all your earned gems into it, and after a certain amount, turns them into skill points. These points can be spent on any of the three character's skill tree to enhance their abilities. Unfortunately, the skill tree not that helpful. It's filled with things that never felt exciting to invest into most of the ones you can afford. I did find adding an extra bounce to Zoya's arrows nice for some of the trickier late game puzzles, but on the whole the skill system is kind of a dud.
There are checkpoints strewn across the levels, these will refill your health and replenish the number of lives until the next one. You get three lives, regardless of which character you're using. Once those lives are used up, you'll have to restart at the last checkpoint. This is a very forgiving system, and doesn't hinder your progress at all.
There's a fair bit of combat in the game, and the game doesn't throw too many enemies or even difficulty at you. Each character is equipped to handle it different. Zoya's combat is range, and can be used effectively with the drones to make them fall out of the sky onto the ground-based attackers. Pontius is melee, but has a shield to deflect arrows and magic back to the sender. Amadeus's magic is more defensive based, and really shouldn't be in direct combat. But his sphere, platform, or box can be dropped onto enemies for damage. I tended to use Pontius the most, and sometimes Zoya during combat encounters, and rarely used Amadeus unless I had to.
There are five acts in the game, running across 20 levels total. So expect that you'll spend anywhere from eight to ten hours in the game. There's plenty to do when it's all said and done, and that's mostly replaying levels to collect any gems and collectibles you've missed, or going into the game to play it in coop. While the game is perfectly fine and challenging solo, as always, the series continues to support online and local coop. You can play the game in two modes, Classic or Unlimited. Classic mode only allows one of each character at one time, whereas Unlimited lets you have any combo of characters, to include all players playing as Pontius.
There's a fair bit of customization to be found in the game. At the start you'll be able to select colors, clothing options, and alternate backpack items for all characters. Through the course of the game, you'll likely come across a collectible or two, one of my favorites was a paper hat they all wore.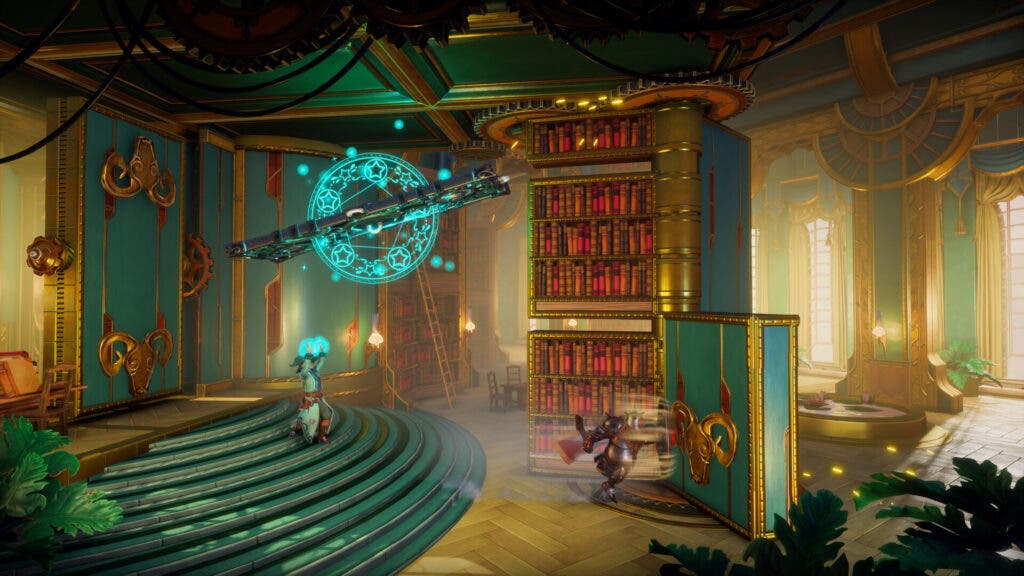 This is a gorgeous 2.5D that really leans into its fairy tale and cartoonish design. It's incredible art with jaw-dropping backdrops. It's easily the best the series has looked. While playing, it supports ultrawide monitors and performance was of no concern. I was able to get 120-130fps throughout the whole game without any dramatic dips when the action got heavy.
My PC Specs:

– Microsoft Windows 11 Pro
– Intel Core i9 13900K @ 5.8GHz
– ASUS ROG RYUJIN II 360 ARGB AIO Liquid CPU Cooler
– G.SKILL TRIDENT Z5 6000MHZ 64GB (32×2) DDR5 RAM
– ASUS ROG Strix GeForce RTX 4080 16GB GDDR6X
– WD_BLACK SN850X M.2 (4 TB)
– LG UltraGear 34GP950B-G (21:9 Ultrawide @ 3440×1440)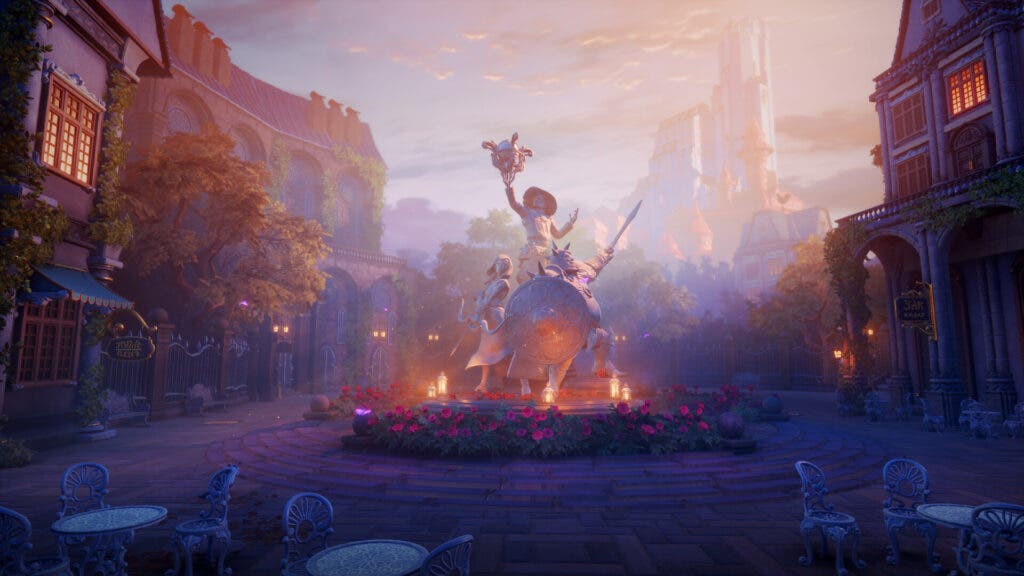 Frozenbyte hasn't lost a step in the four years since the last game. Trine 5: A Clockwork Conspiracy reminds me of a simpler time but still manages to be engaging and complex. The story presents the biggest threat to the heroes in all of its entry's since the original, and is a wonderful adventure all around. If you've never experienced a Trine game, there's no better time. Trine 5: A Clockwork Conspiracy proves to be a delight and highlight among its contemporaries.
A Steam code was provided in advance by the publisher for review purposes