News
Sep 05, 2023
September update outlined for Red Dead Online that brings Bounty Hunter Bonuses, Free Outfit, and More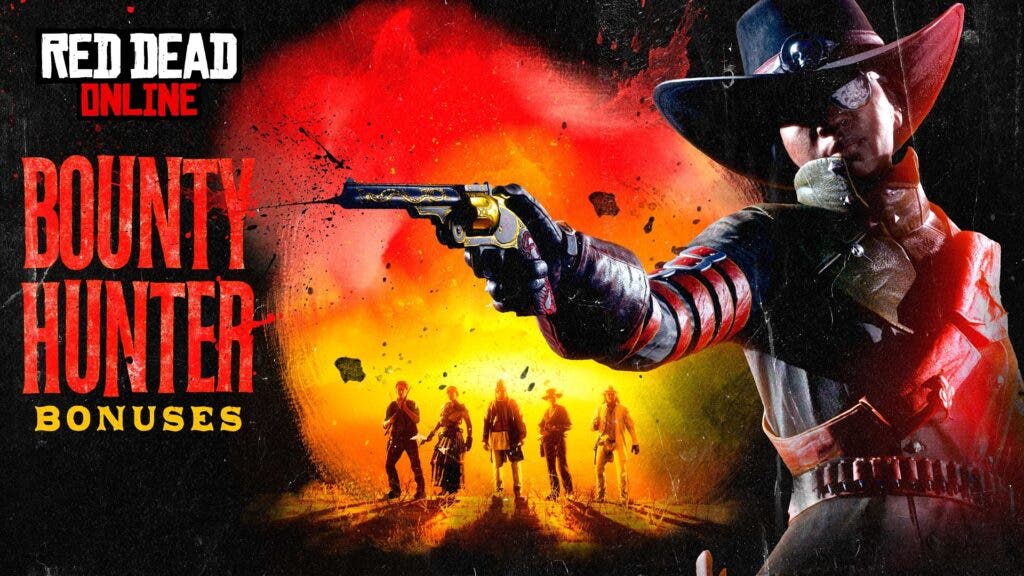 From Press Release:
Crime and chaos reign on the wilds of the frontier. Bring criminals to heel and punish the lawless as a Bounty Hunter in Red Dead Online, and you'll benefit from increased pay and other bonuses through October 2.
Licensed Bounty Hunters who play Red Dead Online any time this month will receive 3 Hawkmoth Bolas to help them apprehend their targets without inflicting lethal harm. For those yet to partake in the Bounty Hunter Frontier Pursuit, visit the Sheriff's office in Rhodes to get started, and take advantage of 5 Gold Bars off the Bounty Hunter License.
2X RDO$ and XP on all Bounties
Hunting for heads is a worthy pursuit for any sharpshooter, doubly so this month when all Bounties — Regular, Player, Infamous and Legendary Bounties alike — are all paying out Double RDO$ and XP to those willing to bring targets in dead or alive. For the distinctly audacious and adventurous Bounty Hunters, Infamous and Legendary Bounties are also awarding 2X Gold. Find your nearest Bounty Board to set your sights on a target.
3X RDO$, Gold, and XP on all Bounty Hunter Award Trade-Ins
Vigilantes who've reached Rank 30 of the Bounty Hunter role can exchange their Bounty Hunter Experience Award for triple the usual going rate of RDO$, Gold, and XP by maneuvering to the Awards section of the Progress Menu and selecting the Trade In option.
Special Bounty Bonuses
Complete any Bounty Hunter Free Roam Event (look out for invites to Manhunt and Day of Reckoning) before October 2 to land a grey and navy pair of Griffith Chaps. Those with a Prestigious Bounty Hunter License who successfully nab both a Legendary and Infamous Bounty this month will receive a dark olive Benbow Jacket along with a pack of Cigarettes — which provide a slight boost to Deadeye.
Embarking down the path of the outlaw and completing any Blood Money Opportunity will net you the green and light tan colorway of the Calhoun Boots. Completing three Blood Money Contracts, meanwhile, will get you the grey Winter Shotgun Coat to protect you from the elements. Blood Money Contracts and Blood Money Opportunities are available from certain Free Roam contacts after meeting with Guido Martelli in Saint Denis.
In addition to the above, complete any Bounty during the specified periods below to receive additional limited time rewards:
September 5 – 11: A green and light tan Winter Shotgun Coat
September 12 – 18: A green pair of Calhoun Boots
September 19 – 25: White and navy Griffith Chaps
September 26 – October 2: A gray Benbow Jacket
All Offers and Rewards will be delivered within 72 hours of completion.
3X RDO$ and XP on Day of Reckoning and Manhunt
Descend on a town packed with Bounties, hogtying or killing the suspects before bringing them in to the town sheriff in the Day of Reckoning Free Roam Event and you'll earn 3X RDO$ and XP for your courage.
Join up with your fellow Bounty Hunters to hunt down multiple targets across a large area in Manhunt, also doling out Triple Rewards this month.
2X RDO$, Gold and XP on Featured Series
Test your competitive instincts by taking part in the Featured Series at any point during this month to earn 2X RDO, Gold, and XP.
September 5 – 11: Contrast Series
September 12 – 18: Explosive Series
September 19 – 25: Blackwater Series
September 26 – October 2: Contrast Series
Free Community-Inspired Outfit
Carly GB creates fantastic outfits in Red Dead Online accompanied by cinematic videos showcasing the ensembles out and about in the world. Claim the following items through October 2 from participating Tailors statewide, as well as the pages of the Wheeler, Rawson & Co. Catalogue, to build one of Carly's dapper creations:
In addition to the above, merchants are selling the Squat Stovepipe Hat and Charro Jacket for a limited time only. Be sure to visit your local Tailor or order from the Catalogue to get them before they're gone.
DISCOUNTS
Bounty Hunter License – 5 Gold Bars off
Prestigious Bounty Hunter License – 10 Gold Bars off
Ammo Crafting Pamphlets – 30% off
All Bounty Hunter Emotes (Distinguished and Prestigious) – 40% off
"Dramatic Actions" Emotes – 40% off
Ponchos – 30% off
Turkoman Horses – 30% off
Revolvers – 30% off
Bolas – 50% off (including Hawkmoth, Brookstone, Gravesend)
Rifle and Pistol Ammo – 30% off