It's been many years since Forza Motorsport 7, but Turn 10 Studios has turned the key and reignited the beast that is Motorsport. Have the years of development time been worth the wait? Are they able to make something that was getting stale fresh again? Read on, dear driver, read on.
Forza Motorsport is beautiful. Cars and Tracks have been redone from the ground up this year and look better than ever. Add to that the fact that this latest release of Motorsport includes raytracing, and you can't find anything prettier to look at on an Xbox. You can customize your settings, but the three main settings you're given include: A Quality 30fps 4k Ray-traced mode. A variable resolution performance Ray-traced mode at 60fps. A Performance mode that removes ray tracing but gives you a gorgeous 4k resolution at 60fps. The car detail is spot on; every vehicle in the game looks as it should. Looking at my won real-world car in the game, I can't tell if they missed anything. Hop inside the interior and it feels like I'm behind the wheel of my daily driver. As I mentioned, they have rebuilt the tracks from the ground up, and it shows, from better foliage around the 20 tracks at launch to more detailed race fans watching the racing action. Driving around the tracks at a slow speed to see everything has never been so satisfying. Granted, it's more fun to go fast, but you don't get to admire all the attention to detail otherwise. Compared to previous Motorsport titles, the track list is slim, and a few high profile tracks like Sebring, Road Atlanta, the giant Nurburgring Nordschleife, and my favorite Tsukuba Circuit are absent, but a few will be coming down the pipeline, Yas Marina will be released in November and Nordschleife is planned for spring 2024. We'll see what additional tracks they add on in future content.
Lighting is gorgeous and likes to peek around trees in places like Autumn Valley, washing out your windshield or just creating this picturesque view. One negative of this new lighting and atmosphere Turn 10 is going for is that everything can look washed out on certain tracks, Mugello, to be specific. If you've ever been in a hot valley on a summer day, you'd know what that haze looks like, and they recreated it well. Unfortunately, it's not the most flattering visual. The title still suffers from "Car Encyclopedia" syndrome within the in-game menus. Currently, Gran Turismo is the worst culprit of this. Where the original games had some expression in its menus, catchy music tracks, and an overall presentation that gave life to their respective series, these new games go the route of calm, relaxed, sitting at a table waiting for your barista to finish your tiny but extremely strong coffee vibe. It's not my favorite atmosphere, as things quickly feel dull and lifeless. Here's hoping some updates in the future can bring back some of that Forza 3 and 4 excitement.
Forza's physics models are industry-leading at this point. You could argue for games like Gran Turismo, Assetto Corsa, or even iRacing, but Turn 10 nails the simulation-but-still-fun aspect of the console racing genre. This year, Turn 10 has done something completely different regarding the in-game economy. Rather than spending money on your car upgrades, you will earn experience points with the cars you drive, leveling them up individually and unlocking car parts you can apply. Some have even begun to nickname this a "CaRPG." By doing well on the track, fast sectors, perfect turns, clean passes, etc., you'll earn points that will increase your car level. Before each race in a series, you'll also be asked to run three practice laps and set a fast lap time. Sure, you could skip them, but you would be missing out on upgrade points to earn. It's a fun little carrot on a stick to entice players to get out there and get a feel for your car before diving headfirst into a big race.
Once you max out a car, you'll even be able to earn discounts on car purchases after hitting max on enough from a specific manufacturer. There are 500 cars at launch, too, so you're bound to find something you enjoy driving. I did, and lucky me, it was one of the first cars you get too! There is also what seems to be a penalty judge that might be AI-controlled. As you're racing, you could be penalized for hitting another car or running off the track. The penalty system seems smart enough to tell the difference between you purposely hitting another car and when you get shoved into another car. But be warned, the penalty system can stack that time up. I was doing a race at Homestead-Miami, and there was one corner I constantly cut short; I racked up penalties for it. On top of that, I decided to start in last place for a higher payout, so I was fighting my way through traffic and got dinged for a few penalties. They charge you time in this game, so by the end, I had racked up about a 3-4 second penalty. Well, I was only two seconds ahead of first place when I crossed the finish line. So it dropped me back to 2nd.
The paint shop makes another triumphant return where players can create their vinyl or recreations of real-world logos. You're given the option to import your designs from past Forza titles, Motorsport and Horizon, down to Motorsport 5. So if you have anything you want to share with the world, hit that share button! But be on the lookout for my designs; look up Nuts4Ford. There's also a Saving Content vinyl if you want to plop it on a car!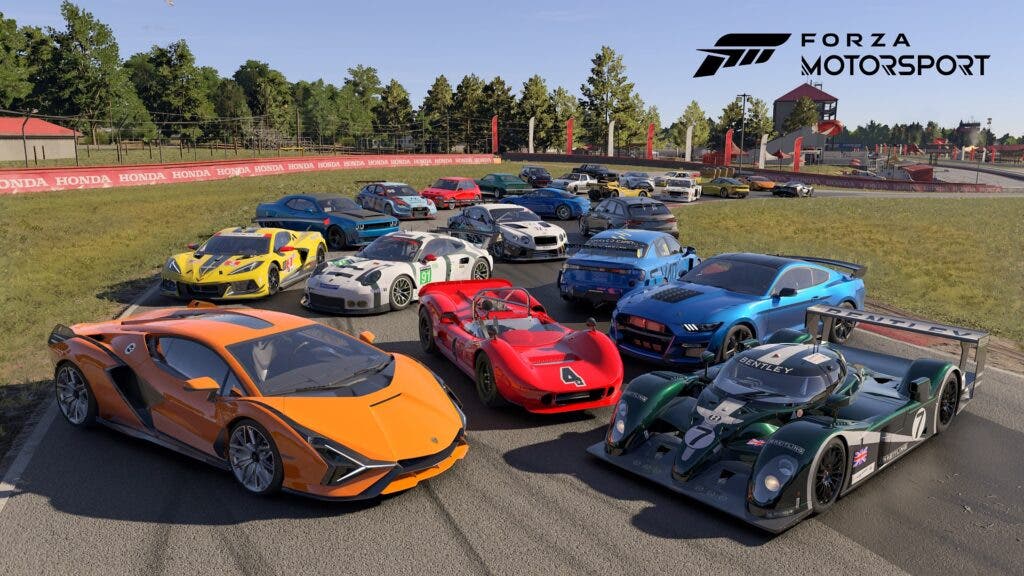 Turn 10 Studios is running at peak performance because they have another hit on their hands in Motorsport. Where the previous three may have slowly descended with tricks like cards and boosts, Forza Motorsport in 2023 gets us back to what matters: the racing, and with the focus on the "CaRPG," it ties us even closer to the cars we love to drive. Turn 10 plans for this to be an ever-growing game, a live-service title if you will, so if Forza Motorsport is excellent now, one can only imagine how much better this will be down the road.
An Xbox Series X code was provided in advance by the publisher for review purposes